Acens Review: Acens is one of the top hosting providers from Spain and offers its services to small and medium-sized enterprises at affordable prices. It has gained popularity for the flexibility and security associated with its hosting plans. With services in multiple countries and continents, you can benefit from their efficient services no matter where you're from!
This is an Acens review of their hosting services and if they compete with other web hosting providers in Spain and worldwide. In this Acens review, we have tested and analyzed their key features, mentioned the different types of services they offer, and listed their pros and cons compared to the competition. Read along to find out if Acens hosting is right for you!
About Acens
Acens is a Spanish web hosting provider, and they have been in business for over two decades operating primarily in South America. Acens is one of the pioneers in cloud hosting solutions and serves over 100,000 customers using its state-of-the-art data centers in Spain.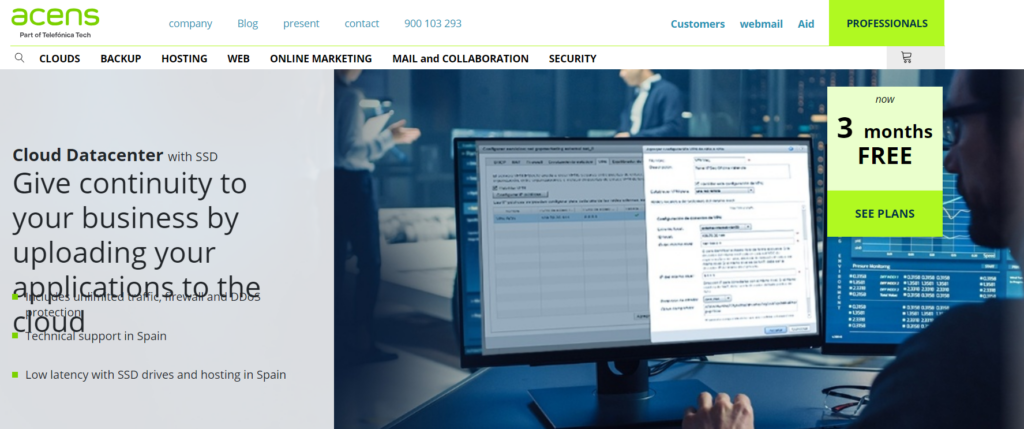 Test & Analysis
Refer to the following points for the analysis of the services provided by Acens.
User Interface & Ease of Use
Acens features a modern and easy-to-use user interface; it has an intuitive administration panel to control all aspects of your server easily and flexibly. The navigation is also simple and you can easily understand all the functions and operations of the website even if you have no technical knowledge.
Acens Customer Support
Acens offers excellent customer 24/7 customer support, and you can reach their staff via phone, email, or a ticketing system. However, the support team speaks Spanish, and all their help documentation is written in Spanish. There is no live chat support available yet.
Security Analysis
Acens offers panda anti-ransomware protection against security threats, zero-day attacks, crypto-jacking, and file-less malware. It combines PPE with detection and response technologies, allowing you to manage your company's security from a single place.
This security solution is for workstations, laptops, and servers, delivered from the cloud, that automates the prevention, detection, containment, and response against any attacks, malware, or viruses.
Key Features of Acens
Here are some of the top features offered by Acens.
Acens offers an intuitive control panel with its hosting plans which allows you to easily access all the components of the web hosting service. The control panel also makes it easy for you to see consumption statistics and alerts if you are going to exceed the storage on your plan.
With its web hosting plans, you get free SSL certificates for an extra layer of security for your websites. SSL certificates also make your sites rank higher in searches.
Acens offers daily backup on its servers so your data stays intact and you can even restore a copy of your website from the last 7 days.
📒Note: Web Hosting prices are updated frequently. So, I request you to verify the pricing by visiting the respective websites.
Acens Domain
Acens specializes in domain name registration services, accredited by ICANN since 1999 for the registration of top-level domains.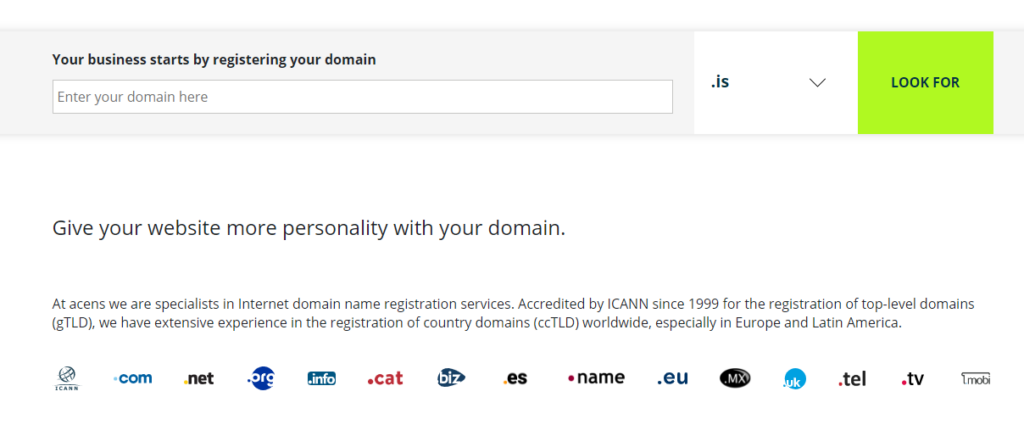 You can change the DNS from the domain management panel with automatic renewal and personalized support available via email, online chat, or phone. You also have the option to transfer ownership of a domain.
Pros & Cons – Acens Review
While testing out the services provided by Acens, these are the pros and cons we found.
Pros
Excellent ease of use
Scalable solutions 
Flexible, efficient, and secure
Wide coverage for Spanish-speaking markets
Cons
The support staff is available only in Spanish.
Data centers are only present in Spain.
FAQs – Acens Review
1. Does Acens provide multiple Data center locations?
Acens has two data centers, both of which are located in Spain.
2. What Kinds Of Hosting Does Acens Offer?
3. Does Acens Hosting Provide Daily Website Backup?
Yes, Acens provides cloud backup. However, the service is not free. So, you will have to bear their charges if you want daily website backup.
Conclusion – Acens Review
Acens is one of Spain's Best web hosting providers. With such a long service record, they have the resource, expertise, and experience to meet any business needs. However, almost all of their plans are geared toward large enterprises.