The most basic requirement in a Web Hosting platform is the availability of a user-friendly theme on its website. But only some platforms are available nowadays that offer this characteristic, and because of this, they are often neglected by users.
TryHost has a very user-friendly platform to work with, and it has a range of additional features to add to its multidimensional utility. It is the fastest growing Web Hosting service provider that is also innovative and has the most creative approach to dealing with its clients. Additionally, it offers the facility of SSD web hosting, too.
About TryHost
TryHost is a trustworthy website with multiple features for its users, which is why it is the Fastest Web Hosting service in today's era. It has an interactive platform to deal with its users. The commitment to serve its users is just commendable when it comes to TryHost.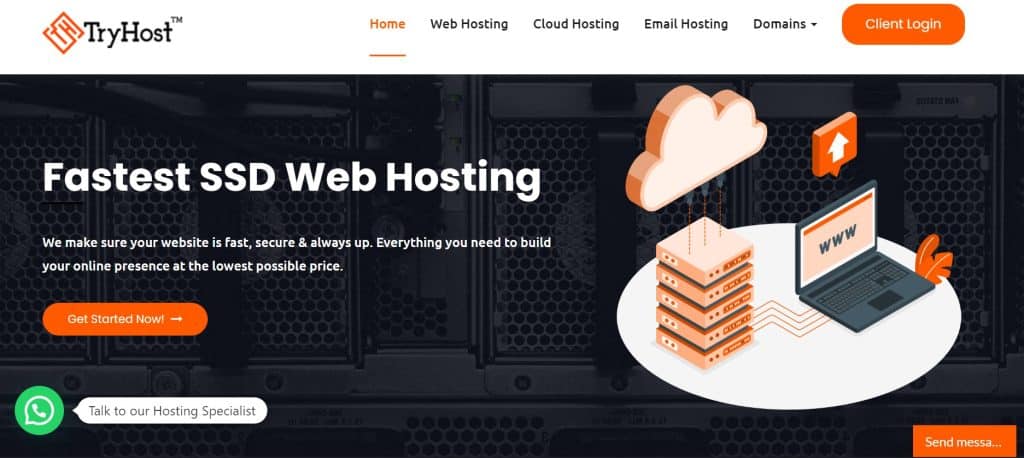 This hosting service provider has various means to let its users communicate with its technical team and resolve their issues.
It provides an all-time, committed staff to look into the issues of its users. The most important feature that TryHost has is that it provides SSD certification to its committed users. You can trust on TryHost without any glitches or dissatisfaction and reliability.
Test and Analysis 
Let us now test the services offered by TryHost in this TryHost Review.
User Interface & Ease of Use
The TryHost website platform is very user-friendly, and at the same time, it is very easy to understand. The user interface is really designed in a manner so as to curtail all the choices that are satisfied with a Web Hosting User.
TryHost Customer Support 
TryHost offers a wide range of mediums for its users to connect with its managing team 24*7 hours. They have their office address, phone number, and email-id on their website.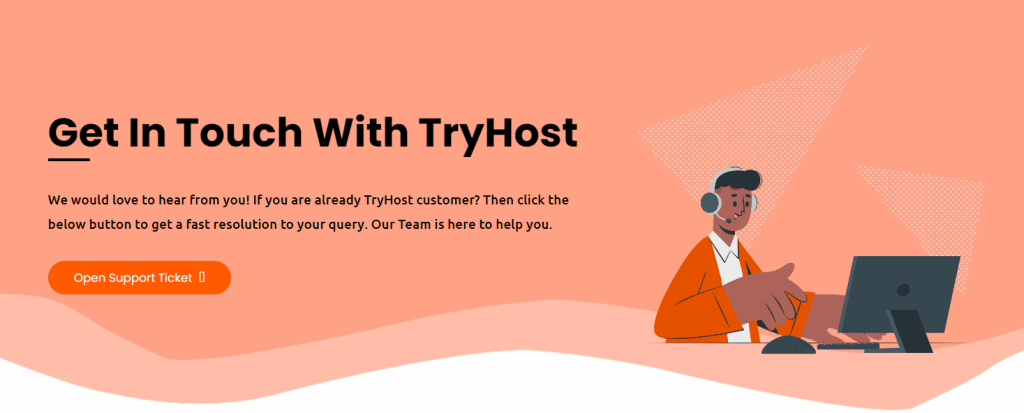 The instant messaging system on their website is remarkable and caters to the users' instant needs.
Security Analysis  
TryHost provides assurance to its users. TryHost has always been a trustworthy choice among users regarding the reliability of personal information.
It promises its users to share information only with trusted third-party authorities. It provides complete security and never misuses the information provided by the user.
Key Features of TryHost
TryHost has many attractive features which give it a competitive edge over its competitors. We have mentioned its best features below:
Types of Web Hosting TryHost offers
TryHost provides the following types of Web Hosting:
TryHost Domain
TryHost is known for its amazing domain services that it offers to its users. The most important aspect of the domain service is that it has two more services to offer to its customers. TryHost offers domain registration and domain transfer along with its web hosting services. You can transfer domain from your old web hosting service to TryHost. Its domain registration features comes with many additional perks like:
Along with the above-mentioned services, the following domains are available on TryHost:
TryHost Hosting Pros & Cons 
Here are the pros and cons of TryHost so that you can better judge its suitability for your business.
Pros
Ensures 100% reliability to its users.
Provides a variety of domains to its clients.
Has a well-organized team to work on the matters of the users.
The availability of SSD certification makes it more exciting. 
FAQ's – TryHost Review
Is there a Money Back Guarantee?
Yes, TryHost offers a money-back guarantee facility. They provide all money back if asked within 45 days of the transaction with full payment.
Is my data safe? Do you take backups?
Yes, TryHost keeps your data 100% safe and secure. But, to ensure more safety, you may go for backups and, thus, be contented with your website-creating experience on TryHost.
Where are TryHost Servers located?
TryHost servers are located in Singapore and London.
Which payment method do you accept?
TryHost accepts all payment methods.It also accepts Paytm, GooglePay, NetBanking, and Debit/Credit card.
Conclusion – TryHost Review
TryHost is a very trusted Web Hosting Platform with excellent user-friendly features to offer its users. The only distrust people can face is a lack of confidence while sharing their personal information. TryHost is becoming one of the fastest growing Web Hosting service providers, and with this pace of its advancement, it may become the most famous Web Hosting service provider in India.
If you are a Web designer or want to have a website of your own, you may look for a platform similar to TryHost; it would be best to hook yourself to TryHost and explore it.