The easiest way to maximize your customer base and sales is to find different ways of marketing and reaching out to potential customers.
Since you are on this page, we assume you plan to find new ways to get to potential customers online. Indeed, the Internet is the best way of growing a business. All you have to do is create a website and put it online with the help of a hosting service. But which hosting service?
We could suggest to you a very secure hosting solution, TrentaHost. Let us understand this hosting solution, its features, and its suitability for your business in detail with this TrentaHost review.
About Trentahost
TrentaHost hosting solutions can be the safest hosting solutions for your website. The reason behind that is TrentaHost's world-class DDoS security, affordability, and a few more features that we will discuss ahead in this TrentaHost review.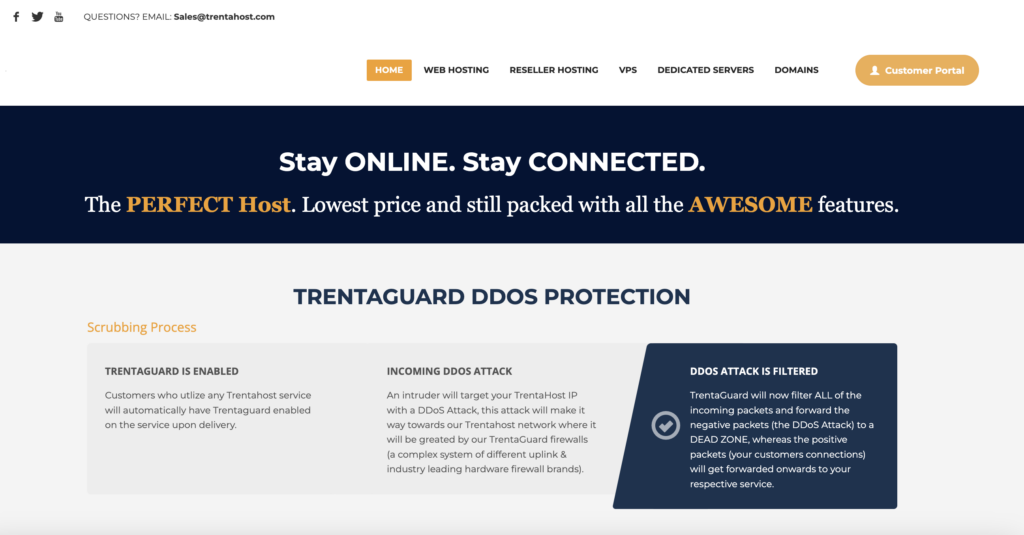 TrentaHost is rated 4.7 stars by Trustpilot, so you can already predict the quality of its service. It sells multiple types of hosting that include web hosting, VPS hosting, and a lot more at a pretty affordable price.
Now let us not waste any time and get into the details of TrentaHost in this TrentaHost review.
Key Features of Trentahost Hosting
So now, let us take a look at the key features of Trentahost, which might help you make a decision about it.
TrentaGuard
TrentaHost calls its firewall 'TrentaGuard.' It protects your data from any third-party activity by filtering them out and only allowing contact with your customers.
Protects against a variety of DDoS Attacks
No matter what type of DDoS attack your server comes in contact with, TrentaHost can protect your content. It saves your server against UDP, TCP, and ICMP-based attacks.
24/7 Customer Support
Even if you get stuck on an issue at 3:00 am, TrentaHost's customer support will still be online to resolve your queries. This simply means that they offer round-the-clock availability when it comes to helping out their customers with their queries and questions.
Increase the Capacity of Your Apache Servers Beyond Maximum
Trentshost is equipped with LiteSpeed Web Server's streamlined event-driven architecture. Therefore, it can handle thousands of clients with minimal storage consumption.
Affordable
Besides having cheap plans, TrentaHost helps you save up some money by reducing the number of servers required for your hosting businesses.
Types of Hosting Trentahost Provides
TrentHost's main objective is to provide security against DDoS attacks. It fulfils this objective in its hosting plans. It offers several types of hosting, starting at $0.99 a month!
Trentahost Data Centres Location
TrentaHost provides excellent service to each customer through 5 data centres and one in the making, deliberately placed across the globe. These data centres are set up around the world to provide efficient service.
The data centre locations include Singapore, Amsterdam, Portland OR, Ashburn VA, London, and one in the making in India. Having two data centres in the USA and Europe makes it easier to provide service on these continents.
Trentahost Hosting Refund Policy
Every monthly Shared and Reseller Hosting TrentaHost INC. shared server carries a 24-hour money-back guarantee. So you have to be quick with the decision to keep or return the shared server you bought.
This policy does not apply to administrative fees, install fees for custom software, SSL Certificates, Dedicated IP addresses, VPS, Dedicated Servers, or domain registration/transfer/renewals.
Why Should You Choose Trentahost Hosting?
It would help if you choose TrentHost hosting because it is heavily reliable; your data is safe from all types of DDoS attacks. All this security and speed comes at a very nominal price.
Customer support is dedicated at any hour, and TrentHost takes steps to save your time and money. So why not give it a try?
Conclusion – Trentahost Review
Since you have now gone through this TrentaHost hosting review, we hope that you have decided on buying or not buying one of its plans.
Buying TrentaHost plans could be a pretty good idea because its basic plan comes at the price of a cup of coffee. After all, TrentaHost provides you with a significant number of services and security at just a few clicks and has a highly responsive support team.
So, how did this TrentaHost Review help you?