The current trend among youth and an AI content generator is one of the most helpful tools a student or an entrepreneur can find. If it is a free AI content generator, it feels even better.
The AI content generators these days can get you any information presented perfectly. Since you are here, we know you are looking for the best AI content generators
So let us begin!
Top 7 AI Content Generators Tools to Try
As promised earlier, let us now look at the top AI content generators to try. This list will tell you about the product's features, ratings, prices, and more.
1. Jasper AI
So the first AI content generator on this list is Jasper. Jasper is different from a regular content generator. Here, you get plenty of templates, as many as 52 short and long-form writing templates.
You can ask the AI content generator to write your Instagram photo captions, product descriptions, real estate listings, personal bios, and more.
Not just writing, it has been noticed and proven that Jasper can actively help you convert, making it one of the best AI content generators for business owners and online sellers.
If you are worried it will be hard for you to operate it, do not worry, Jasper comes with in-depth training resources and help documents.
Features
Company Stats:
Rating: We rate Jasper close to five stars.
Price: Starts from $19
Why Choose?
There are plenty of reasons to choose Jasper; a few are the templates it provides for a small price. It has been proven to convert, which could be great for your business.
2. Writesonic
The second tool on this list is Writesonic. It helps you create SEO-optimised and plagiarism-free content for your blogs, ads, emails, and websites. Trusted by many brands, Writesonic creates content for long-form blogs and articles.
You can also write sales emails, essays, reports, and even ebooks with this tool. If you already have content ready, you can polish it using Writesonic for Writers AI content generator tool. It has various templates and editing tools for paraphrasing, expanding, and shortening.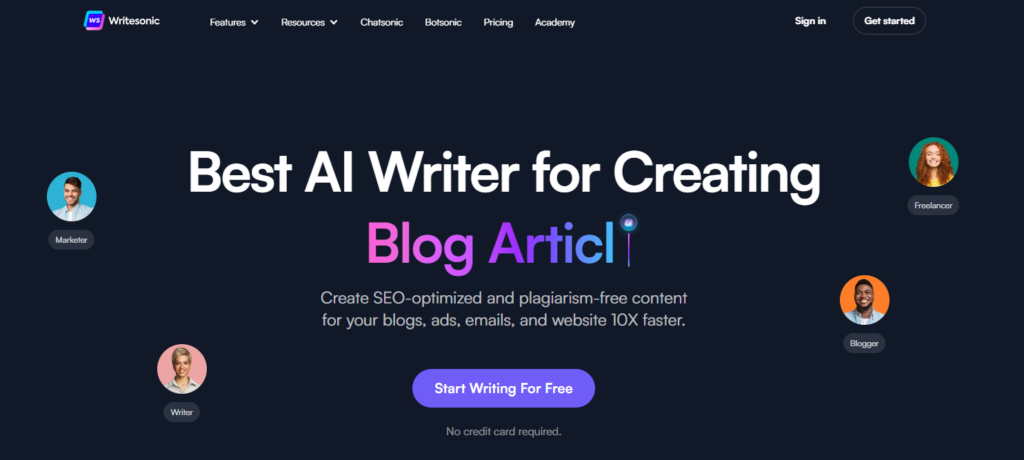 If you own an online store, you again have the support of Writesonic, as it can help you increase your Google ranking and boost sales through the various e-commerce tools it includes in its plans. It will create engaging content, SEO-optimised titles, descriptions, etc.
Features
Company Stats:
Rating: Writesonic gets over four stars from our end.
Price: Starts at $12.67
Why Choose?
Writesonic is an excellent product for those who are looking for content generation for their products. However, it might not be beneficial for social media management.
3. Rytr Al Detector
If you are a beginner and low on budget, Rytr could be your best AI content generators tool. It comes with a free plan, so it is excellent when you want to learn and explore the AI content generator world.
The additional benefit you get as a beginner is that it comes with a simple user interface and an excellent output design. It creates original content and uses over 30 use cases and templates.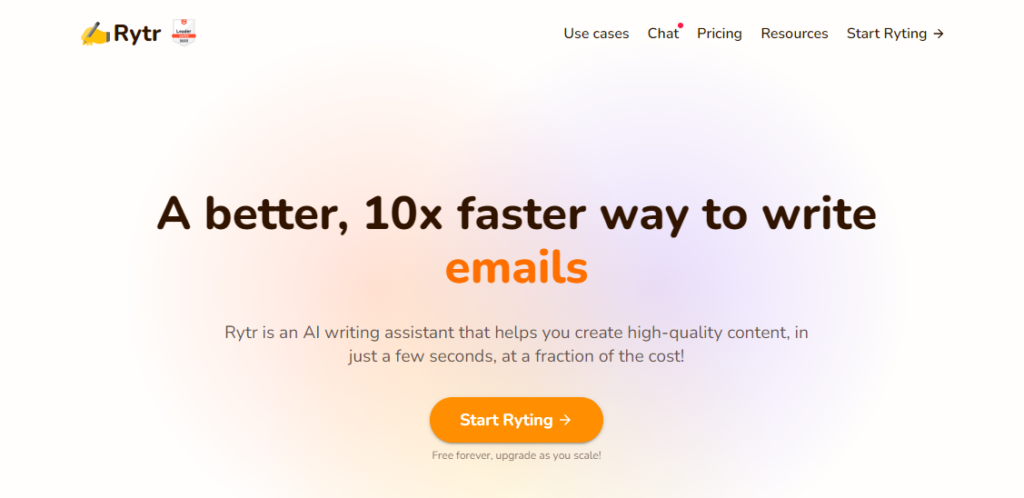 You can help you with generating long-format blog posts, stories, etc. Also, it is fine if you want to write in languages other than English; Rytr can work with over 30 languages with access to 20-plus writing tones.
Features
Over 30 languages with access to 20-plus writing tones.
Creates original content and uses over 30 use cases and templates.
Beginner-friendly interface.
Comes with a free plan.
Checks for plagiarism and grammatical errors.
Responsive customer support.
Company Stats:
Rating: We give Rytr over four stars.
Price: The plans of Rytr start at $0.
Why Choose?
You may choose Rytr for its features, including fluency in over 30 languages, various templates, a beginner-friendly interface, free plans, etc.
4. Frase AI Detector
Every marketer or content creator wants their website or content to rank at the top of Google's ranking. For this, you can take the help of Frase AI Detector.
This platform is straightforward to use and creates your content based on the top search results, which are SEO optimised for the best ranking by Google. Also, the content written by Frase does not seem superficial and gives you the feel as if a human has written it.
It provides various templates, and the structuring done by this platform is excellent. So if you're looking for something to help you research through Google and form marketable content, Frase could be your best AI content generators.
Features
Collects and creates content based on top search results.
Generates SEO-optimised original content.
Creates perfectly structured content.
A helpful tool for research purposes.
Company Stats:
Rating: We rate the Frase AI detector with four stars.
Price: The pricing starts from $14.99 a month.
Why Choose:
Frase AI Detector would be great if you prefer to avoid researching, and it frustrates you. So, writing content that feels like an actual human and research are a few tools for choosing Frase.
5. Article Forge
If you want a full-blown website, looking for content ready within seconds, Article Forge is the platform you need to try. It provides rich content, adds images, videos, and links that ensure more excellent ranking, and looks highly professional and marketable.
It can support up to seven foreign languages, which means that is not much of a language barrier, and you can market your content almost throughout the globe. You can schedule and post your content optimized for various platforms like WordPress.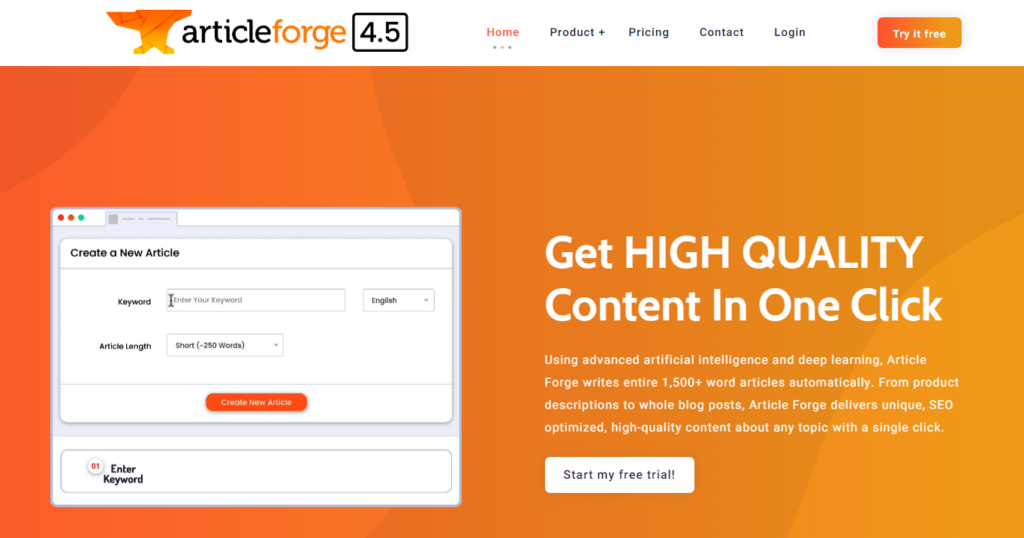 It has an inbuilt feature for grammar and spelling, which means you will post original and grammatically correct content every time with Article Forge. Also, Article Force is a beginner-friendly AI content generator and is highly suitable for newbies.
Features
Supports 7 foreign languages.
Creates grammatically correct content.
Excellent at creative content writing.
Generates website-looking content.
Fashions content based on the platform to be posted on.
Company Stats:
Rating: We would give Article Forge a rating of 3.8 stars.
Price: The plans start at $27 a month.
Why Choose?
If you want to create content that sits perfectly on a website and is suitable for specific platforms, like WordPress, Article Forge could be the one you should try. However, it could be slightly pricey, so check your budget first.
6. Copysmith AI Detector
Copysmith AI Detector is perfect for those who have frequent writing blocks. This platform helps you create outlines for blogs and enhances your content based on accuracy and grammatical correctness.
It creates high-converting ads, product descriptions, emails, and more within seconds. It is excellent when you want to rewrite paragraphs or lengthen or shorten content. Overall, it's perfect for those who want to create more content but need help to think of something new every time.
Copysmith is highly suitable for those who run an online business and want to promote their products online. Also, for those who work with multiple websites and need help to develop creative content for each of them frequently.
Features
Creates marketable content.
Suitable for business owners.
Gets you out of your writing block.
Specialises in scaling content.
Creates long-form content for blogs.
It can work well for product descriptions.
Company Stats:
Rating: We give Copysmith AI Detector 3.8 stars.
Pricing: The pricing starts at $228 a year.
Why Choose?
Copysmith AI Detector would be best suitable for those writers who have plenty of work to be done but do not have enough ideas to work with. Also, for those running businesses online and wanting product descriptions, you could choose this AI content generator or detector.
7. Scalenut
Our ultimate marketing platform on this list of best AI content generators is our final product, Scalenut.
This platform helps you create content based on your keyword, which means that once you give it a keyword, it will develop content around it that is marketable and help you convert faster.
This platform is more than just an AI content generator. Here you can hire professionals to help you write, design or create more content.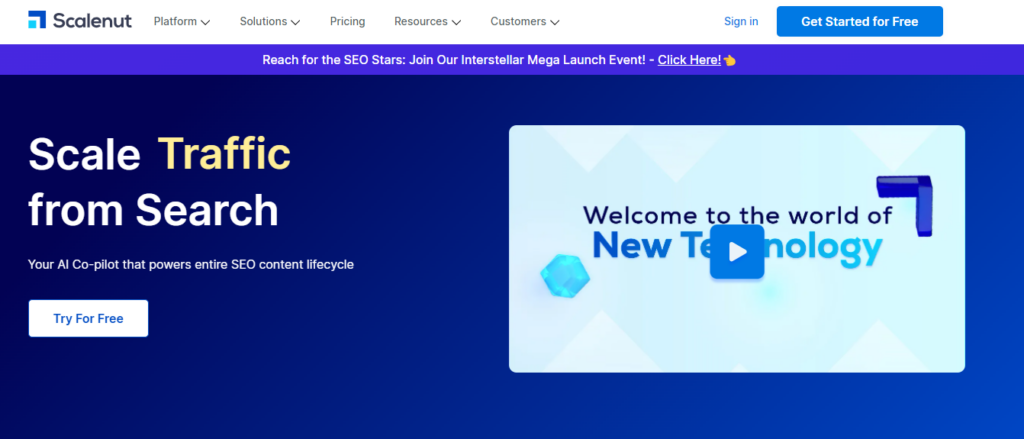 However, it could be difficult for beginners as it has specific commands for most features. But the silver lining is you always get to know who you are competing with while generating content.
Features
Shows competition.
Creates marketable content faster.
Includes a free version.
SEO-based content creation.
Collaboration with human professionals.
Does not have a word limit.
Company Stats:
Rating: We give Scalenut a 4-star rating.
Price: The plans on Scalenut start at $0.
Why Choose?
If your budget is low, but you are skilled in content creation on AI content generators, Scalenut can help you with its free plans. But we mentioned that you have to be capable because many features of Scalenut work on specific commands. Therefore experienced content creators could use Scalenut even with little to no budget.
Also Read: Best AI Website Builders
What is an AI Content Generator, and How Does It Work?
AI content generators or AI content detectors are AI or artificial intelligence-based content generators that work around the topic provided by you.
You can provide them with a specific keyword or tone and the purpose of the content, and it will create content concerning that.
If you want a product description, you can ask the AI content generator to create it, and it will work as per your command.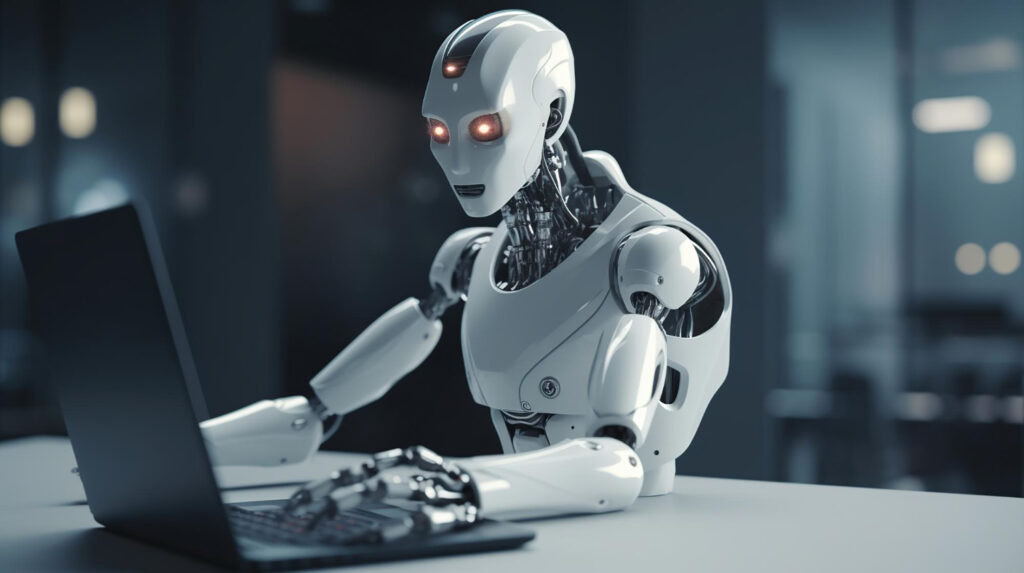 Regarding how it works, it looks through the internet based on your keyword and gives you the top-ranking information for your content. The main objective of AI content generators is to create the most marketable and accurate content.
How to Use an AI Content Generator for Blog Content?
If you want the AI content generator to create blog content, you can ask the platform to start blog content based on the keyword and purpose. You can also add the format template or tone you want for generating the content.
What are the Benefits of Using AI Content Generators Tools?
There are plenty of benefits of using AI content generator tools to count.
These are just a few benefits of using AI content generators. You can find many other benefits once you start using it.
FAQs – Best AI Content Generators
What is the best free AI detection tool?
There are plenty of free AI detection or generator tools. One of which we have included in this list is Scalenut; you can use it for a long time for free.
Which AI content detector is best?
As per our experience, Jasper, the first product on our list, and the second product Writesonic are some of the best AI content generators.
Can AI-generated content be detected?
There are many tools to detect AI content. However, we hope there are better AI generators that will not be seen by any other software soon.
How accurate are AI content detector tools?
Most AI generators claim to be providing accurate information. However, it is always better to cross-check with the resources before posting it on any platform.
Can I Trust AI Content Generators?
Yes, you can trust AI content generators, but only those on top and trusted by others like Jasper, Article Forge, etc. However, we suggest that you cross-check with the sources.
Can Google identify AI content?
Google can identify AI-generated content to some extent, but many of our tools listed in this article are great when you want to avoid being identified by Google.
Are AI content detector tools suitable for businesses and individuals?
Absolutely. AI content detector tools are highly suitable for entrepreneurs, business owners, etc., who want to create product descriptions, handle plenty of websites, increase sales, etc.
Conclusion – Best AI Content Generators
So we are now at the end of this list of 7 best AI content generators in 2023. Here, we looked at many AI content generators, or AI content detectors, which can help you greatly in marketing your product.
Most of these AI content generators create accurate and SEO-optimized content. Many of these, such as Scalenut, are free to use. So make sure you choose the best one suitable for your needs.