Apex Hosting Review: ApexHosting provides hosting solutions for Minecraft and various other games with a global network of data centers. A Minecraft server host serves as a host or stores the Minecraft game for you or other members.
Their services come with features like one-click modpacks, DDoS protection, 24/7 customer support, and ultra-low latency.
Nowadays, Minecraft servers have become a great way for creators to make side income and their popularity has exploded since the pandemic. Apex Hosting has entered this space in 2013 to help you all the way in creating a Minecraft server so that you can focus on creating storylines, events, characters, and everything creative without having to worry about the technical side.
About Apex Hosting
ApexHosting was launched in 2013 and is an American company specializing in shared hosting solutions for Minecraft servers.
It has eighteen data centers around the world, six of them being in the U.S.A and the others in Canada, Brazil, The United Kingdom, France, Poland, Germany, Israel, Russia, China, Singapore, Australia, and Turkey.
Test and Analysis
Refer to the following points for the test and analysis of the services provided by ApexHost.
Ease of Use and User Interface
ApexHosting utilizes a proprietary custom web-based Minecraft control panel with a modern and intuitive user interface. It includes several video guides to help you if you face any problems while using it.
Using the control panel, you can edit configurations, change server versions and perform various other administrative functions. The control panel also allows you to customize your Minecraft server and monitor performance. 
ApexHosting Customer Support
ApexHosting provides 24/7 customer support, and you can contact the staff using discord, the ticket system, and live chat. ApexHosting is heavily focused on customer service and the response time is almost instantaneous.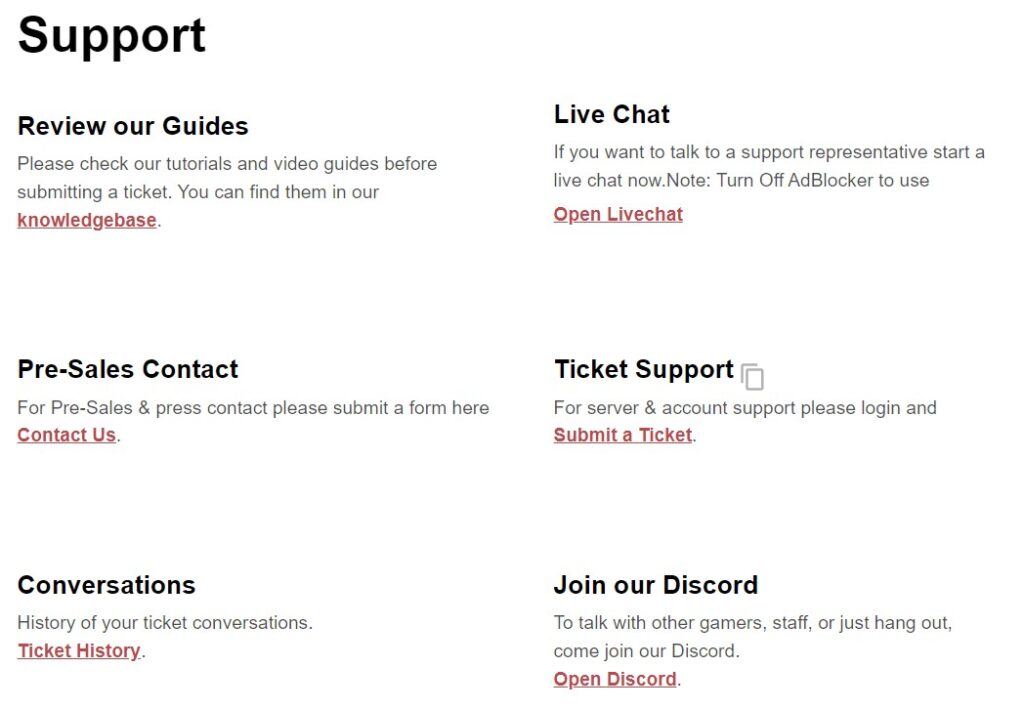 In our test, we used the ticket option and received an instant reply via email with all the necessary information. 
Security Analysis
ApexHosting provides 100% uptime SLA with advanced DDoS protection, mitigating any attacks that would normally take a server offline temporarily. Its networks are well protected against both small and large DDoS attacks and provide security measures like SSL certificates to ensure the best data security and privacy.
Key Features Of Apex Hosting
Here are some of the main features offered by ApexHost:
Easy To Use Control Panel
ApexHosting uses Multicraft as their control panel, and they have made many modifications to the interface, making it very easy to control your game server hosting account on games like Minecraft, Ark, Rust, Valheim, CS: GO, Conan, Terraria, Unturned and more.
Quick Setup
Setting up a server with ApexHosting is fast, easy, and affordable. After selecting a few parameters according to how you would like to build your server, it will be deployed instantly. You will receive an email address with the server's IP address and login information.
Reliable System
ApexHosting has hosted servers for over 300,000 customers, which means they have the experience to ensure the servers are always fast, secure, and reliable.
Apex Hosting Domain
ApexHosting provides custom free sub-domain names that you can use with your servers. They create [yourserver].apexmc.co that you can use for your Minecraft server to share among your friends and on websites.
This is helpful because it makes it easy to remember and eliminates needing an IP address to use a domain name for your server.
Pros & Cons – Apex Hosting Review
Let us look at the pros and cons of Apex Minecraft Hosting plans.
Pros
Cons
How to Host Your Website on Apex Hosting?
Hosting your website on Apex Hosting is as simple as any other hosting. You must create an account on this platform and buy a plan. All the options will be displayed on your dashboard, so you will not get confused with the settings.
FAQs: Apex Hosting Review
1. Does Apexhosting offer a free domain?
ApexHosting offers a free domain name with all of its plans.
How do I host a Minecraft server?
Hosting Minecraft hosting is similar to hosting a regular website but with settings related to gaming requirements.
2. Is Apexhosting offer the Best VPS Server?
3. Does Apexhosting provide good server uptime?
Yes, ApexHosting provides 100% uptime SLA.
4. Where are Apexhosting Servers located?
ApexHost's servers are located in the U.S.A. and the others in Canada, Brazil, the United Kingdom, France, Poland, Germany, Israel, Russia, China, Singapore, Australia, and Turkey.
Conclusion: Apex Hosting Review
ApexHosting provides amazing services, appropriate server resources, security, and excellent customer support. However, live chat is only available for registered customers. The control panel they use to manage the servers is intuitive and easy, even for people with no technical background.
So, this Apex Hosting Review, it's good hosting for gamers and they can definitely use it for hosting their gaming servers.