Worldstream Review: IaaS services are great to find a good infrastructure for your resources at cost-effective prices. But knowing which company to trust for its IaaS services is essential.
One of the companies that you can trust is Worldstream and we will tell you all the reasons for it in this Worldstream review wherein we explore this company for all its features, functionalities, support, security, pros, and cons. Let's get started with this Hosting Review.
About Worldstream
Worldstream was founded in 2006 as an Internet Service Provider and is headquartered in Naaldwijk, South Holland as an IaaS provider using their in-house technologies and the Worldstream Elastic Network (WEN) platform, which allows you to deploy and congregate IT solutions under a singular environment.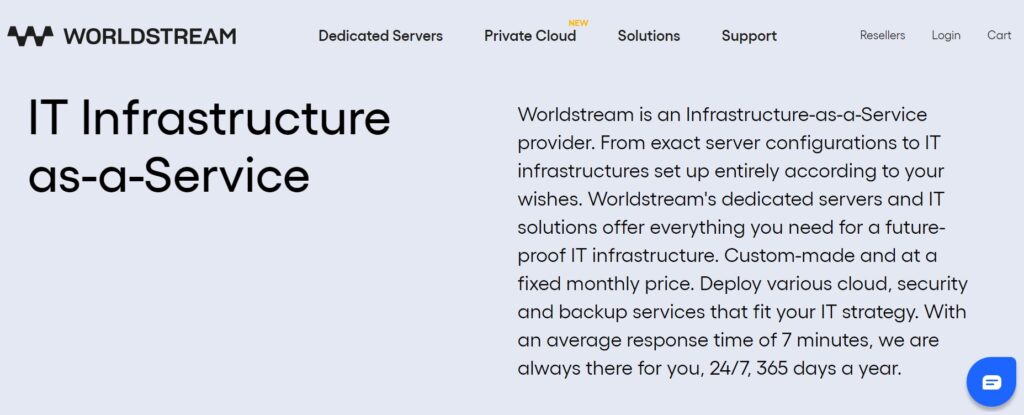 They offer dedicated servers and IT solutions set up entirely according to your preferences and ensure a future-proof IT infrastructure. You can use various cloud security and backup features and they provide excellent customer service with an average response time of seven minutes.
Test & Analysis
We tested Worldstream on multiple parameters to check its ease of use and convenience. Hereinbelow are the results of all the tests and analyses we performed on Worldstream.
User Interface & Ease of Use
Worldstream uses admin control panel services like cPanel and DirectAdmin, industry standards for web-based control panels that allow you to control all aspects of your servers with administrator privileges.
Worldstream Customer Support
Worldstream offers excellent customer support 24/7/365, and the average response time for queries is under seven minutes. You can connect with the support staff via phone, email, live chat, or the contact information provided on their website. In our test, they responded to the queries in under half an hour which is still a phenomenal response time.
Security Analysis
Worldstream's services are backed by its massive 10Tbit/s high bandwidth network with proprietary DDoS mitigation solutions to protect your business against DDoS attacks.
Key Features of Worldstream
Here are some of the main features offered by Worldstream:
Types of Web Hosting Offered by Worldstream
Worldstream offers dedicated and virtual cloud web hosting solutions.
Pros & Cons – Worldstream Review
While testing out the services provided by Worldstream, these are some of the pros and cons we found:
Pros
Cons
FAQs – Worldstream Review
What is the refund policy of WordStream?
Worldstream does not have a refund policy.
Does WordStream provide an SSL certificate?
How many Data Center Locations does WordStream provide?
Worldstream has data centers in the Netherlands and Frankfurt.
What payment method does WordStream use?
Worldstream accepts Worldstream wallet, PayPal, Mastercard, Visa, iDeal, and various cryptocurrencies as payment.
Conclusion – Worldstream Review
Overall, Worldstream offers good web hosting services at an affordable rate that comes with strong DDoS protection services, and their servers are located in Tier 3 data centers. They also have several unique services like Cloud On-Ramp, Firewall-as-a-Service, Object Storage-as-a-Service, and Block Storage-as-a-Service. 
So, we can conclude this Worldstream review by saying that it is a good company, worth a try.