When one talks about building the best website for your users, what is the first thing that comes to your mind?
The answer to the question is to opt for a reliable web hosting plan. Isn't it?
With this notion, today, we have bought you a new hosting providing solution company that understands what you want and offers you their top-notch services.
OVHCloud hosting is one of them. With this review guide, you will surely get a complete OVHCloud review, including features, tools, analysis, pros and cons, and much more to help you decide whether it befits your website hosting requirements or not.
So, let's get started with OVHCloud Review.
About OVHCloud
Based in Europe, OVHCloud is one of the leading cloud providers globally.
The company was formally founded in the year 1999. And from then to now, the company has worked with more than 1,00,000 happy clients. Knowingly, the company owns 40000+ servers across the globe and 33 data centers on four different continents.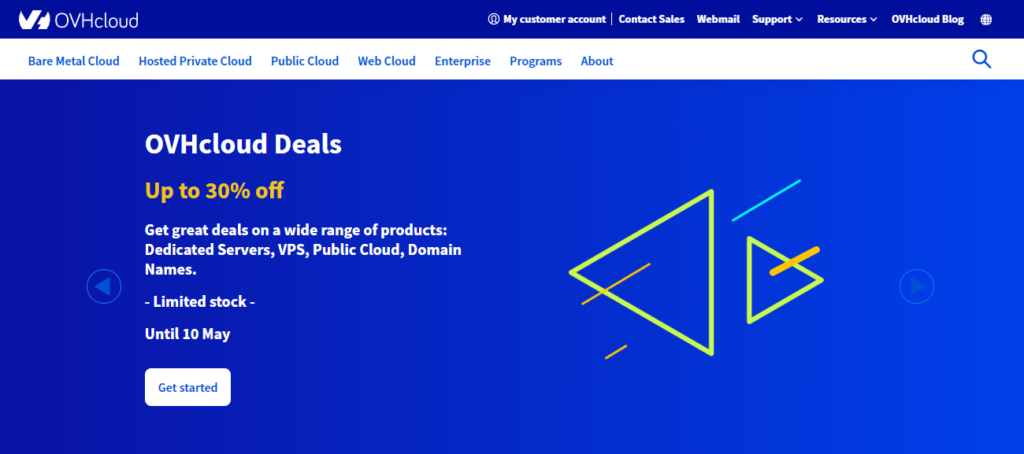 The ultimate vision behind the OVHCloud is to help people bring their ideas to life and do a successful business.
They offer several services on the cloud which serve other domains like Bare Metal Cloud, Public Cloud, web cloud, and more.
The company offers top-notch telephonic query and solution services and undisturbed internet access to their customers to conduct uninterrupted ongoing services.
Speed Test and Analysis for OVHCloud
The speed test and analysis are taken and exhibit everything about their services and solutions. So, without delay, let's check out their features.
OVHCloud user Interface
OVHCloud hosting offers up to a 99.99% uptime guarantee to its users.
OVHCloud hosting takes care of everything you need for your website, from its utmost performance to the extreme level of hosting services.
Customer Support
OVHCloud hosting is super active for their customers when it comes to customer support.
Therefore, they provide 24/7 technical support to their customers. In addition to this, they also offer an experienced professional team to help you overcome your queries.
Security Analysis
To ensure the safety and security of your data and website, OVHCloud hosting provides every safety measure like SSL certificates and protection from malware and attacks.
OVHCloud Data Centers Location
The location of data centers is situated in various places, providing top connectivity and networks.
With an international customer base, the OVHCloud hosting offers services across the globe. They guarantee services with trust, security, and performance.


That is why they have located their data centers mindfully in places like
Key Features of OVHCloud
There are several other key features of OVHCloud that describe below.
Control Panel
A top quality control panel will be provided to the clients to configure the products and services of the website.
Backups and Restores
OVHCloud also offers daily or regular backups and restores to secure your website from an unexpected breakdown or anything related.
They ensure that your data fits in a safe hand and protect you from malware and attacks.
Email Tracking
OVH Cloud also helps you keep an eye on emails. They make sure that your emails land in the right place and if they are responding or not. Moreover, all these functions will be automatic.
Pre Schedule your Plans
With OVH Cloud web hosting, you can easily schedule or pre-plan your important events effortlessly.
Free SSL Certificate
There is no need to purchase SSL certificates from outside, as OVHCloud offers you the same yet best quality SSL certificates at zero cost.
Get all your domains and subdomains covered under an SSL roof.
WordPress Pre-Installed
Do you want your website on WordPress?
Or want to grow your brand on a WordPress website?
If your answer is yes, then this is something you shouldn't miss. With OVHCloud services, you get free WordPress installed with required plug-ins and tools. So, now you don't have to wait for installation.
OVHCloud Refund Policy
Under ARTICLE 12: CONDITIONS SPECIFIC TO CONSUMERS, you'll find:
You can opt for reimbursement within 15 days of purchasing the service.
The Client has the option to cancel the agreement. It has fourteen (14) days from the date of the Order to exercise this privilege without having to defend its actions or incur any penalties other than return fees.
The cancellation right must be exercised before the previous expiry date using the form available in the Management Interface. It can be done either by filling out a cancellation form or mailing it to OVH via a registered letter with acknowledgment.
You can also make the declaration clearly by expressing your desire to exercise this right.
OVHCloud Pros & Cons
The following points describe the ultimate difference between OVHCloud services. Let's know further the advantages and disadvantages of the same:
Pros
Get many services in one place. Services like hosting, domain names, emails, etc.
Get a High-speed connection to the global network. 
Known as one of the Highly secured data centers around the world
DDoS protection infrastructures for protection against attacks
Unlimited monthly traffic with boost-up in SERPs.
Daily backup and restoring data to ensure complete security and preservation of it. 
Cons
Servers run in different countries; however, the speeds are mostly above average compared to others in America.
A limited number of pre-installed content management systems are available.
Poor customer support because of answering late. 
The additional fee is also asked for in many features by the company.
What makes OVHCloud Blazing fast?
OVHCloud is an amalgamation of the best technicians and experts consulting what is best for you.
They put in all stops to bring out the best solutions for your business, making them blazing fast and superior to their customers.
How does OVHCloud Hold Up Against the Competition?
Its loyalty, and dedication to standing up to its customers' demands, make them different from the competition. OVHCloud offers reliable services that are affordable and of good quality.
Moreover, to make their customers feel good, they also provide some enticing free tools and add-ons.
Why Should you Choose OVHCloud Hosting?
OVCCloud Hosting is one of the best cloud hosting solutions that you can find. It's secure, reliable, and affordable. Furthermore, there are multiple reasons for you to choose it as your hosting services provider-
Do we recommend OVHCloud for your Website?
OVHCloud is one of the biggest hosting provider solutions companies offering your company the best hosting solution.
For Past successful years, the company has delivered its services to many clients worldwide. It offers all hosting solutions in one affordable place and quality.
Moreover, the company is well recognized for its customer service support and excellent professional backup team to help clients put in all their stops.
So, yes, we highly recommend OVHCloud hosting solutions to be chosen as your business hosting provider.
FAQ: OVHCloud Review
What is OVHCloud Hosting?
OVHCloud hosting is one of the top-notch web hosting and cloud providing solutions. The company nurtures your website hosting solutions with other services like WordPress hosting, web cloud, and much more.
Is OVHCloud good?
Yes, overall, the company is good and can befit your business requirements. Moreover, it also offers all the essential services needed for you to settle down with a highly optimized website.
Which are the affordable web hosting providers?
Many cheap web hosting and cloud plans are designed according to your needs and preferences. However, you can choose your hosting plans as per your requirements.
Is OVHcloud's Pricing Too Good to Be True?
Yes, OVHCloud is one of the best hosting companies, offering one on one services to their clients. They are affordable and cheap with good quality. Moreover, yes, we can say that they are suitable to be true.
How does OVHcloud Stand in the competition?
OVHCloud offers reliable services that are affordable and of good quality. Moreover, to make their customers feel good, they also provide some enticing free tools and add-ons.
Its loyalty, and dedication to standing up to its customers' demands, make them different from the competition.
Conclusion
OVHCloud hosting solution amalgamates highly experienced people to assist you with their top-notch services. The company has fruitfully designed and developed itself as a top-notch service provider company worldwide.
Hence, a great web hosting provider to step in and work with!