Website building and making it available to everyone has never been more accessible. Several tools could help you do that without hiring a professional, but you will require some knowledge of the subject.
Taking your website to the internet will involve essential factors such as hosting. The hosting you choose for your website must be reliable with security, speed, and performance. It's also essential that the hosting is not too heavy on your pocket.
We have been through multiple hostings, and here we have a hosting service provider that might suit all your hosting needs. We are talking about VPSGround.
Let us get into this VPSGround Review to help you with more details about this hosting solution.
About VPSGround
If you do not know about website building and hosting, or even if you do not have a big budget to buy a premium hosting plan, do not worry since VPSGround provides all of these at a low price.
They make your website building easier by drag and drop website building facility to build the best functioning and most beautiful websites, portfolios, etc.
They also offer 24/7 customer support so that you won't be stuck dwelling on your problem. Want to know more about VPSGround? Keep reading this VPSGround review.
VPSGround Data Center Location
VPSGround hosting has several server locations spread across the world.
Key Features of VPSGround
There is much more to know about VPSGround, so let us take a look at its key features in this VPSGround review.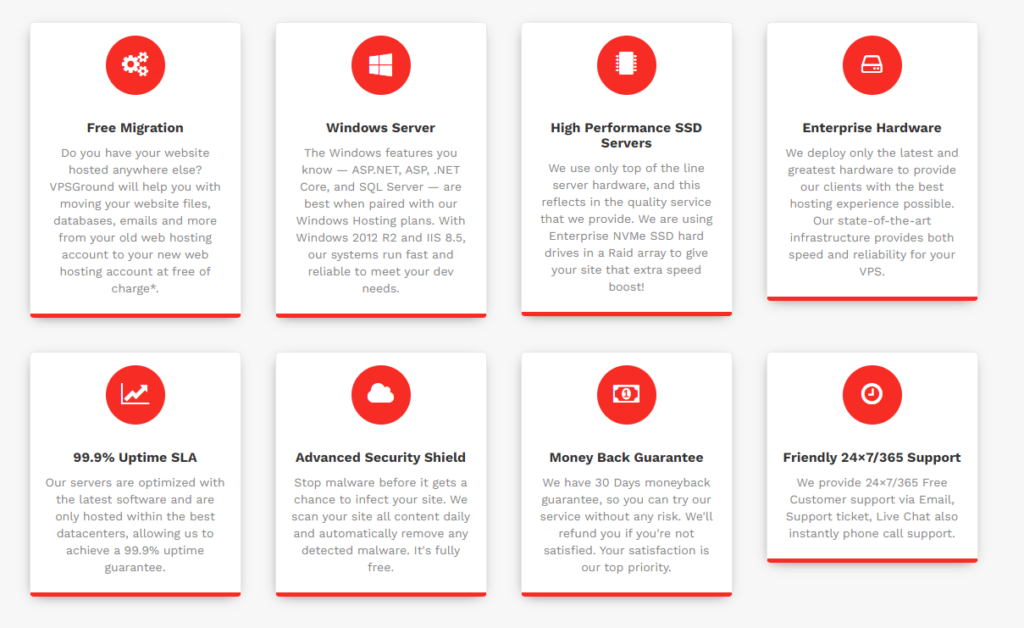 Domain Registration
While starting a website, your website needs a name that is known as a domain name, and it requires to be registered. VPSGround offers to register your domain name at a pretty affordable price.
SSL Certificates
Always make sure your data is safe. One way to do this is to get SSL certificates. VPSGround takes care of SSL certificates for you by providing them free of cost with their hosting.
Free Migration
You can always switch between other hosting service providers and VPSGround because VPSGround offers free website migration.
SSD Servers
Speed is crucial to making your customers favor your websites. VPSGround ensures the best speed of your website by using SSD server storage.
99.9% Uptime SLA
VSPGround is the best to make use of every minute to gain customers. Why we say, this is because VPSGround offers 99.9% uptime SLA.
VPSGround Hosting Plans
VPSGround has a long list of hosting plans. It offers web hostings such as Managed WordPress hosting, DirectAdmin hosting, Plesk hosting, NVME SSD hosting, etc.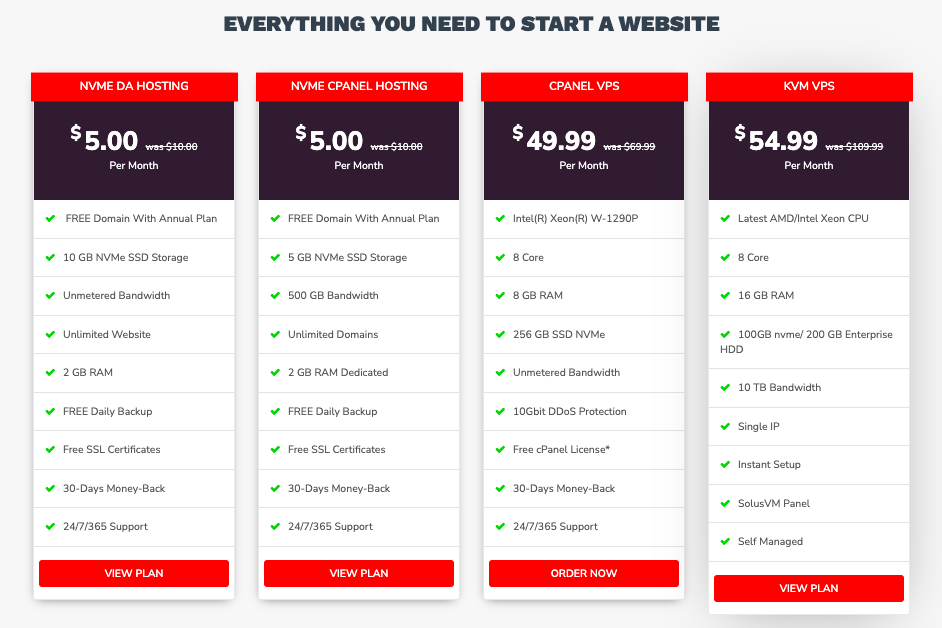 Types of Hosting Does VPSGround Offer
VPSGround primarily offers four types of hosting:
What Makes VPSGround Different from Other Hosting?
VPSGround hosting differs from other hosting service providers since it is much more than just a hosting service provider. It has many servers worldwide to give you the best service possible.
It helps you build your website in the easiest way and grow it as well. Moreover, it offers all its services at pocket-friendly prices.
FAQ's – VPSGround Review
Does VPSGround offer full root access to VPS plans?
Yes, along with their many amazing features, they also allow you full root access, which provides the ability to do changes in the server without any restriction.
What security features does VPSGround offer?
To ensure security, VPSGround offers many security features. Check them out:
Full DDoS protection.
Full malware, malicious and script injection protection.
Advance security shield.
Free daily backup.
What are VPSGround refund rules?
Does VPSGround offer Free Domain and SSL?
Yes, all of their plans include a free domain and SSL certificate.
Can I pay month-to-month?
Yes, talked to their chat support and found that they accept month-to-month payment in all of their plans.
Conclusion – VPSGround Review
As we saw in this VPSGround Review, VPSGround is a hosting service provider that provides many more services than just hosting. It offers many benefits for free with many of its plans, such as free migration, SSL certificates, and more.
Given these benefits, it's definitely a hosting solution for all kinds of businesses, and we would highly recommend that you give it a try.