Finding a hosting service provider that offers all the services you want and stays within your budget could be challenging. We understand your situation and therefore are here to provide you with a suggestion.
Zircon Host is a well-known hosting service provider. This hosting platform provides hosting plans, domain-related services, SMS, etc. This hosting platform offers you plenty of hosting plans at prices you wouldn't believe.
So let us dig into this Zircon Host Review to know more.
About Zircon Host
Founded not so long ago but in 2017, Zircon Host is still new to the hosting industry but has gained an appropriate amount of experience to cater to the needs of thousands of customers. This hosting platform is based in Sri Lanka and is its leading hosting provider.

The services offered by Zircon Host include shared hosting, Linux hosting, reseller hosting, enterprise-grade hosting, etc. You get many other benefits here, such as domain name registration.
Zircon Host Data Center Location
The data centers of Zircon Host are located in:
Customer Support
Zircon Host offers its customer support through three mediums, live chat, calls, and emails. This hosting platform also tells you about its working hours so that you know the preferable hours for customer support.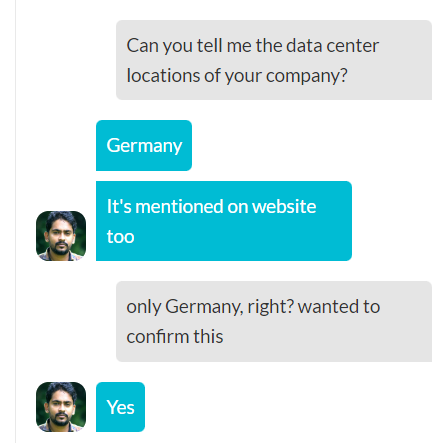 Core Features of Zircon Host
Now we must look at this platform's core features in this Zircon Host Review.

Weekly Backups
No matter how good your hosting platform's security system is, you must always spread a safety net for your data called backups, ensuring you never lose a bit of your data. Therefore with Zircon Host, you get access to weekly backups.
One-Click App Installation
Just like how you use applications on your mobile phone to make your lengthy tasks shorter and more accessible, you can do it too on hostings. Therefore to offer you the smoothest experience, Zircon Host helps you install applications with just a click.
SSD Storage
One of your priorities while buying a hosting plan is to check what the platform offers to increase your website's speed. With Zircon Host, you get plenty of them, and one of them is SSD storage. SSD storage is the fastest storage drive which will make your websites faster.
Types of Web Hosting Zircon Host offers
Zircon Host offers the following hosting plans:
Zircon Host Domain
With Zircon Host hosting, you can register your new domain name at affordable prices yearly. That hosting platform is a certified domain name registrar, so you can trust it.

Also, you will not lose your old domain name; here, you can also get it transferred along with a year of renewal.
Zircon Host Pros & Cons
Let us now list the pros and cons of this best web hosting platform in this Zircon Host Review.
Pros
Good customer support
Affordable plans
Provides multiple payment options
Cons
A small range of hosting plans
Only a single data center
FAQs – Zircon Host Review
How much does Zircon Host cost?
The cost will depend on the plan that you buy from Zircon Host. However, the plans are pretty affordable. The basic plans, such as shared hosting plans, start at about $4.12 a year.
Which Zircon Host plan should I get?
Does Zircon Host offer a money-back guarantee?
No. Unfortunately, Zircon Host does not offer a refund policy on any of its services. It states, "Due to the nature of our industry and the costs involved with provisioning and maintaining your Service, we do not offer refunds or prorated refunds."
What payment options do Zircon Host offer?
Zircon Host accepts Credit/Debit cards, PayPal, Mobile Wallets, LankaQR, and Wire/Bank Transfer Payments.
Conclusion – Zircon Host Review
Now it's time to brief out this Zircon Host Review. As we saw in this web hosting review, there were not many points about this hosting platform that we could consider bad. However, we could say that this hosting platform offers a small range of hosting services.
Also, the plans are filled with features, so they are still very efficient. The services offered by Zircon Host are pretty fast and reliable, so we could call it worth the money you pay for it, which is also less.