Are you looking for a hosting service provider that offers plenty of services in one place and keeps it simple? Or maybe looking for a hosting platform with a good network in South Asia? We might have a suggestion for you.
Go4Hosting is a hosting platform that offers numerous services such as application hosting, Forex hosting, managed and unmanaged VPS hosting, etc., in one place.
So let us dive into this Go4Hosting Review to know more.
About Go4Hosting
G4hosting was founded about two decades ago in 2000, which gives it a lot of hosting and customer handling experience. This hosting platform is India-based and has several data centers in its home country.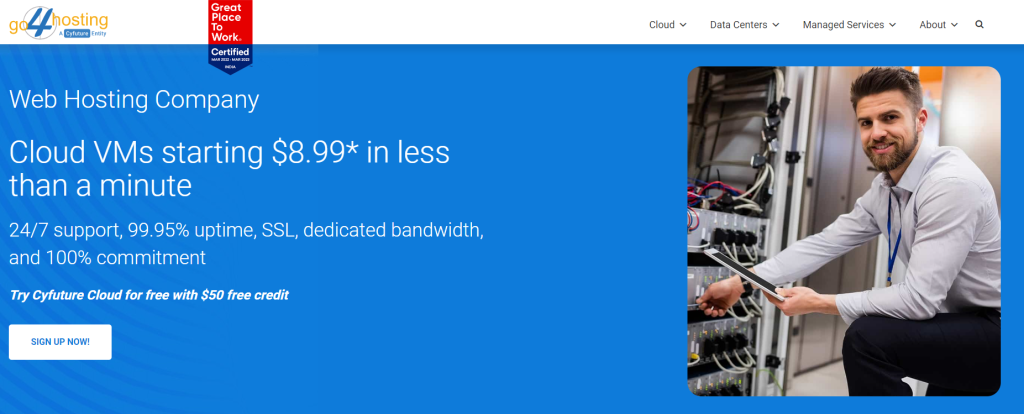 On this hosting platform, you get plenty of options to choose from for services. Here, you get application hosting, Forex hosting managed and unmanaged VPS hosting, private and hybrid cloud, etc.
Test and Analysis
It is now time to test out the services of this platform in this Go4Hosting Review.
User Interface & Ease of Use
You already know that the more manageable the user interface is to work with, the more benefit you can yield. Therefore, Go4Hosting ensures you get the smoothest experience through its user interface. Thus here, you get a simple yet efficient user interface. 
Go4Hosting Customer Support
The customer support system offered by Go4Hosting is pretty palpable. This hosting platform provides customer support in India and the US.

You can reach out to them through live chat, calls, and emails.
Security Analysis
Now comes another factor in which Go4Hosting excels at. Here you get DDoS support, monitoring, backups, etc. This hosting platform ensures the complete security of your data through several layers of protection.
Key Features Of Go4Hosting
The key features of this hosting platform are listed below in this Go4Hosting Review.
Scalability
It would be best to create your plan as per your needs and not by a standard plan that is supposed to fit all. This hosting platform offers scalability, which lets you minimize or maximize resources such as bandwidth, RAM, storage, etc.
Colocation
You might know that the closer you are to a Wi-Fi source, the better the internet works. The same is applied to hostings and data centers. With Go4Hosting, you get to choose the data center closest to your customers and check for the range of your data center location. 
SSD Storage
Speed is a requirement when it comes to running websites. The faster your website is, the more you are favored. Therefore, to keep your website on top, Go4Hosting offers SSD storage, ensuring the best speed.
What types of web hosting are offered by Go4Hosting?
Go4Hosting offers services that include:
Go4Hosting Pros & Cons
Let us list out the pros and cons of Go4Hosting Review.
Pros
Scalability
Colocation
Various services
Dual Firewall
Free Server Setup and Upgrade
Regular Data Backup
Cons
No refund policy
Data centers focused on India
FAQs – Go4Hosting Review
Does Go4Hosting offer email hosting?
How is the customer support of Go4hosting?
Go4hosting offers customer support in three ways: live chat, calls, and emails. The services are pretty quick and reliable.
Is Go4hosting suitable for beginners?
Yes, this hosting platform is built to suit all users. Whether a beginner or an expert, this hosting platform offers you an easy-to-use user interface that makes your work easier.
How many data center location provide by this company ?
The three data centers of Go4Hosting are located in India.
What is the refund policy of Go4Hosting ?
Go4Hosting works on a service credit policy where instead of getting money as a refund, you will receive credits in your account that you can use to claim services in the future.
Conclusion – Go4Hosting Review
Now that we are concluding this Go4Hosting Review, let us list the features that caught our eye in a good and a wrong way. The data centers of this hosting platform are mainly focused on India, which might bother many users.
Also, the unavailability of a refund policy might affect your user experience. However, this hosting platform has several good features such as scalability, colocation, security system, speed, and customer support are appreciable.