VPS (Virtual Private Servers) are the future today. Businesses are constantly moving to cloud technology and virtual servers to host their data and resources.
However, when it comes to investing in VPS hosting, the choice is quite challenging. You can't exactly know which company will suit your needs which is why reviews of different companies help.
That being said, here we are with yet another review of a great company offering VPS hosting. This detailed VPS2Day review will help you understand if the company is suited to your VPS requirements or not.
So, let's get started with the review.
About VPS2Day
VPS2Day, a Germany-based VPS hosting company with locations all around Europe, was founded in 2014, which makes it a relatively new company in the hosting space. However, despite being a relatively new company, they offer powerful and affordable alternatives to traditional dedicated servers with a high degree of flexibility and control.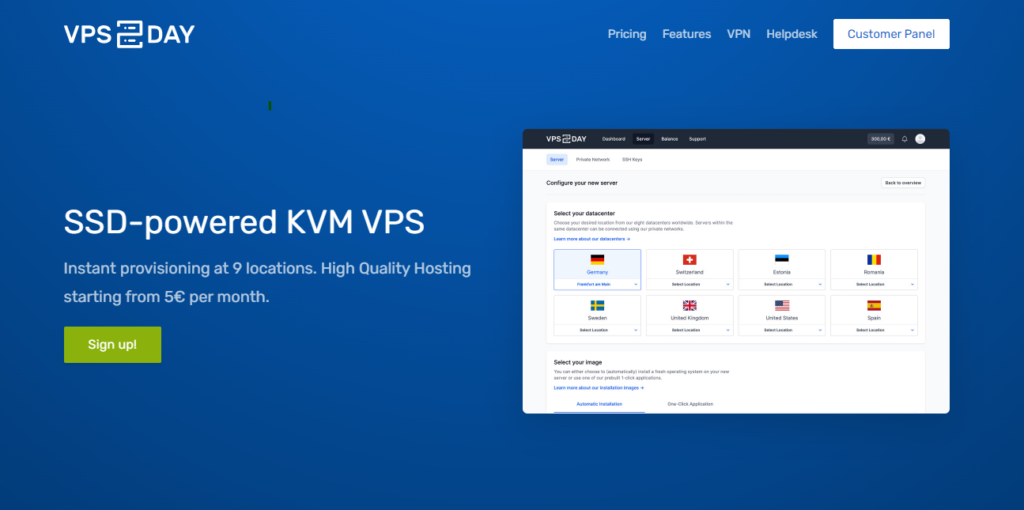 The team gets its efficiency with the experience and expertise of all the team members who have been in the industry for more than 10 years. They are also a member of the RIPE (Réseaux IP Européens Network Coordination Centre). A leading hosting provider has also acquired them in Germany, strengthening them.
With all their experience and expertise, VPS2Day hosts systems on the latest technologies and enterprise hardware parts, enabling them to deliver the best performance to customers and users.
Test & Analysis
VPS2Day is a promising company with an amazing team of experts. We reviewed the company and passed it through several tests and analyses to understand its usage and support.
Herein below are the results of our tests and analysis of the company.
User Interface & Ease of Use
VPS2Day has an easy-to-use and modern user interface. However, they have reduced their portfolio of services to a single-core offering: high-quality VPS hosting. You do have the ability to choose between Windows or Linux as your operating system.
Your VPS will be deployed and ready to go as soon as the payment is processed. If you decide on Linux as your OS, it will come pre-installed, but you will have to install the Windows OS on your own.
VPS2Day Customer Support
The customer support provided by VPS2Day is pretty good, and the support team is available 24/7. You can contact the support team using an online ticket system, email, or social networks.

They even have a helpdesk where you can find answers to common and frequently asked questions to resolve basic queries.
Security Analysis
There is not much information about the security features available on VPS2Day. However, they care about their systems' security and offer good security and protection from DDoS attacks, viruses, malware, and other such attacks, thereby safeguarding your resources and servers and keeping them at optimum performance.
VPS2Day Data Center Locations
VPS2Day has data centers located in the following locations:

Core Features of VPS2Day
Here are some of the main features offered by VPS2Day. 
All virtual private servers have a default bandwidth package of a hundred Mbps uplink speed. However, with a single click, you can raise this to one Gbps from your customer control panel.
No matter which OS you use, Windows or Linux, all products can be individually installed and configured with no bar on administrative rights.
VPS2Day offers 99% uptime guaranteed by their server-level agreement.
You can easily add more power and memory with a few clicks.
All products come with a fixed IPv4 address, and additional addresses can be booked using the web interface. You can also use IPv6 as it is supported by them as well.
You can schedule automatic backups for your virtual private servers and roll them back whenever possible. 
VPS2Day offers Kubernetes hosting for containerized applications starting from $228.11. 
Types of Web Hosting VPS2Day Offers
VPS2Day offers the following two hosting services-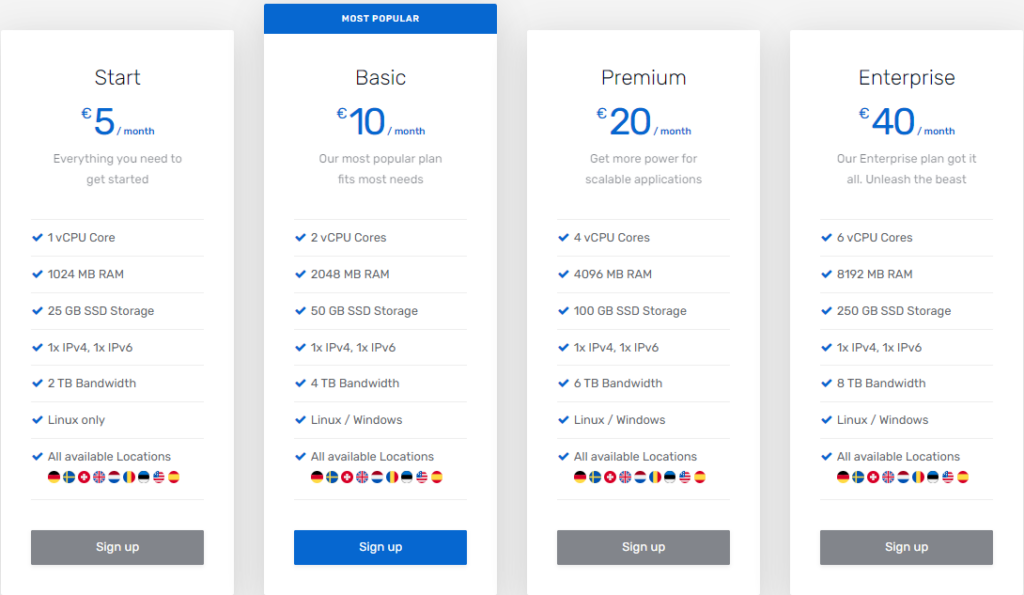 VPS2Day Hosting Pros & Cons
With every platform, you have to consider its advantages and disadvantages. When we tested and analyzed VPS2Day, we came across the following pros and cons. 
Pros
Affordable VPS packages
Multiple points of presence globally
No specific contracts 
Money Back Guarantee 
Cons
Any additional services cost extra 
FAQs – VPS2Day Review
What languages does VPS2Day support in their product?
VPS2Day offers its support in English and German.
What payment methods are accepted?
VPS2Day supports various payment methods, such as credit cards, PayPal, Paysafecard, and cryptocurrencies like Bitcoin, Litecoin, Ethereum, and Altcoin.
How much does VPS2Day cost?
VPS2Day virtual private servers start from $4.99 /month.
Conclusion – VPS2Day Review
Overall, VPS2Day is a decent company for specialized VPS hosts. However, you need technical knowledge to get the most out of their packages. 
So, it all depends on your level of technical understanding and knowledge. Nonetheless, the packages are cheap, and you can definitely give the platform a try and see whether it suits you or not.