There are tons of hosting service providers across the globe and not everyone can fit your needs.
You need to look for that particular provider that gives you affordable rates, better services, and faster customer response.
After reviewing multiple service providers, we came across iPage.
iPage is one of the leading and most affordable hosting service providers you will find. It also provides domains with its services for a year and then charges for it from you.
The main thing to consider for this service should be customer service as they answered our query immediately.
Throughout this iPage Review, we discussed various ups and downs of this service provider called iPage.
So, without any more talking, let's get to the point and start our iPage review.
iPage Merged with Web.com
Over the years, iPage has been a solid and affordable choice for small to mid-size websites, but recently in 2023, it merged with web.com.
About iPage
iPage was founded in 1998. Throughout these years, they have served their customers and never stopped innovating.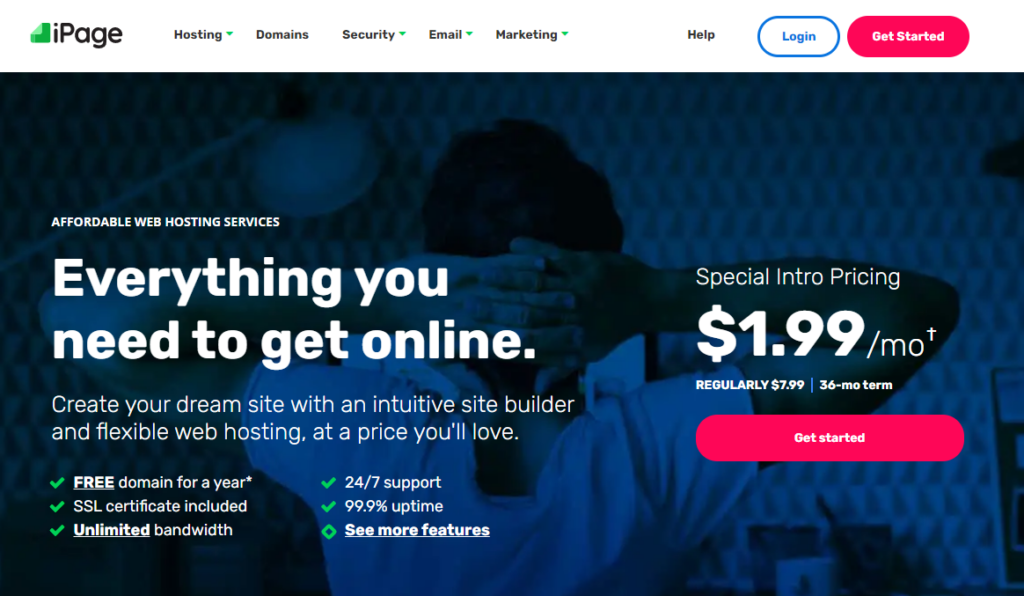 Moreover, this hosting service provides all users with a highly intuitive and modern interface. They provide affordable Web Hosting Solutions with their infrastructure, which is a Shared Hosting Service.
Test and Analysis
User Interface & Ease of Use
A user interface is very important for beginners, especially those who want the task to happen fast and take as little time as possible.
iPage comes with its Website builder. They have a 1-click WordPress installer. They also claim to have an easy-to-use setup wizard to guide you through.
iPage Customer Support
You need good customer support for time-intensive applications, especially if you are a business owner and can't afford any downtime on your business.

iPage claims 24/7 Support with their plans. You can reach them via Chat or the number provided on their website. 
We got our answers within seconds of asking them. So, this seemed quite reasonable.
Security Analysis
Good security is almost non-negotiable for some users. Especially in Business, you don't want to compromise your Data in the wrong hands.
iPage offers free SSL Certificates. They use UPS and Generators as their power backup, so you stay online. They also provide a feature called 'Sitelock'. They:
Key Features of iPage

Unlimited Bandwidth: 
iPage provides its users with Unlimited Bandwidth. They claim to use Shared Architecture that shares both the performance and Bandwidth among its users.
Although it can be bad for some users to small website owners, this is good.
Free Domain:
Some Qualified Plans of iPage provide a free domain for a year. But after that, you would have to pay the price to keep using it. Unfortunately, they don't mention the recurring cost on their Website.
Free SSL: 
The Hosting plans from iPage come with free unlimited SSL Certificates. You can avail of it with the hosting plans you choose for your website.
Types of Web Hosting Plans Does iPage offer 
These are the Hosting Plans iPage offers-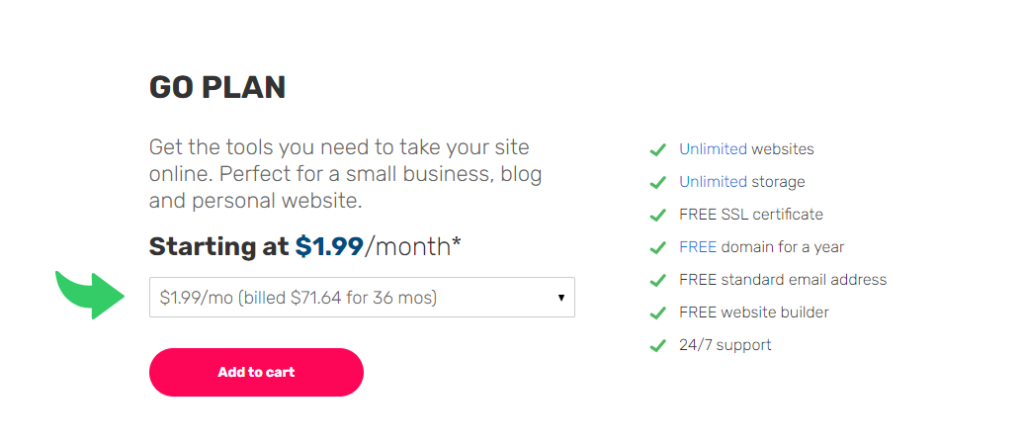 iPage Domain

If you are searching for a domain, you can also check out iPage. You can buy various top-level domains like .com, .org, .info, .biz, and many more.
You can also get your domain free if you buy Hosting from iPage.
iPage Hosting Pros & Cons
Pros
Affordable Pricing
Website Builder for free
Great refund policy
Easy-to-use setup wizards
Cons
It does not mention the recurring cost of the free domain you get.
Limited data centres
FAQs – iPage Review
Why is iPage so cheap and affordable?
iPage uses shared Hosting to distribute its hardware to many. The idea behind providing cheap plans is made possible due to the resources being shared among multiple users or businesses worldwide. 
How does iPage provide affordable web hosting services?
iPage has an infrastructure designed to share its resources among its users effectively. This can provide many useful services with low server costs. This is why their plans are affordable.
Do iPage web hosting services work for a business website?
If your needs are simple and you are just starting and don't expect a ton of users, you can use iPage.
What is the refund policy of iPage?
Yes, they offer a 30 days refund if you cancel your hosting plan within 30 days of signup. But if you have a free one-year domain in your hosting plan, then $15 will be deducted from the refund amount.
Conclusion – iPage Review
iPage Review: Here we are with everything you need to know about iPage. Is it what you are looking for?
You can start with their 30-day trial service and decide for yourself if it suffices for your website's traffic and other needs.
Well, you will love the fact that is not only affordable but the services offered with each plan are just perfect.
If you are a large-scale business with websites that have huge traffic, this service provider might not be the one you are looking for.
But for users such as bloggers, and small-scale businesses, there is no better option than this currently in the market.
Furthermore, they have a 30-day refund policy as well where you can choose to get your money back if you are not satisfied with their services.