Finding a service that provides security features and has a CDN? We might have a solution for you. JoivHost is a hosting service with features like great UI, good Security features, and phenomenal uptime.
We have laid out various aspects of this service through this review and conveyed the features of JoivHost. Let's not spend too much time on the introduction and get started with our JoivHost review.
About JoivHost
JoivHost is a UK-based company that provides services like VPS Hosting, Web Hosting, and Dedicated Servers. They describe their services as "powerful, simple, and surprisingly affordable." It also claims to come with DDoS Protection and 99.99% uptime.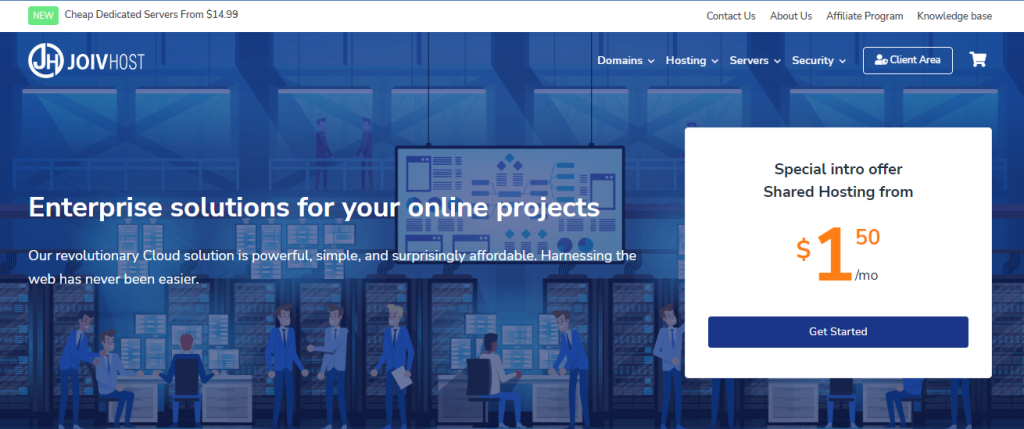 Their services are very cheap and affordable. You also get Cloudflare CDN built into your account.
Test and Analysis
For every hosting, it's essential to test and analyze its functionalities and features to ensure its efficacy. Herein below are the results of all our tests and analysis.
User Interface & Ease of Use
JoivHost features cPanel for its Web Hosting Management. cPanel is widely used and is very easy and straightforward to use.
As it is very popular, you get support and tutorials for it all over the Web. Although it might not look very Modern like hPanel or other alternatives, it is good enough and intuitive to operate.
They also use cPanel as their VPS Management System. Although it is not something you would use every day when you need to set up, a good UI is always appreciated, and we think cPanel is good enough for it.
JoivHost Customer Support
Good Customer Support is almost a must-have if you run a time-sensitive business or personal work which can't be bothered to have any downtime. JoivHost claims 24/7 Support. You can reach them via Live Chat or by submitting a Ticket.
Along with Customer Support, they have a Knowledge Base that might answer many of your questions. They have around 211 blogs or guides on their various Services.
Security Analysis
If you run a business or are in IT, you know how important your data security is. JoivHost claims to provide DDoS protection to their Servers.
Your services never go down. They claim to take Various Security Measures on the Server Side, ensuring the wrong people can not access your Data. They also provide SSL certificates for a cost.
Core Features of JoivHost
Some of the major features that make JoviHost one of the best hosting service providers are listed below.
DDoS Protection
JoivHost states they provide DDoS Protection. This way, when some individual or group tries to take down your Service, your site will be protected at all costs.
Instant Activation
JoivHost provides services that can be activated instantly, so you don't have to wait around.
99.99% uptime
Uptime is crucial as downtime means no revenue. JoivHost assures 99.99% uptime which translates to less than 1-hour downtime in a year if it happens somehow.
Types of Hosting JoivHost offers
JoivHost provides various Hosting Services. These include-
JoivHost Domains
Along with Hosting, JoivHost offers Domains as well. You can buy a new domain from them at a reasonable price.
Domain Search
You can search for your desired domain and see if it is available to purchase with their Domain Search Feature.
Domain Transfer
You can transfer your existing domain to JoivHost if you don't like the services or prices of the previous Host.
JoivHost Hosting Pros & Cons
Pros
Uses cPanel
Affordable plans
Money Back Guarantee for 30 days
Cons
Customer Support is not very responsive
It doesn't have an option for WordPress Hosting
FAQs- JoivHost Review
Does JoivHost offer Lifetime Free SSL?
What extra services does JoivHost offer?
They provide SSL Services and Domains apart from providing Hosting services.
Does JoivHost offer free trials?
They don't have free trials, but they do have a 30-day money-back guarantee on some of their services.
Why Choose JoivHost premium plans?
JoivHost provides various unique features with its Premium plans and offers more storage or performance. So, if you are after those, you can choose their Premium Plans.
Conclusion – JoivHost Review
Did our review answer all of your questions regarding our JoivHost Review?
We can say that JoivHost has great uptime. It uses cPanel, which is pretty important. Their plans are very affordable. So, a lot of people would be able to try them. You can always check this service out for yourselves and choose if this is the correct service for you.
Even though they have limited services available, you can still choose to invest your money into it and test them out with the help of a 30-day money-back guarantee and get your money back if it does not suit you.