GoDaddy is an established platform that has achieved plenty of love and support from its millions of happy clients. It is a well-reputed company specializing in offering various website-oriented services, including hosting, domains, emails, and intuitive tools for security.
However, it is essential to know if the company can fulfill your demands and stand by your expectations or not. To find the answer, dive into this review of GoDaddy Web Hosting.
About GoDaddy
GoDaddy is the world's largest hosting and domain services agency that was established in the year 1997. The company offers several other valuable solutions like SSLs, eCommerce, website building, and more to enhance the culture of your website.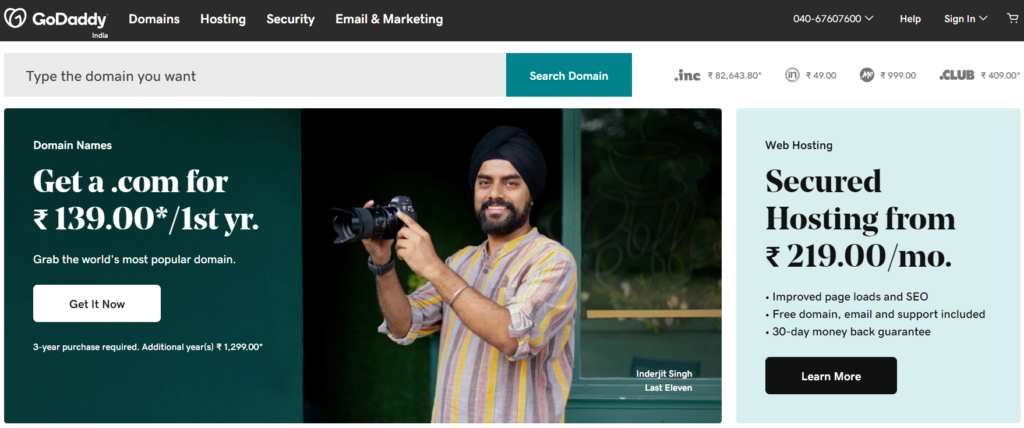 Moreover, the company has registered over 84 million domain names, helping millions of clients achieve their goals. Today, the company empowers 21+ million new aging entrepreneurs in the market.
Speed Test and Analysis
GoDaddy is a well-structured company that majorly stresses enhancing the speed and performance of your website. Following is a researched-based analysis of the speed and test of the company.
Customer Support
GoDaddy not only says but also proves to be super active for their customer support. The company offers 24/7 online support: Live Chat, Phone, WhatsApp to help clients with the most approachable solutions.
Additionally, they ensure 24/7/365 technical support and presence to solve your queries with easy solutions.
Security
Compromising their hard-earned data security can be a dreadful situation for entrepreneurs. Therefore, GoDaddy provides top-notch security tools to ensure the end-to-end protection of your website. Some of those services include SSL certificates, backups, and web security.
GoDaddy Speed
If you are thinking of speed and performance, then let us tell you that GoDaddy offers the highest loading time in the market yet. The loading speed of GoDaddy is detected up to 1.94 seconds. Moreover, the company offers 99.96% uptime to ensure you no longer meet a lagging setup.
Key Features of GoDaddy
GoDaddy is the fastest-growing platform that creates a high-potential web portal for its clients. Some of its intuitive features help the company best satisfy its client's needs. Let's have a look at some of the company's standard features.
Easy to Manage Control Panel
GoDaddy always ensures that you do not have to compromise with website speed and performance, leading to uninterrupted website hosting. This is why they use easy-to-use cPanels that offer top-notch results without complicating the process for the users.
Regular Site Backups
With GoDaddy, you can effortlessly restore your daily data without wasting much time. The company offers automatic backups that are held regularly to ensure your data life.
Free SSL Certificates
At GoDaddy, you get a variety of SSL certificates based on your website nature. These SSL certificates are up to date, which helps you maintain your domain's security and build the trust of your users on your owned website. You get SSL certificates for each of your domains and subdomains.
Built-in Site Builder
There is no need to be a professional developer or webmaster. With GoDaddy, you can create a website efficiently without knowing much about web development.
The website builder tools in GoDaddy acquire designed automated tools with the latest features and some appealing templates to make your website look captivating.
Email Marketing tools
Your marketing strategy is entirely incomplete without email marketing messages. Therefore, GoDaddy offers 100 emails per month even at their lowest plans. The highest number of emails that can be sent is up to 25,000 emails per month.
GoDaddy Web Hosting Plans
Amongst all its services, GoDaddy web hosting is one of the most commonly used services by its users. Given that, it has top-notch plans that are accommodated with feature-rich tools, the latest technology, and budget-friendly prices to help users build their community efficiently.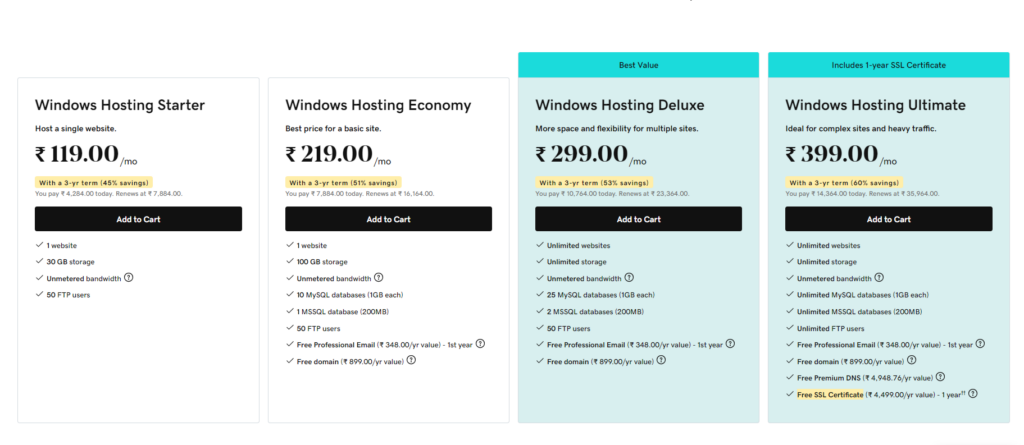 Important Note: Web Hosting prices are updated frequently. So, I request you to verify the pricing by visiting the respective websites.
The basic plan starts at as low as Rs 119.00 per month, helping you improve your hosting performance online. Now, let's look below to have a complete overview of the plans and pricing of web hosting.
Services Offered By GoDaddy
GoDaddy triggers all-in-one solutions that help a website become more vibrant and vigorous as per the latest world. These services are not only the best in quality but also designed to have a powerful impact on the next-generation marketing industry. Following are some of the major services offered by the company.
The company also provides some additional services like emails, professional setups, and marketing tools to help you stay top of the competition.
Why Choose GoDaddy Hosting Plans?
GoDaddy is undoubtedly a huge domain and hosting platform that has helped several users since 1997.
However, one of the top grounds that proves GoDaddy to be the best choice is their accuracy and accountability to work. The company tends to spare no effort in bringing your ideas into life. Therefore, they are caught up exceptionally different from the competition.
Furthermore, there are reasons why GoDaddy is the No.1 Choice for all:
FAQs- GoDaddy Review
Why shouldn't you use GoDaddy?
If you are just a beginner or a start-up, you should not look for GoDaddy hosting services. They are built with high prices and plans which may not fit into your budget being a start-up.
Does Google own GoDaddy?
Google and GoDaddy are very well-known brands; however, they are entirely different from each other.
Can I get a free domain with GoDaddy?
Yes, you can get a free domain with GoDaddy. All you have to do is purchase an annual plan with GoDaddy, and they will automatically offer you a free domain for a year.
What is Godaddy Pro Plus?
GoDaddy Pro Plus is a service offered by GoDaddy, a popular domain registrar and web hosting company. It is designed specifically for web professionals, such as web designers, developers, and agencies, to manage and streamline their clients' websites and online presence.
Conclusion- GoDaddy Review
So, this was about GoDaddy and a record of its quality features and services. Moreover, if you are someone who wants to build a strong web presence in the market, then GoDaddy can be an excellent buy for you.
The company not only nurtures your website but also boosts it with powerful features to stand out from the crowd!
We hope this review was helpful, and you could explore Godaddy thoroughly with a read of this article. So, now that you know all about GoDaddy, it's time for you to start experiencing and leveraging its benefits by creating your hosting journey with GoDaddy!