All INKL is a very popular web hosting service provider. It is a company that has huge popularity in its field of service. Interestingly, the company has got 80% of its new customers from existing customers' recommendations.
It provides the most cordial customer-company relationship and ensures that the customers face no problem contacting the agency if there is any query left them.
Knowing all these things about the platform, it was obvious for us to review it. So, here is a detailed All INKL review for you based on the features, security, and support offered by the hosting.Nch
About All INKL
ALL INKL is based in Saxony, Germany. It was founded in the year 2000 and had 100 people only as a total workforce and clients. From that time onwards, the company has immense popularity and has earned 80% of its new customers from existing customers only.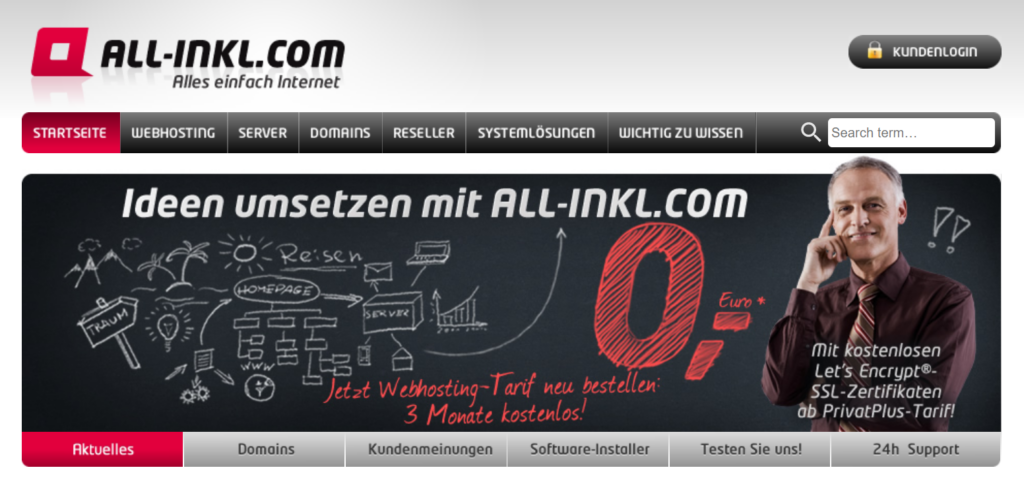 It is wonderful that "ALL-INKL" stands for the term "All Inclusive". The company also has other key points, such as low prices for hosting packages.

It has a well-dedicated staff to listen to the queries that persist among the customers.
Test and Analysis
The efficiency of All-Inkl's hosting services can be discussed under three main categories as follows:
User Interface & Ease of Use
Their user interface has an antiquated, awkward feel about it. It's an internal administration panel rather than the widely used cPanel, and while it allows administering your account reasonably well, it occasionally required some searching to discover what I needed to do. Additionally, as everything was written in German, it can be difficult for those who don't know the language.
All INKL Customer Support
With the mission of offering cost-effective web hosting solutions without sacrificing quality, All INKL was founded in 2000. They have a number of data centres spread out over the globe, ensuring that no matter where users are, their websites will load quickly. Their headquarters are in Germany.
Security Analysis
The base plan does not include any SSL certificates. As a result, it's not the best option for owners of e-commerce websites, even though it's more than sufficient for a fluid WordPress website or even a skilful web front with a company blog.
The measures that ALL INKL takes to secure the database of its clients are superb. It has a two-layer authentication to protect the data of its users.
Key Features of All INKL
Here are some key highlights that tell us how All-INKL is outstanding from other web hosting service providers.
The company has a very amicable staff to look after customers' queries. They get the treatment of every customer personally and individually. It has a dedicated workforce that is 24*7 dedicated to maintaining the user's database.
The company has laid down very clear and precisely drafted guidelines for its customers. The whole Policy system is well-versed and clearly specified as per the user's psychology. It has clear semantics.
All INKL Pros & Cons
This section talks about the benefits and negatives of using ALL INKL as a web hosting provider.
Pros
Provides competent and reliable support.
A fair price is available for its customers. 
Certified by many big industries and organizations. 
Cons
No SSL certificates in the base plan.
FAQs – All INKL Review
Which All INKL plan should I Get?
For beginners, the web hosting service provider has the Privat package at a reasonable cost; for those advanced-pro members, it has the Business package, which is a big cost.
What payment methods Does All INKL accept?
It follows all payment methods that are valid in Germany such as Visa Cards, etc.
How much does All INKL Cost?
It has a reasonable cost to offer to its clients. The basic package is just worth $ 7.45 per month.
What are the Types of Web Hosting offer All INKL?
Conclusion – All INKL Review
These pointers tell us that ALL-INKL is a very authentic web hosting service provider that has got many useful characteristics for its users. The whole setup is easy to operate, even for beginners and advanced users.
The privacy policies that ALL-INKL has are quite practical and meant for the best use of the users. The entire usage depends upon your choices, and ALL-INKL has all the choices you can choose from.
All-Inkl might be useful or not depending on your plan and usage but is definitely a good choice to consider.