Are you a beginner in the gaming server field and looking for a hosting service provider that will provide you with a gaming server that will help you from beginning a beginner to a pro? This hosting platform could help you do that.
Server.pro is a hosting service provider primarily focused on offering gaming servers. Since gaming servers are its primary focus, they have worked on it to a reasonable level that could help you with its best features and multiple data centers.
So let us dig into this Server. pro Review.
Overview of Server. pro
Server.pro, as the name suggests, offers gaming servers as its primary focus to the world. This hosting platform is based in Sweden and has numerous data centers around the globe that help you keep up with speed.
This hosting platform offers gaming servers for plenty of online games such as Minecraft, Terraria, Factorio, GTA, Velheim, and more. Also, the payment process of this hosting platform is pretty impressive.
Test and Analysis
It is now time to test out the services of this platform in this Server. pro Review.
User Interface & Ease of Use
The user interface must be beginner-friendly for anyone to understand and benefit from it. However, do all hosting service providers offer the same?
Leaving others aside, but Server.pro does ensure that. From our personal experience, we can say that this hosting platform offers a pretty simple user-interface
Server.pro Customer Support
When you are stuck with a query and are desperate to resolve it, use the best resources. Not surfing through the internet, with Server.pro, all you have to do is contact the customer support team, and they will help you out within minutes. You can contact them through messages.
Security Analysis
When buying a server or a hosting, you must always look for its security aspects. How? With Server.pro, you can expect complete security of your data.
This hosting platform offers DDoS protection, full access, and daily backups to keep you off risk.
Server.pro Data Center Location
The numerous data centers of Server.pro are located in:
Core Features of Server.pro
Let us now take a look at the core features of Server. pro Review: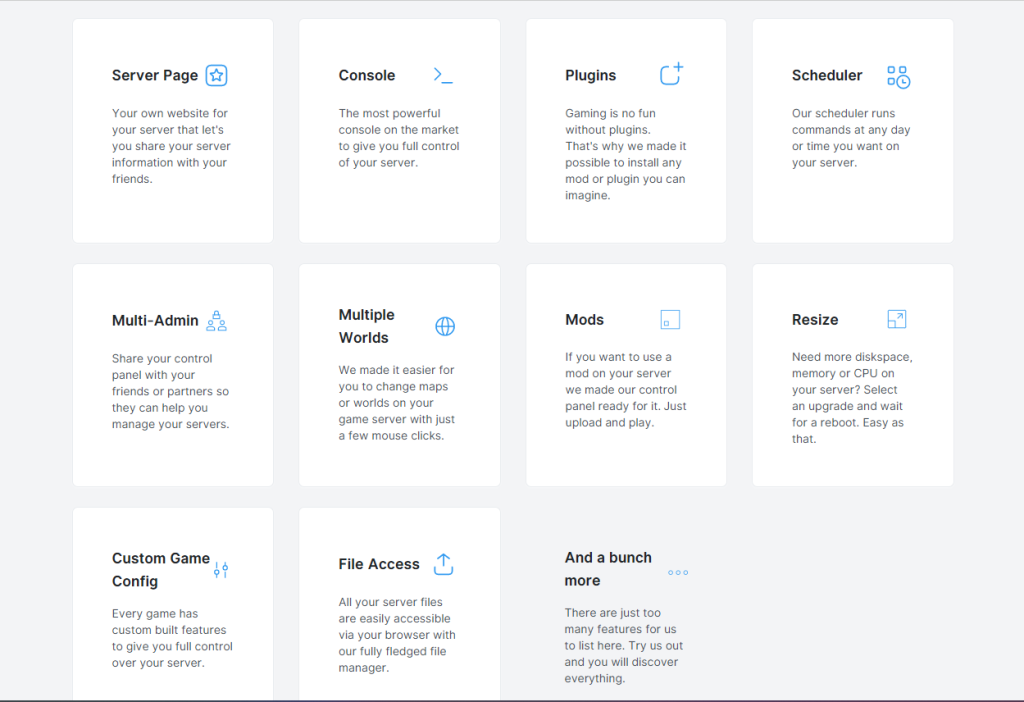 Scheduler
So you had to run a specific command on Monday morning but couldn't make it because you had an upset stomach and had to run to the hospital?
Of course, your health is essential, but so is your gaming server. Why make a compromise when you can do both? With Server.pro, you can schedule commands to be run in the future.
Multiple Admins
Do you have a lot of work and no one to help you out because you cannot share your control panel? Not anymore. With Server.pro, you can share your control panel with your partners and friends to work together.
Multiple Worlds
Are you bored of working on the same maps and gaming through the same battlefields? Why not change that? How? With Server.pro.
This hosting platform helps you change the maps and worlds with just a few clicks on your mouse.
Types of Web Hosting Server.pro offers
Server.pro primarily offers only gaming servers. The prices for these plans start at about $0 a month that is for free! Also for further upgrades and when your website starts getting enough traffic, you will be needing advanced features with premium plans.
Hence, Server.pro offers premium and pro plans, giving you enough choices to choose from. We have attached a screenshot for a better understanding of Server.pro's plans and prices: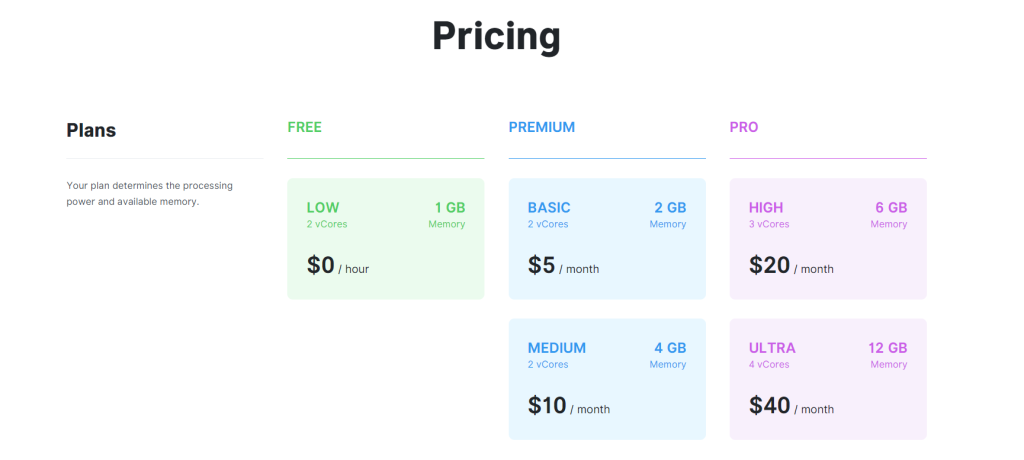 Server.pro Refund Policy
Server Pro has a specific refund policy for its services. You can get a refund for your money within 72 hours of the transaction when your purchase any service through credit/debit cards or even PayPal.

Moreover, you cannot get any refund on mobile or prepaid card payments and any type of donations.
Server.pro Hosting Pros & Cons
Let us now list out the pros and cons of the Server. pro Review.
Pros
Affordable plans
Multi admins
Daily backups
Cons
Customer Support could have been better
FAQs – Server. pro Review
How reliable is Server Pro?
Server.pro is pretty reliable and has been in business for a good time offering its service to numerous users. Also, this hosting platform clearly states its terms of service written in simple words.
Can I Play on Server.pro With a Cracked Version of Minecraft?
Server.pro supports two versions of Minecraft, which include Minecraft Java Edition and Minecraft Bedrock Edition.
What's Server.pro's Refund Policy?
Server.pro doesn't say much about a refund policy but states that 'Any kind of chargeback or fund withdrawal will result in the associated account being closed.'
Why Choose Server.pro?
You could choose Server.pro as your gaming server provider due to its multiple data centers, security, and speed. This hosting platform offers affordable plans that fit your budget.
Conclusion – Server. pro Review
Let us now look back and list out the good and bad of this hosting platform that we came across in this Server. pro Review. This hosting platform has numerous data centers spread across the globe, which is great for the speed of your Server.
Also, you get security features such as DDoS protection and daily backups, which does build our trust in it. However, we would love it if this web hosting platform offered a comprehensive refund policy for its plans.