Nessus used to be a popular web hosting service which then transformed into a server housing and internet business ISP for a variety of organisations. It offers high-bandwidth internet service with fast response times.
In this Nessus hosting review, we will explore their different plans and judge their actual performance compared to the claims made on their website. By looking at aspects of security, ease of use, and additional features, this review will tell you everything you need to know before buying a plan from Nessus.
About Nessus
Nessus was founded in 1999 by Florian Schicker as a web hosting company and has since transformed into a server housing and internet business ISP for organizations of all sizes.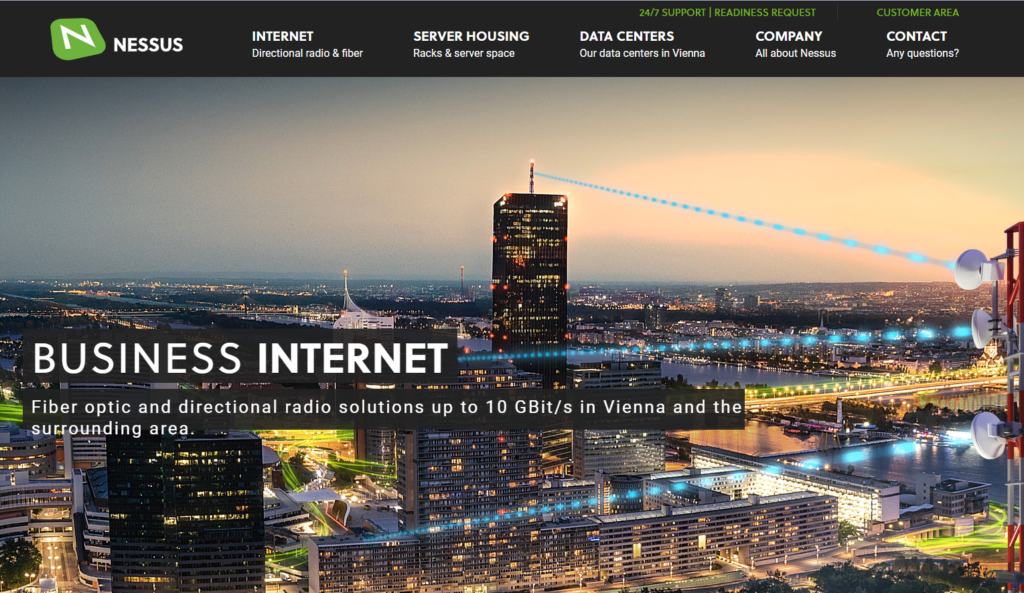 Nessus provides you with the best network in Vienna with bandwidths of up to 100Gbit/s and the fastest response times under 1 ms.
Test & Analysis
Refer to the following points for the analysis of the services provided by Nessus.
User Interface & Ease of Use
Nessus offers an easy-to-use and intuitive interface for controlling all aspects of your server. It has features such as pre-built policies and templates, customizable reporting, group snooze functionality, and real-time updates.
You will need some prior knowledge to run a Nessus server unless you want to rely on support services that cost a lot. The signup process is rather simple, but the daily experience is less guided than some of the other hosting services.
Nessus Customer Support
Nessus offers 24/7 technical support and monitoring since its main client base is businesses with high-performance requirements and availability.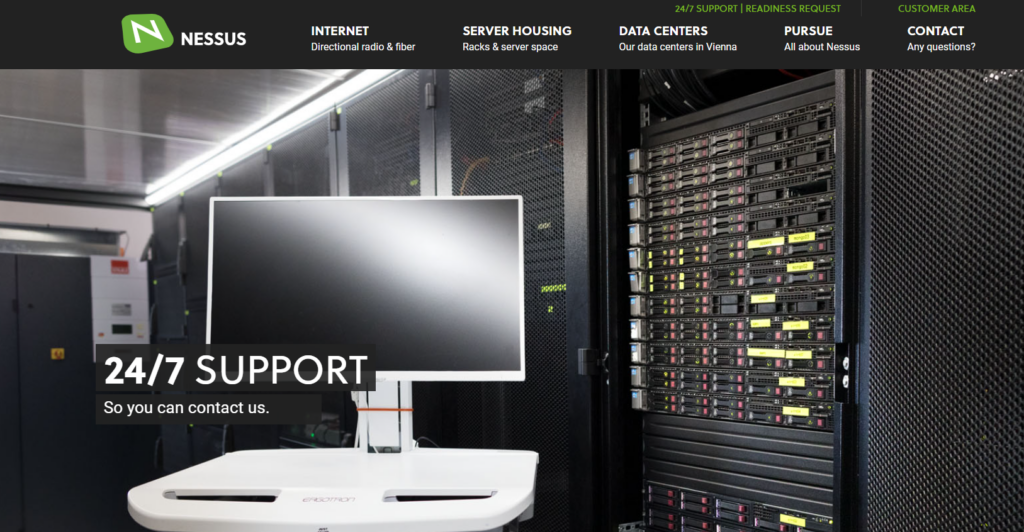 Other than that, they also offer some other support servers that allow you to monitor the health of your server, a readiness team, and server management. You can reach out to the support team via mail or phone.
Security Analysis
Nessus performs point-in-time assessments to help security professionals to identify and fix vulnerabilities when they are detected. This includes software flaws, missing software patches, malware, virus, and misconfigurations across many operating systems, devices, and applications.
Key Features of Nessus
Here are some of the key features offered by Nessus.
Types of Web Hosting Offered by Nessus
Nessus Pros & Cons
While testing out the services Nessus provided, we found some pros and cons.
Pros
Top-level server products
24/7 support
Interxion colocation server packages
Cons
Very few hosting options
No money-back guarantee
FAQs – Nessus Review
Does Nessus Provide a Dedicated Server?
What payment method does Nessus accept?
Nessus accepts payment via credit/debit cards and EFT.
How much does Nessus cost?
All of the products offered by Nessus come on a monthly basis with no free trial periods. The plans start from $477 and go all the way up to $1255.
What Plan should I choose if I was a beginner?
For beginners, it's best to start with a personal web hosting plan depending on your business requirements.
Conclusion – Nessus Review
Overall Nessus offers amazing server housing products in their state-of-the-art data centers in Vienna with high availability, performance, redundancy, and minimal hand-holding. All of these factors make Nessus a very good option if you're located in Europe.