Are you low on budget but do not want to compromise on hosting quality? But you can only find good hostings that are pricey? Well, not all premium quality hostings are expensive, such as Hosttier.
Hosttier is a hosting service provider that offers numerous hosting services such as shared hosting, WordPress hosting, cloud hosting, reseller hosting, domain names, etc., at prices that will not empty your pockets.
Overview Hosttier
Founded in 2021, Hosttier is a Bangladesh-based hosting service provider with two data centers located across the globe. The primary objective of this hosting service provider is to maintain a premium quality as they believe in providing the best quality to their users.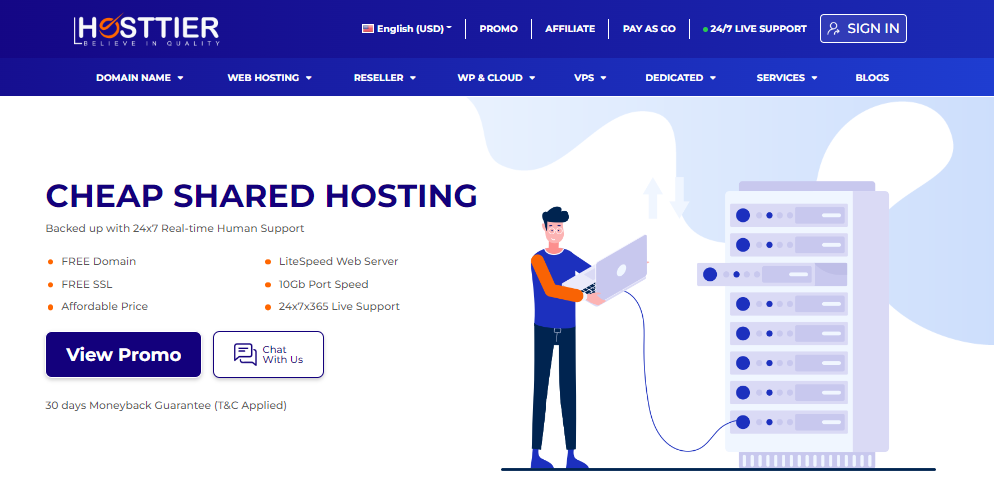 Hosttier has various hosting and other website-related services, such as shared hosting, reseller hosting, cloud hosting, WordPress hosting, domain registration, transfer, reseller, etc.
Hosttier Data Center Location
Hosttier has two data center locations worldwide.
Hosttier Core Features
Let us now take a look at the core features of Hosttier in this Hosttier Review.
Imunify360
Does a virus feel like a nightmare to you while working online? Do you fear it will damage your website content and years of work?
If your website encounters a virus attack, it might as well get destroyed but not with Hosttier. This hosting platform offers you the antivirus Imunify360, which will eliminate any virus that could damage your website.
Free Migration
If you dread working with your current hosting service provider because of its high charges and slow speed, why don't you migrate your website to Hosttier? Anyways, this hosting platform helps you migrate your website for free.
Free SSL Certificates
Wouldn't you want to keep your website safe from forming damaging connections on the internet? You would. Therefore, Hosttier helps your website form secure and encrypted connections on the internet by providing SSL certificates for free.
Price and Plans Offered by Hosttier
The types of hostings offered by Hosttier are: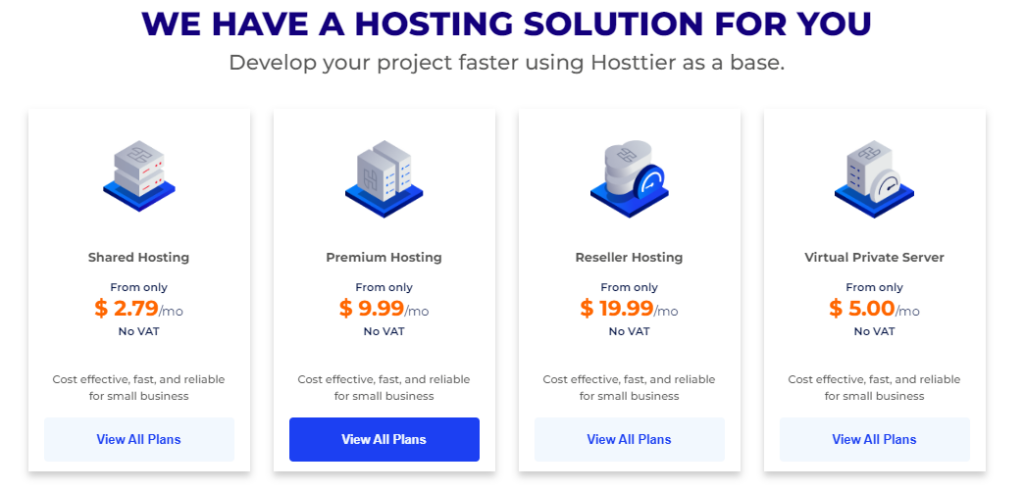 Important Note: Web Hosting prices are updated frequently. So, I request you to verify the pricing by visiting the respective websites.
Hosttier Domain
Hosttier offers three domain-related services rather than just one. Let us take a look at them in this Hosttier review.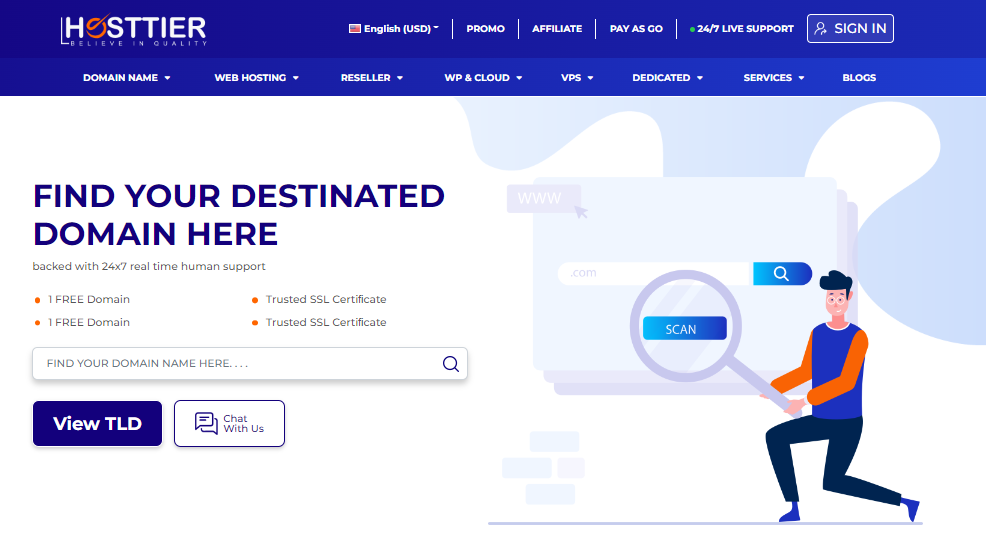 Domain Name
You can get your domain name registered with Hosttier as it is one of the most reliable domain registrars, and the plus point is that the prices start at about $1 depending on the type of name you choose. Isn't that great? However, this hosting platform offers free SSL certificates as well.
Domain Transfer
Besides getting your domain name registered, you can get it transferred to Hosttier without any hassle if you already have a domain name. You can have the complete support of the technical support team of HistTier. This will help you manage all things in one place.
Domains Reseller
Now, this is something new. With Hosttier, you also have access to reseller domains. This ensures that the domains are legit and also cost-effective.
Hosttier Pros & Cons
What are the pros and cons of buying a Hosttier plan? Let us list them out.
Pros
Very affordable plans and domains
Free migration and SSL
Real human support
Types of Hosting and Services Offer By Hosttier
With Hosttier, you get the following services:
Extra Services offered by Hosttier
Services offered by Hosttier besides hosting and domains are:
FAQs – Hosttier Review
Why should I choose Hosttier?
We could tell you plenty of reasons to do so. LiteSpeed and Imunify360 are some features to give you the best benefit. This platform offers numerous hosting plans and many free services such as free migration and SSL.
How Long to activate my services with Hosttier?
The account setup does not take much time it instantly starts working on your account. It might take about an hour to set up maximum.
Why choose HostTire email server plans?
Choosing a Hosttier email server plan could benefit you and your business as your website will include an email to contact you. Having a server devoted to this helps manage things easily.
Conclusion – Hosttier Review
By the end of this Hosttier review, we would like to list the pros and cons of this hosting platform. The availability of free services such as SSL, free migration, domain reseller, cheap domain registration, etc., are some of the wows.
This hosting platform includes the availability of only two data centers which might affect the speed of your websites. But overall it is highly beneficial for those residing in the places nearby and can grab the best speed for their website.