A hosting service provider makes a lot of your work easier by managing your server, keeping your website up and running, and also giving it a high speed to make it more favorable to your visitors. But the real question is which one is right for your website? Well, we came across GreenGeeks which has all the features you need.
GreenGeeks currently has over 55,000+ customers that are hosting their website on their servers. They have been in business for over 14 years and have made an impact globally with their web hosting services. Moreover, you can find multiple resources as well that will help you get started with your business and a lot more.
Keeping everything in mind, we have curated a detailed GreenGeeks Review here.
Overview GreenGeeks
Established in 2008, GreenGeeks has been providing its hosting services for over a decade. It hosts your website 24/7 through its five data centers located across the globe. So there will be no problem with connections and speed over 150 countries.
GreenGeeks is one of the industry's leading eco-friendly green web hosting providers giving back three times the power they consume to form renewable energy. It offers various hosting options, including Shared, Reseller, VPS, and WordPress Hosting.
Other website-related services such as domain transfer and registration are also made easy by this platform. So before you run out of money in your pockets and clean air on earth read through this GreenGeeks Review.
Speed Test and Analysis for GreenGeeks
We spoke about speed as we started this GreenGeeks review, and we are again going to look at how it is preferred and essential to run a website.
Other factors such as security, uptime, and customer support are crucial, so we must not miss out on analyzing and testing them.
So let us look at what we expected and what we got from this web hosting platform and if it is worth your money.
GreenGeeks Speed Test
While running a website, be it for blogging or business, you must ensure that your visitors do not have to wait to explore your website, and it runs fast and stays convenient for them. Doing this will establish a good impression of your website in the user's mind, which will eventually help you grow your business to greater heights.
GreenGeeks claim to provide the best speed technology, including LiteSpeed, LSCache, MariaDB, HTTP/2, PHP7, and free CDN. But do these ensure a faster speed? We checked it out for you. The website hosted on GreenGeeks took less than a second to load, which means the website load time was milliseconds. The results could say that this hosting platform can give your website an optimum speed.
GreenGeeks Uptime Test
One of the biggest perks of running a business website is that you do not have to stay awake to cater to your customers since your website does it for you all day. That means your website runs every minute with a next-to-perfect uptime. But will GreenGeeks provide you with this facility?
This platform claims to provide you with a 99.9% uptime, which means your website will be available to your customers on the Internet almost every second. The uptime we recorded through the months somewhat agrees with this. So the uptime claims of GreenGeeks are approved by our uptime graph.
Security Analysis
The content on your website has to be protected from attacks and third-party interruptions. Why so? Because your content is the reason for your growth, and a loss in it might lead to you rebuilding everything again.
GreenGeeks offers security on different levels. First of all, it provides WAL/AI for protecting your data, and if it does go through an attack, it offers free Malware cleanups at the second level.
Next, on the third level, it backs up your data daily so that you do not lose any of it under any circumstance. Furthermore, your data is kept safe with GreenGeeks from any malpractice.
Customer Support Analysis
A system where you do not have to scratch your head for hours to get one question answered or resolve one issue would feel like a blessing. But does the world work like that? Not always, but GreenGeeks does.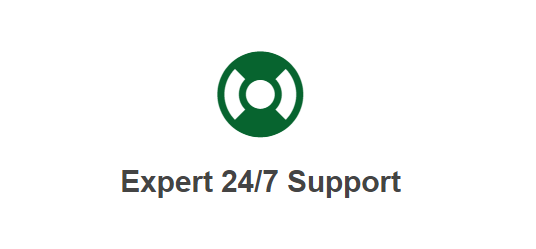 This platform offers you customer support every minute, 24 hours a day, 7 days a week, and 365 days a year. You get multiple options to contact them; you can live chat with them, raise a ticket or give them a ring. You will not be kept waiting for more than a few seconds and, at max, minutes.
GreenGeeks Data Centers Location
Data centers are the best way to produce a faster speed, and knowing where they are located makes it even easier to choose the one closest to your customers.
GreenGeeks is pretty open about their data centers located in:
Types of Web Hosting GreenGeeks Offer
GreenGeeks, apart from hosting, provides numerous services, including website building, SSL certificates, domain, etc.

But if we look at hosting, these are a few that this platform offers.
GreenGeeks Domains
Having your domain name registered and, if required, transferred is crucial since it defines what your business has to offer, and that is the name by which users know you. With GreenGeeks, you get both facilities in one place.
Register Domain
GreenGeeks does not openly announce its domain registration process; you might have to look into its support material. But it does ensure that you get a free domain with the first year of yearly web hosting plans.
Transfer Domain
This platform also helps you transfer your domain name as it becomes an obligation when your current domain registrar does not suit your requirements and conditions. It also provides you with instructions and tips on how to perform the domain transfer process.
Key Features of GreenGeeks Hosting
Let us move further in this GreenGeeks review and look at its key features.
SSD Web Space
Having a storage system that can extract any piece of information within seconds could help you provide better service to your customers on your website. And therefore, GreenGeeks provides you with an SSD webspace that takes care of the speed since it stores your data in ultra-fast SSD storage arrays.
Unmetered Data Transfer
Usually, hosting plans provided by hosting platforms offer an excellent level of bandwidth, but it does come with a cost. And this cost increases as your bandwidth increases. But with GreenGeeks, you can have access to unmetered bandwidth without paying a penny extra for it.
Drag & Drop Website Builder
Website building is often a difficult task, and people study for years to learn how to build an efficient website. But in today's world, with hosting providers such as GreenGeeks, you get to make your website without any coding knowledge since it offers Drag & Drop website builder.
Free Website Migration
For your benefit, this platform keeps making changes to provide better and better service to you and, in turn, your customers. It has now introduced free website migration that you can get done with the help of GreenGeeks' support team.
Unlimited Domains
You must have thought you would have to buy separate plans to host different domains. But guess what? Your pockets have got blessed again. With Pro and Premium plans offered by this hosting platform, you get to host as many domains as you want, and your customers won't even get to know the difference.
GreenGeeks Refund Policy
You can stay risk-free when you buy a product that offers a money-back guarantee. As we would not want to waste any money on something that doesn't suit our requirements, we should have a good experience using it.
GreenGeeks offers a 30-day refund policy so that you stay risk-free from losing your money and wasting a plan. But this facility does come with some T&C applied, so go through them before applying for a refund.
GreenGeeks Pros & Cons
You must always know what to and what not to expect from a product so let us go ahead in this GreenGeeks Review with its pros and cons.
Pros
Environment-friendly
Unlimited Bandwidth
Free Email accounts
Unlimited MySQL Databases
Unlimited subdomains
Cons
Not the best choice for huge sites with massive traffic 
Do we recommend Greengeeks for your website?
Yes, we surely recommend GreenGeeks for your websites. It is pretty open about its services, data centers, objectives, and visions. You get many facilities with no limitations, such as bandwidth, MySQL databases, etc.
The web hosting plans are a few but seem perfectly efficient for your website and the environment as they have 300% renewable energy infrastructure. So you are taking a step further in your online business and your planet.
If you are interested in GreenGeeks Hosting services and want to change your hosting with GreenGeeks and having trouble managing their Nameservers. Then here is the step-by-step process to set up your GreenGeeks Nameservers.
FAQs: GreenGeeks Review
Is GreenGeeks reliable?
Yes, GreenGeeks are highly reliable in every manner. The servers here are based on a Supermicro rack-mountable server which makes it superior to all other hosting service providers. Moreover, the servers are powered by the ever-powerful Intel processor that speaks of durability and efficiency.
How much does GreenGeeks cost?
The plans offered by GreenGeeks range from $3 to $110 per month. Though the prices of different plans differ, this is just an overall cost.
Where is GreenGeeks located?
It has several data centers located around the world. Its five data centers are located in Chicago, Toronto, Amsterdam, Phoenix, and Montreal.
Is GreenGeeks fast?
Yes, GreenGeeks is pretty fast and can give your website unmatched speed. It used caching, SSD storage, etc., to provide it to you.
When was GreenGeeks founded?
GreenGeeks was founded over a decade ago in 2008.
Does GreenGeeks have an affiliate program?
Yes, GreenGeeks offer an affiliate program for everyone. You can earn a small commission when you refer someone to join or register on GreenGeeks. With this Hosting Affiliate Program, you can earn up to $100 per sale depending entirely on the number of conversions you brings to GreenGeeks every month.
Conclusion: GreenGeeks Review
Here we are with all the info in this GreenGeeks review. Overall, you can conclude that GreenGeeks provides the best web hosting service and dedicated servers for everyone. The servers as we learned are powered by an Intel processor making them even more reliable.
It offers everything you will need to set up your websites such as hosting, domains, website builder, and more in just one spot. Furthermore, we must say, this platform could be a significant step to reducing pollution and growing your business at the same time.