A robust, functional, and high-performing business website is a must in today's digital era. Now, as businesses move towards the same, they look for an affordable and reliable web hosting solution.
However, with so many options available in the market for web hosting services, it often becomes challenging to make the right choice. But we have got you covered for matters and decisions like these with our reviews for different hosting solutions.
In today's article, we present you with DomainRacer Review. DomainRacer is an efficient web hosting company that has been around for years and offers all kinds of hosting services and solutions at affordable prices. This review article will explore its performance and features in detail. So, let's get started.
About DomainRacer
DomainRacer is an India-based web hosting company that provides different kinds of hosting solutions and services at affordable prices. It is headquartered in Maharashtra and has been in the industry for almost a decade.
The company has a specialized team of experts dedicated to providing innovative and bespoke web hosting, reseller hosting, VPS hosting, and LMS hosting services. They also offer domain registration and transfer services to make taking your preferred domains easier and more affordable.
Speed Test and Analysis for DomainRacer
The speed of your website matters the most for its performance. So, it's always essential to analyze a hosting for its speed. We tested DomainRacer on several parameters for speed, and here below are the observations of our tests and analysis.
DomainRacer Speed Test
DomainRacer gives excellent results when it comes to its speed. We analyzed that it is equipped with SSD storage, a cPanel control panel, and Litespeed servers, which contribute to an incredible speed score for its websites.
DomainRacer Uptime Test
DomainRacer offers a 99% uptime guarantee for all its servers and plans. We found that it holds up the guarantee when we tested the same. Over months of working on DomainRacer, we have never experienced downtime on our website.
Customer Support
Customer support becomes important for hosting solutions, given that there are always instances when you run into some technical difficulties. DomainRacer offers 24/7 customer support services to help you with your queries and questions related to hosting. You can reach out to their technical and expert team through calls, emails, or live chat.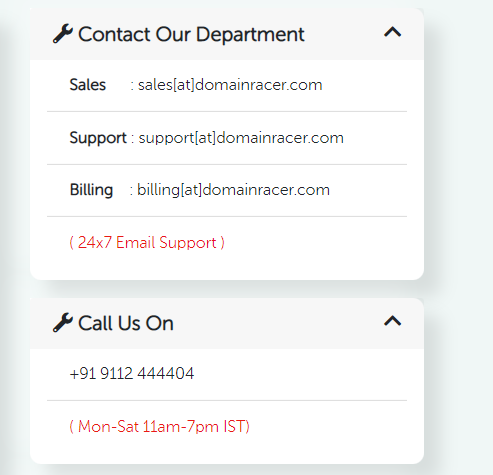 As we tested this support, we had an amazing experience. Their experts were instantly available to respond to our queries. So, we can say that they have a great response time and always take care of customer satisfaction.
DomainRacer Data Center Location
DomainRacer has high-speed servers, and it can be accredited to their globally located data centers that offer fast connectivity for the servers. As such, DomainRacer data centers are located in-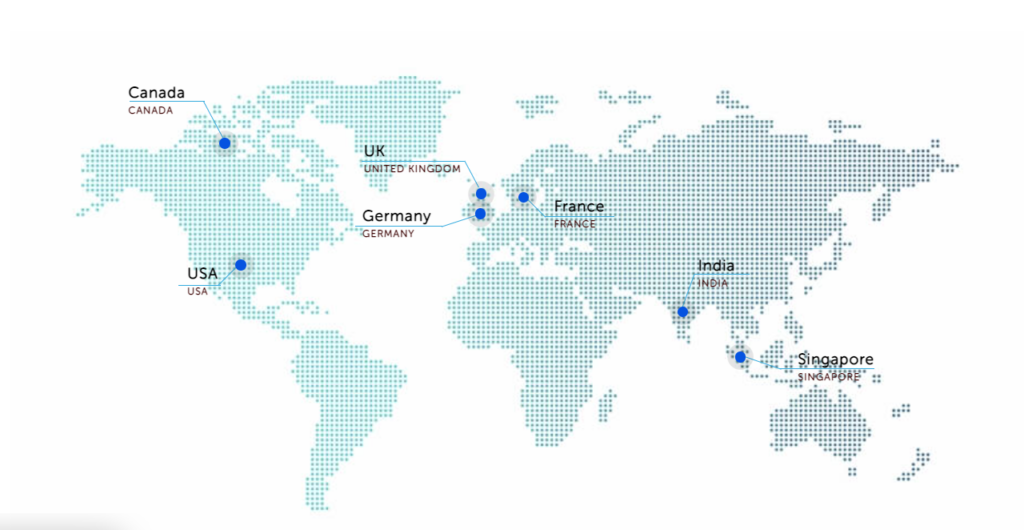 With the presence of its data center in seven different countries and continents, you can expect fast connectivity and server performance.
Key Features Of DomainRacer
DomainRacer offers excellent features and functionalities with its hosting services to offer excellent user experiences. Here is an overview of all the hosting features that you get with DomainRacer-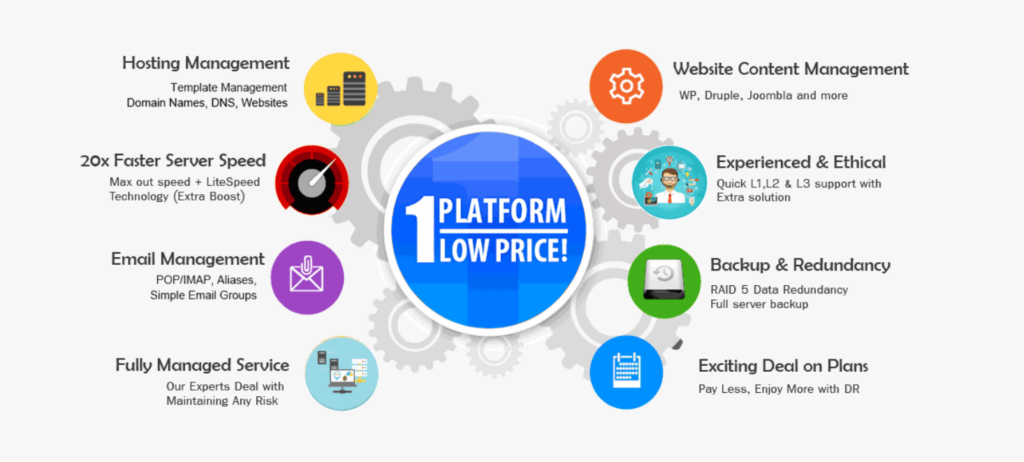 99% Uptime Guarantee
You cannot afford to have even the slightest of downtime on your website. Keeping that in mind, DomainRacer offers you up to a 99% uptime guarantee, thereby ensuring that your website remains visible and accessible and never loses potential clients and customers.
Litespeed Technology
The hosting solutions on DomainRacer work on Litespeed technology, ensuring excellent speed and performance for your website.
In fact, using these LiteSpeed servers with SSD storage and high computing power contributes to a 300% faster website speed.
Cloud-Based SSD Storage
The storage on your website is never a problem when you take hosting with HostRacer.
Given that they offer cloud-based SSD storage features with decent storage limits, thereby ensuring the speed, performance, and reliability of your website.
cPanel Control Panel
Managing access to your website can be quite a hassle. However, DomainRacer solves the same by offering a highly flexible and easy-to-use cPanel control panel for managing your website easily with quick access to all the settings.
Excellent Security and Backup
Your data is the most important asset on your website, and you need to keep it secured and protected.
DomainRacer ensures the same by offering free SSL certificates and regular backups for your website.
ECommerce Management Tools
The eCommerce business is on the boom nowadays. However, managing your eCommerce store is difficult, especially if you have a different hosting.
HostRacer offers multiple inbuilt tools and settings for eCommerce management. So, you need not toggle between platforms, and you can manage your business website as well as your eCommerce store on a single hosting solution.
Website Builder
Not everyone can design and code a website. Considering this, DomainRacer comes with an intuitive site builder to allow you to create your website without any coding, programming, or designing requirements.
Domain Registration
In addition to offering multiple types of hosting, DomainRacer also allows you to take a preferred and attractive domain name for your website at reasonable costs.
DomainRacer Hosting Refund Policy
DomainRacer comes with a decent refund policy to help the customers leave the hosting if they are not satisfied.
If you don't like the services, you can avail of the 30-days money-back guarantee by requesting a refund within 30 days of subscribing to the services.
DomainRacer Pros & Cons
Here is a quick overview of the major advantages and disadvantages of using Domain Racer as your hosting solution-
Pros
Litespeed SSD technology for enhanced website speed.
Unmetered bandwidth
Free website builder
Ecommerce support
Excellent security
Domain registration
30-days money-back guarantee
Cons
The details about the company are very limited, which often makes one question that is its trustworthiness.
Why Choose DomainRacer for Web Hosting?
DomainRacer has been in the industry for almost a decade. Over the years, it has provided affordable and secure hosting solutions in all areas and industry niches.
The hosting plans have excellent features like LiteSpeed SSD storage, unmetered bandwidth, automatic backups, free SSL certificate, etc. Moreover, the company guarantees up to 99% uptime for your website.
Besides that, you can even support your eCommerce store with hosting from DomainRacer and even get your domain name at lower costs. Given all these perks, there is no reason not to choose DomainRacer as your web hosting provider.
FAQs- DomainRacer Review
Does DomainRacer give you good value for money?
DomainRacer is a highly affordable solution, offering top-notch features of costlier hosting solutions at a much lower price. Given that, it's worth the money and offers good value by taking your website to the next level with its hosting.
Which DomainRacer plan is best?
If you're looking for a plan within your budget, with all services and features, we suggest you go for Domainracer's Personal Plan. It's slightly costlier than the basic plan, but it will best meet end-to-end hosting needs and requirements under a budget.
Is DomainRacer free?
No, DomainRacer is not free. It is a low-cost web hosting service provider, and while some features are free, you still need to subscribe to a hosting plan on its platform to avail of the free features.
How do I create a website in DomainRacer?
It's pretty sleek and simple to create a website in DomainRacer with its easy-to-use free site builder tool. With that, you need not fall into the hassles of coding and programming, and your site will be ready within minutes by using the simple drag-and-drop functionalities.
What performance tools does DomainRacer have for WordPress?
DomainRacer has multiple performance tools for WordPress, such as LiteSpeed SSD storage, eCommerce support tool, cloud technology, etc. With all such tools, DomainRacer is one of the best hosting solutions for WordPress websites.
Conclusion: DomainRacer Review
The foregoing review highlights the many benefits of DomainRacer. It's an end-to-end hosting solution that brings in all types of hosting under one umbrella at affordable prices.
Moreover, the additional support for an eCommerce store within the same web hosting plans and other features like unmetered bandwidth, LiteSpeed servers, high uptime, etc., make it all the more attractive and beneficial.
Given all its perks, we highly recommend DomainRacer as your next hosting solution. We hope this review was helpful, and you're all set to explore the hosting plans and take your website to the next level of profitability and success with DomainRacer hosting services.
Make sure you also bookmark (just press ctrl+D) our website and never miss an update from the web hosting industry. Follow us on Google News for the latest web hosting news and reviews; stay safe and happy hosting!