Are you looking for hosting service providers with good quality and a faster network, especially in South Asia? Also, affordability, speed, and support for your small or large-scale business are some of your hosting needs.
If yes, then we have got your back with WebSouls.
This hosting platform offers its hosting services and the easiest way of handling your website through its services. It offers numerous hosting plans such as reseller hosting, web hosting, shared hosting, etc.
We have for you a detailed WebSouls review.
Overview WebSouls
WebSouls was founded in 2002, which gives it over two decades to grow its services. Which indeed it did. It is a Pakistan-based hosting service provider with a data center located in Germany.

This hosting platform offers numerous hosting and domain registration services at pocket-friendly prices. Some of its hosting plans are reseller hosting, shared hosting, WordPress hosting, dedicated servers, and more. 
WebSouls Data Center Location
WebSouls currently only has a single data center located in:
WebSouls Core Features
The following section in this WebSouls review tells about its core features.
Click Installation
We know that your tasks can get less frustrating and time-consuming with applications, but installing them onto your hosting can have the same effects. But not with WebSouls, you get to install numerous applications such as WP, Drupal, Joomla, etc., with just one click, and it's done.
Backup & Restore
With a reliable security and recovery system, you can stay relaxed as you focus on growing your business. This is understood by WebSouls, and there, and it offers your website daily backups to keep it safe and recover whenever you want. 
SSL Certificate
Another aspect of WebSouls' security system is introduced here SSL certificates. Yes, you have access to SSL certificates with this platform, which keeps your website's online connection encrypted.
Dedicated IP
You must know the importance and the joy of having a dedicated IP address. This means your IP address is unique, and no one else other than you has it and cannot access your data without your permission. 
Easy Management
If you think that hosting is not your cup of tea with WebSouls, it will be. How?
As this hosting platform helps you perform your hosting tasks smoothly and with ease. The availability of cPanel makes it even easier to control your hosting settings.
Uptime Guarantee
It is crucial to ensure that your website stays available on the internet running to help your customers work through it. WebSouls provides the same by offering a next-to-perfect 99.9% uptime which is impressive.
Types of Web Hosting WebSouls offers
WebSouls offers a variety of hosting plans. Let us take a look at a few of them.
WebSouls Domain
Besides hosting, WebSouls also offers domain-related services. With this hosting platform, you get four domain-related facilities domain registration, transfer, PK domain, and AE domains.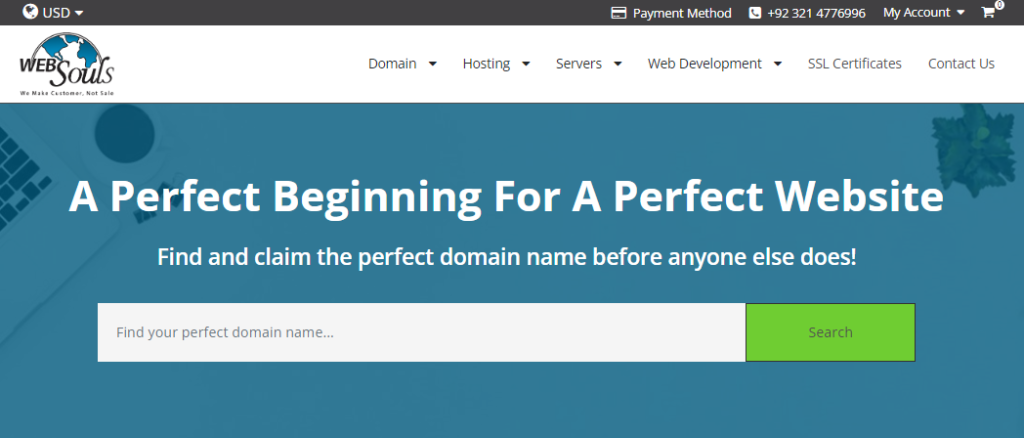 You get a domain name registered for an entire year, starting at just $10.33 a year. For domain transfer, you have to take the initial steps, and WebSouls will handle the rest so you can sit back and relax. 
Extra Services offered by WebSouls
Other than hosting and domains, WebSouls offers several other services such as:
WebSouls Pros & Cons
The pros and cons of WebSouls are:
Pros
Affordable
Quick Customer service response
Numerous hosting options to choose from
Cons
Only has a single data center
FAQs: WebSouls Review
Is WebSouls good for business?
Yes, you can use WebSouls hosting for your blog or business. Whether you are a beginner or are already working on a large scale, you can benefit from this hosting platform's services. It suits companies of all sizes.
How many emails do you get with WebSouls?
It depends on the plan you are choosing for your websites. The good thing here is that WebSouls offers to host as many emails as you want on most of its plans.
Why choose WebSouls hosting?
You can choose WebSouls since they are reliable and ensure that all your queries are resolved within seconds.
Conclusion
Let us conclude this WebSouls review by looking at what we liked and did not like about it. This hosting platform is Pakistan-based, and that helps form smoother and faster connectivity to its customer's websites.
Some of the best things about this hosting platform are its prices, the charge per year, and the pretty pleasing costs. It helps you by hosting your website with constant support, which allows you to succeed in your online business. Hence, WebSouls will help you achieve success in your business!