We understand that your data is your highest priority, and you want to protect it at all costs. However, your data on the internet cannot be kept in a safe and must be given to a hosting platform to secure it. But which hosting could ensure its safety?
HostEurope is a hosting service provider ensuring that your data is guaranteed the best security. This hosting platform offers various services, including hosting, domains, servers, etc., but the security of your information is their ultimate goal.
Let us continue this HostEurope review and learn more about its services.
About HostEurope
Founded in 1997, HostEurope has been around for over two decades and has been thriving since in the hosting industry. This hosting platform offers the best security to your data which we will learn further in this HostEurope review.
This hosting service provider offers various hosting plans and other services, including WordPress hosting, web hosting, servers, SSL certificates, office management tools, etc. 
Test and Analysis
We may now test the web hosting platform's services in this HostEurope review.
User Interface & Ease of Use
The user interface offered by HostEurope is pretty beginner-friendly. It provides a simple yet efficient dashboard. However, it would help if you were familiar with how hosting a website works.
HostEurope Customer Support
HostEurope offers customer support 24/7 through calls. They offer two hotline numbers that function 24/7 so that you do not have to stay waiting.

However, the number of options for customer support channels is few.
Security Analysis
As mentioned earlier, HostEurope's primary concern while hosting is ensuring that your data remains safe at all costs. This hosting platform offers multiple layers of protection to your data with each plan, such as SSL, malware protection, backups, etc.
Key Features Of HostEurope
Let us now list out the key features of this platform as progress in this HostEurope review.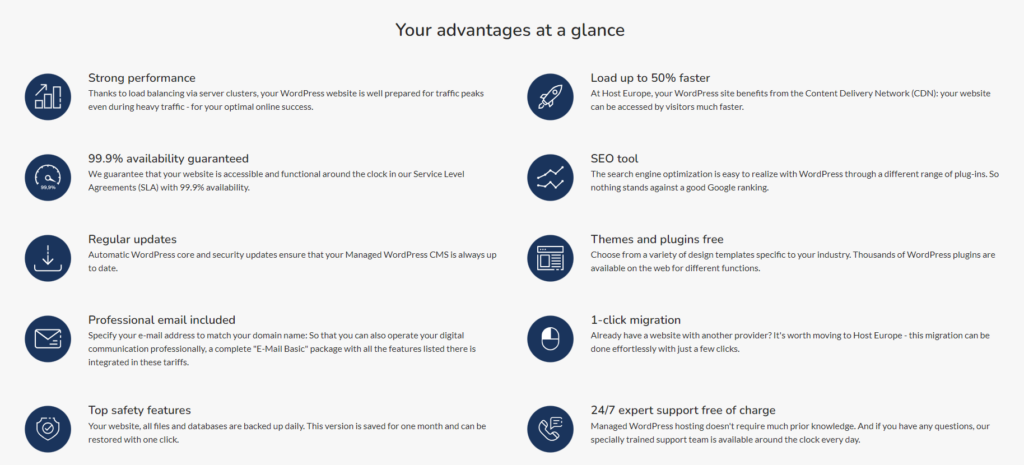 Managed Hosting
If you are not very experienced in the hosting field or do not have time to put into hosting as your business needs more of your attention, HostEurope has the perfect solution for you. It provides you with managed hosting, saving your time on many tasks.
1-Click Staging
Before you show your website to the world, it is important to ensure that all that you have included in the website works perfectly. Therefore with HostEurope, you get the facility to stage your website and check how it will perform on the internet.
Regular CMS Update
If you fear that your CMS will go out of date and just stop working while working on something important, you do not have to worry about that with HostEurope as it takes care of regular CMS updates.
What types of web hosting are offered by HostEurope?
HostEurope offers the following hosting:
HostEurope Domain
Let us now take a look at the domain-related services offered by HostEurope.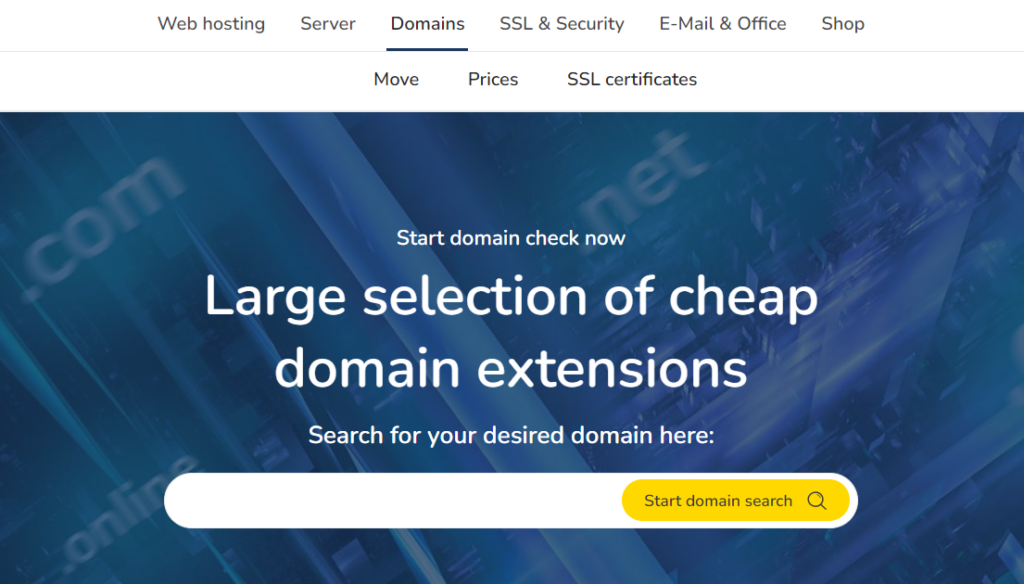 Domain Registration
With HostEurope, you can register a domain name for as little as $0.08 a month. Also, the choices for the same are plenty, so you can choose any domain name that is suitable for your business and is available.
Domain Transfer
If you want to transfer your existing domain name, you do not have to worry about its safety or any charges. With HostEurope, you get your domain name moved quickly without hassle-free of cost.
HostEurope Pros & Cons
Let us now discuss the pros and cons of a HostEurope web hosting plan.
Pros
Affordable
Free domain name transfer
SSL certificates
Daily backups
Cons
Data centers only in Europe 
Fewer customer support options
FAQs – Hosteurope Review
How is the customer support of Hosteurope?
The customer support offered by HostEurope is pretty quick and reliable but only accessible through calls.
Does Hosteurope offer a Free SSL Certificate?
Yes, an SSL certificate is permanently included with its hosting plan.
What is the refund policy of Hosteurope?
HostEurope does not say much about a refund policy on its services.
Which Hosteurope Hosting Plan is best?
A HostEurope plan being the best depends on what your needs are. If a certain plan suits your needs, that could be the best for you.
Is Hosteurope Hosting Good for beginners?
HostEurope is not very good for beginners, but if you are somewhat familiar with hosting, you can work with it efficiently.
Conclusion – Hosteurope Review
Let us now conclude this HostEurope review and examine its good and bad. This hosting platform offers good customer support but only shows it through calls. Also, the data centers are only in Europe, which could bother many users far away.
However, this hosting platform offers affordable plans filled with efficient features. Also, the security of your data is ensured here with the best quality tools, many of which come for free.