When it comes to choosing a hosting solution, you want to choose a platform that meets your end-to-end hosting needs and requirements. Now, that's particularly difficult unless you're looking at something like GozenHost.
While there may be fewer companies that target specific business needs as regards hosting, GozenHost is a company that thinks of most things that a business would look for in a hosting solution and offers reliable and powerful hosting for websites.
So, we thought that reviewing the company for all its features and functionalities would be a great idea and put up this GozenHost Review for you to end your search for hosting of choice.
About GozenHost
Established in 2008, GozenHost has been in the industry for over a decade and comes as a reliable hosting solution with most features such as 99.9% uptime, lightning-fast speed, no restrictions or hidden costs, etc., in its hosting solutions.
It is an amalgamation of two companies – PascM and No9WebDesign which came together with one mission of providing affordable and reliable hosting solutions to customers worldwide.
With its features, the company has managed to cater to more than 1000+ customers with 7+ data center locations around the world and 365 days of customer support.
Test and Analysis
With every hosting, certain tests are instrumental to understanding its efficacy and usability. Herein below are the results of some of the tests and analyses on GozenHost.
User Interface & Ease of Use
The user interface of GozenHost offers excellent ease of use with an easy-to-use and easy-to-understand control panel that comes with zero restrictions and is highly flexible to the needs and preferences of the user.
GozenHost Customer Support
They boast of a 24*7 customer, and you can ask your questions through a contact form attached to the live chat button.
However, the chat is not instantaneous, and you may have to wait for a reply from their team. Moreover, there's no other way to approach support. So, sometimes, it can get quite frustrating to get technical support when needed.
Security Analysis
GozenHost is a security-focused web hosting solution that offers free SSL certificates with all its hosting plans. Moreover, it collaborates with Cloudflare, which further strengthens its security.
Furthermore, the Hardware Firewall adds to the security of the servers on hosting.
So, there are multiple security features on GozenHost that keep the platform's security pretty tight.
Key Features of GozenHost
GozenHost comes with almost all the features you'd look for in a hosting solution. Here is a brief overview of the key features you'd find on GozenHost.
SSD RAID Storage
All the servers on GozenHost are equipped with SSD RAID Storage that offers excellent storage capacity and high speed and performance for your website.
Cloudflare CDN Service
GozenHost collaborates with Cloudflare CDN, which equips the hosting with a great content delivery network that adds to the website's speed, performance, and security.
Cloud Hosting
The hosting is provided through cloud servers which are a single point of access and do not affect the website uptime even when there's an issue with the hardware.
99.99% Uptime Guarantee
Due to the availability of cloud hosting and excellent hardware as well, GozenHost offers a proven 99.99% uptime guarantee to ensure uninterrupted services at all times.
What types of web hosting are offered by GozenHost?
GozenHost is a feature-rich platform that aims to offer affordable and reliable hosting solutions to its customers. As such, you can find all types of hosting on GozenHost, including-
GozenHost Domain
GozenHost also offers domain services in addition to hosting services. You can easily register your domain for very affordable pricing on GozenHost. Moreover, it also offers domain transfer and domain renewal services at the same price as domain registration.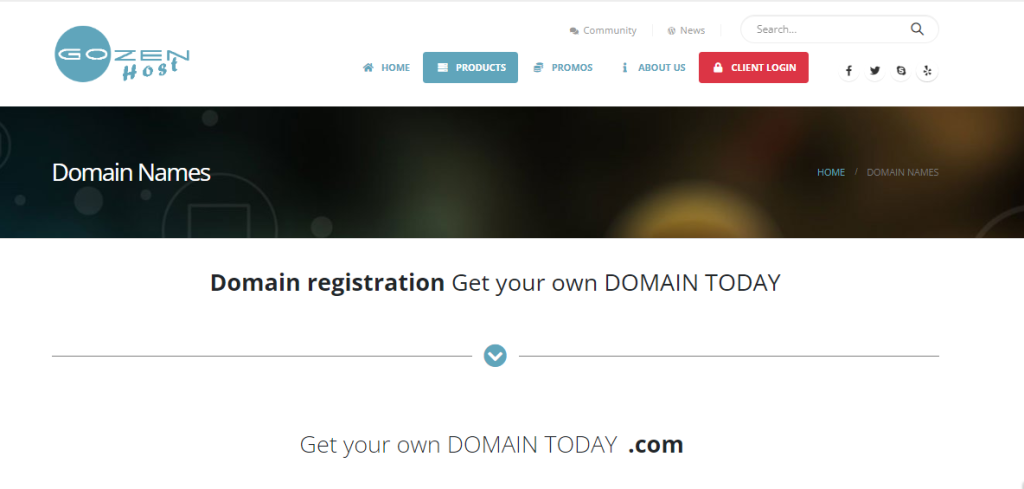 GozenHost Pros & Cons
When you're trying to decide on something, it helps to look at its benefits and disadvantages. So, here are some pros and cons of GozenHost to consider.
Pros
Excellent security features.
7+ data center locations.
99.99% Uptime guarantee,
Domain services.
Cloudflare CDN support.
SSD storage for fast performance.
Money-back guarantee.    
Cons
The support is not responsive.
FAQ- GozenHost Review
Is GozenHost suitable for beginners?
Yes, GozenHost has an easy-to-understand, beginner-friendly user interface. So, beginners should have no problem understanding the hosting features and functionalities.
What is the refund policy of GozenHost?
GozenHost comes with a 90-day money-back guarantee.
Does GozenHost offer website migration?
Is GozenHost offer a free domain name?
No, GozenHost doesn't offer a free domain name. Nonetheless, the prices at which the domain names are available are very nominal and easily affordable.
How to transfer a domain?
GozenHost offers domain transfer services at the same price as domain registration services. You can contact their support to avail of the services.
How many data center locations does GozenHost provide?
GozenHost has its data centers strategically located around 7 or more worldwide.
Conclusion – GozenHost Review
GozenHost is a hosting solution with multiple features and functionalities, all of which are close to what you look for in reliable hosting. The hosting plans are also very affordable, and you are protected with a 90-day long money-back guarantee.
Besides excellent features, the platform's security is also great, and there is significant ease of use. Overall, after the entire GozenHost review, we can conclude that it's a decent platform worth trying.