If you are looking for a hosting platform that is an all-in-one solution and are finding it hard to get one, we understand your pain. With good services comes a hefty price tag. But it doesn't always have to be this way.
GoViralHost is a hosting service provider that offers most of the services required to build an online business. Whether you want a website builder, a security system, or hosting, you get it all here at GoViralHost.
So let us now move on and get into this GoViralHost Review.
About GoViralHost
GoViralHosting does help your website go viral through the internet with the help of the services it provides. This hosting platform is an India-based hosting service provider with a data center set in its home country.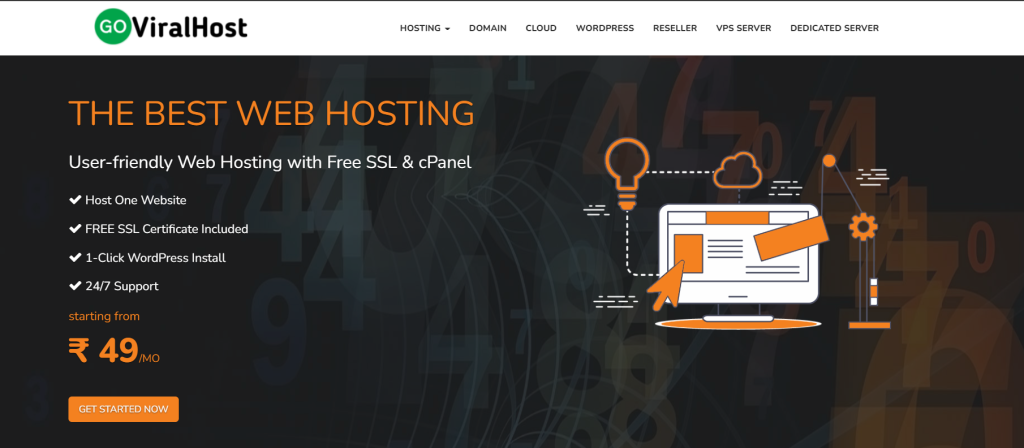 This hosting platform offers services at economical prices without compromising on quality. This platform provides services that include Shared Hosting, Business Hosting, WordPress Hosting, Power Hosting, Cloud Hosting, Reseller Hosting, Dedicated Server, etc.
Test and Analysis
Let us now test the quality of services offered by GoViralHost Review.
User Interface & Ease of Use
The user interface offered by GoVitalHost is straightforward and built in a simple yet efficient design. You will not have a problem working whether you are a beginner or an expert, and get adjusted quickly.
GoViralHost Customer Support
GoViralHost proudly announces that this hosting platform offers its customer support throughout the day, 24/7. The customer support services are pretty quick and reliable.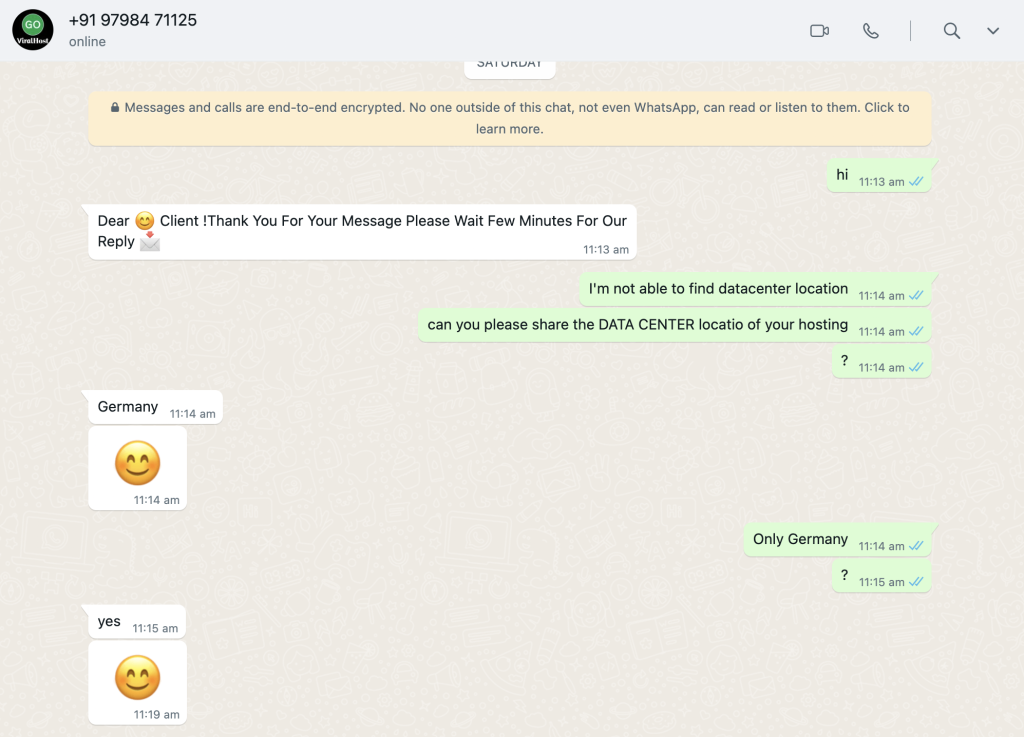 You can reach out to them through calls,- email, or WhatsApp chat.
Security Analysis
While purchasing a hosting plan, you must look into the security features it offers. In the case of GoViralHost, you get security features such as Free SSL certificates, daily backups, malware and malware scanners, etc.
Core Features of GoViralHost
Now we must look at this platform's core features in this GoViralHost Review.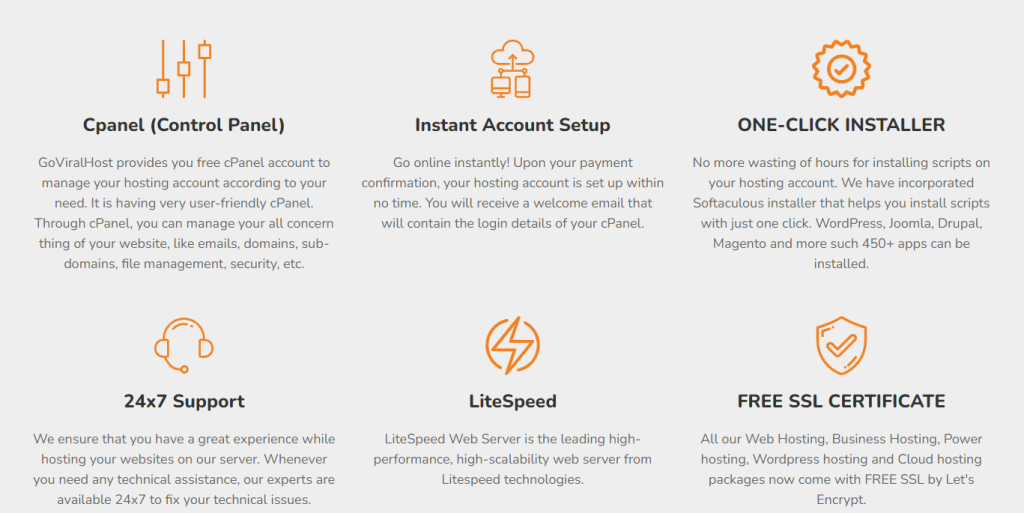 Instant Account Setup
While working, why would you ever want to waste any time? GoViralHost completely understands this and offers you an instant setup of your account. So that you never waste time and start working on your business website.
Cpanel (Control Panel)
You must already know by now how important it is to have an easy-to-use user interface. Therefore to give you the smoothest experience, GoViralHost offers you cPanel as your control panel, which is a simple and reliable control panel.
LiteSpeed
To rank your website on top, speed is one of the major contributing factors. For speed, you could include numerous software programs such as LiteSpeed. This ensures that your website runs fast in all conditions.
DDOS Protection
Security, as you may know, is pretty essential while working with your data given to a platform on the internet. Your data is prone to DDoS attacks, so GoViralHost offers you DDoS protection with its plans.
SSH and Root Access
To have complete control of your hosting or your websites, you must have access to a few things such as SSH and Root access, which you get here with services offered by GoViralHost.
One-Click Installer
Applications like WordPress, Drupal, etc., are of immense use when you want to make your hosting tasks easier. To offer you easy solutions, GoViralHost gives you the facility to install applications with just a click.
Types of Web Hosting GoViralHost offers
GoViralHost offers the following hosting :

GoViralHost Hosting Domain
This hosting platform, apart from hosting, also offers you domain-related services such as domain name registration.

Here you can register a domain name for a year and get many domain security benefits.
GoViralHost Pros & Cons
Let us now consider the pros and cons of this hosting platform in this GoViralHost Review.
Pros
Affordable plans
Features with domain names
 Dedicated IP
Unlimited Email Accounts
Ruby Version Manager (RVM)
Cons
Datacenter located in Germany only
FAQs – GoViralHost Review
What payment methods does GoViralHost accept?
This hosting platform accepts numerous payment options such as credit card, debit card, net banking, PayPal, and cheques.
Can I upgrade my account if I need to?
Yes, with GoViralHost, you get to update your plan whenever you want without buying a new one with the services you do not require so that you do not pay extra money.
GoViralHost creates a custom plan?
We could call it a customer plan as this hosting platform is ready to add in or remove resources from its plans per your needs and charge you accordingly.
Does GoViralHost Offer Free Domains?
Getting a free domain name depends on the plan that you choose. For instance, you will not get a free domain name with the basic web hosting plan but a few with other plans.
How many data center location provide by this company ?
The data center of GoViralHost is located in Germany.
Conclusion – GoViralHost Review
Now we must look back and name the things that impressed us and those that did not while working with this GoViralHost Review. This hosting platform has a data center situated only in Germany, which we found bothersome.
However, the hosting plans of this hosting platform are filled with features that will help you through the hosting process. The free features such as SSL certificates and CDN are the best things.