In this fast-pacing and digital world, a well-performing website is necessary to reach a wider audience and achieve business success. A strong web hosting provider can help you with the same.
As we talk about that, one amazing web hosting platform that we can recommend is FastHosts.
Fasthosts is a one-stop platform that offers various website building and managing skills to showcase your company amongst its competitors. It also offers other intuitive features that create a good website and a great online presence.
Further in this article, we are presenting a detailed FastHosts review to help you understand the ins and outs of this platform and see if this is the hosting solution that will suit your business.
About Fasthosts
FastHosts is a 90s-based company that began its journey in the year 1999. The company offers high digital marketing standards that are world-class and uses cutting-edge technology to give your brand the online reach and exposure it requires.
Moreover, FastHosts provides services that include web hosting, online marketing, domains, and much more.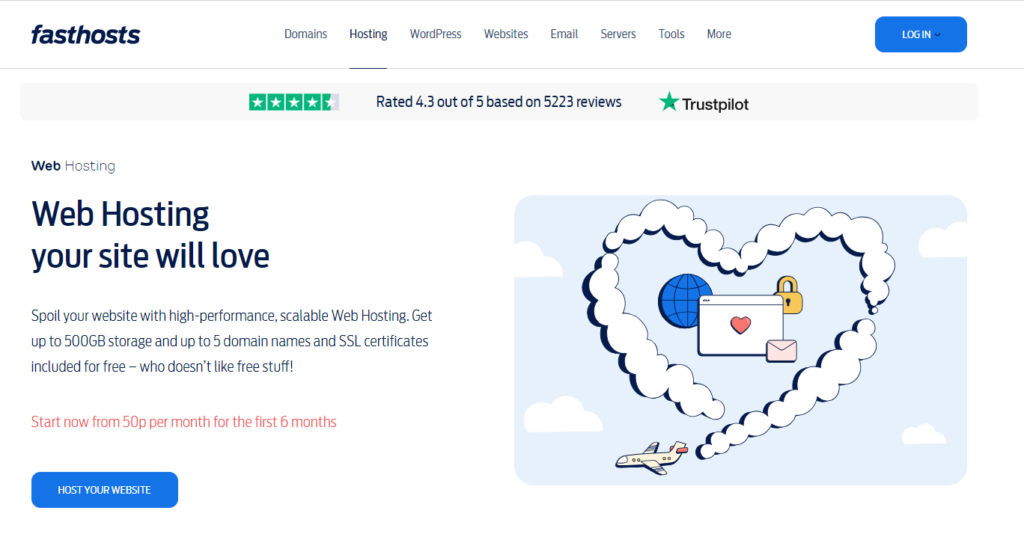 The company is headquartered in the UK with a data center in the same place. Talking about the team members, they are 24/7 dedicated to ensuring the reliability and stability of the user's website at their service.
Key Features of Fasthosts
The key features of FastHosts make it different from the crowd. Therefore, the following are some useful characteristics of the company one must go through.
Automatic Backups
Restoring your data regularly is one of the crucial aspects of supervising a website. Therefore, FastHosts offers automatic backups that can be held regularly to maintain the stability and security of your data for a long time.
Money-Back Guarantee
If you are unsatisfied with FastHosts, the company refunds your payment within 30 days. All you need to do is request your refund within the money-back guarantee period.
High-Tech Data Center
The company owns only one data center that is majorly located in Gloucester, UK. However, the data center is highly packed with a top-notch level of security, privacy, and well-versed technology to protect your data servers wisely.
Support
Customers are their prime priority. Therefore, Fasthosts provide a 24/7/365 backup of technicians and engineers to solve your queries with fruitful solutions. Customers can directly contact the team via email on their official website.
Fasthosts Web Hosting Plans
FastHosts is a multi-service hosting platform that provides clients with a wide range of web hosting services. Here's a quick look at the plans and pricing of the web hosting services available at FastHosts-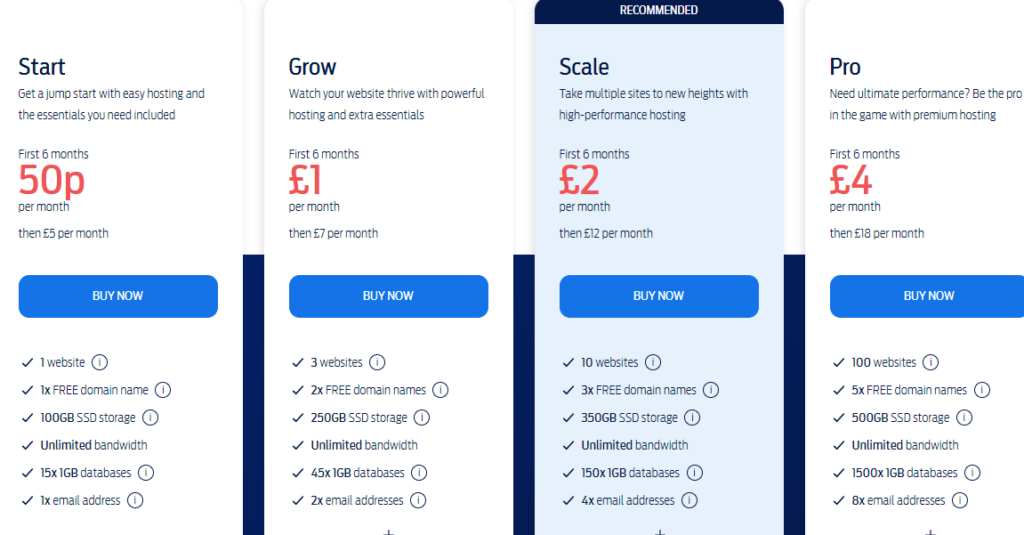 These plans are further boosted with some intuitive features that include unlimited bandwidth, domains, the latest PHP windows, and a one-click installer to ease your hosting experience.
Why Choose FastHosts Web Hosting Plans?
Fasthosts is a platform that tends to provide the most extensive web hosting and optimizing solutions to its users.
From buying a domain to creating a website, hosting, and marketing it, the company nurtures each important aspect of the website to make it stand out from the box, and there are several reasons for you to choose its plans-
Conclusion – FastHosts Review
So, this was everything about FastHosts. In this FastHosts review, we explored a brief record of the company's services, features, and plans.
The company ensures that the customers get satisfactory, reliable, and affordable hosting solutions that help take their website to another level.
If you are someone who is searching for a one-stop package for website creation, then FastHosts can be a great buy for you. We hope this hosting review was helpful, and you are all set to explore and try FastHosts hosting for efficient and scalable website performance!