Does your current hosting service provider not offer you many options? Do you have specific needs from hostings that are not being fulfilled? Now they will get completed, but how?
The answer is with FariHost.
FariHost is a hosting platform that can satisfy your specific hosting needs, such as Linux hosting, reseller hosting, shared hosting, etc. All of these plans come with plenty of features at economical prices.
So let us dig deeper into this FariHost review to know more.
Overview FariHost
FariHost is a Pakistan-based hosting service provider. Its servers and data centres are strategically placed across the UK—this help provides faster and smoother service to thousands of its users.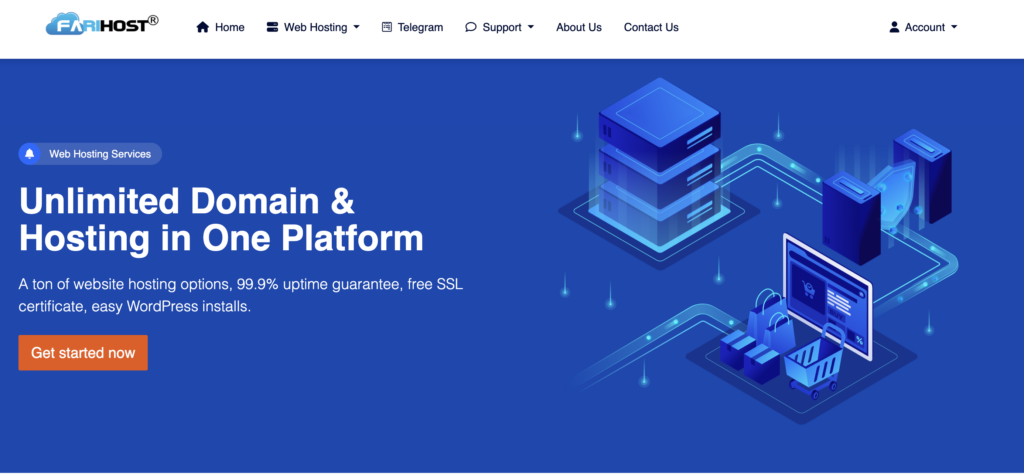 This hosting platform offers multiple hostings such as cheap Linux hosting, unlimited Linux hosting, WordPress hosting, eCommerce hosting, etc. This hosting platform treasures its customers and therefore takes good care of them through customer and technical support through all of your hosting tasks.
FariHost Customer Support
As we said, users are precious to this hosting platform, and therefore, it offers the best customer support. You can expect immediate help whenever you want to perform any hosting tasks, such as website migration.

You can contact the customer support team through live chat, call, or a ticket, and you will be answered on time.
Afrihost Data Center Location
The data centres through which FariHost provides its fast services are located in:
Core Features of FariHost
Let us now take a look at the core features of this platform on the FariHost review.
Content Delivery Network
If you want to speed up your websites, you must choose a hosting that provides you with CDN. This helps your websites connect to various servers, travelling small distances, making the work faster. FariHost provides this facility to provide you with the best speed.
SSL Certificates
You want to keep your website safe and its connections encrypted. Don't you? To help you do this, FariHost provides you with SSL certificates that ensure that there is no breach of information and that all your website connections are encrypted. A plus point; it comes for free.
WordPress Staging
Testing your site for the features, you added and if it's working perfectly is crucial. But how can you do that? You can stage your site and test it out before putting it on the internet with the help of FariHost, as it provides this facility for free.
Types of Web Hosting FariHost offers
The various hosting options that you get on FariHost include:
Important Note: Web Hosting prices are updated frequently. So, I request you to verify the pricing by visiting the respective websites.
FariHost Domain
FariHost offers two domain-related services, which are: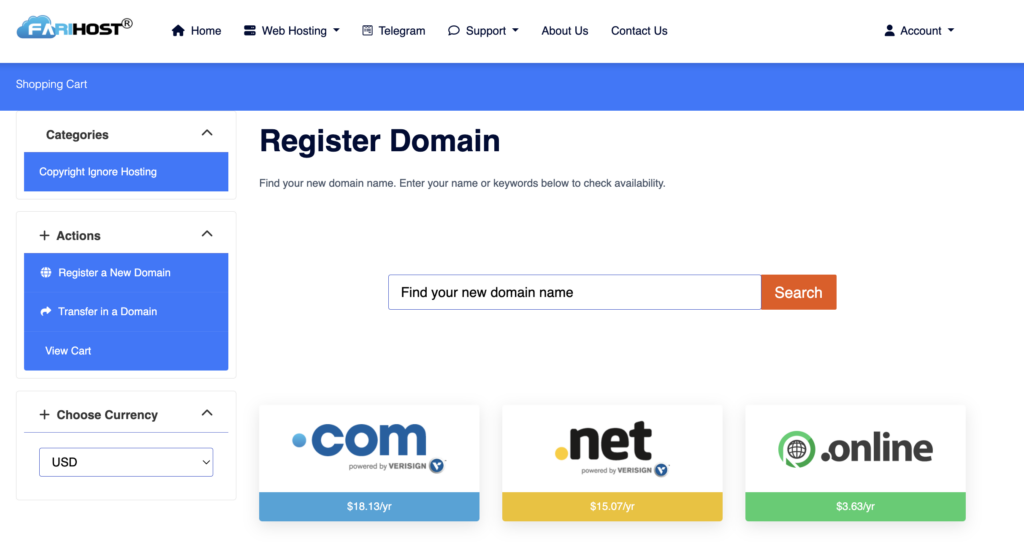 Register Domains
Registering a domain name that resonates with your business in every aspect is crucial. Whether you have a finance website or a website for a specific country, you must take up a domain name that suits your needs. With FariHost, you can get such domain names registered to start at $2.28 a year. 
Transfer Domains
Getting your domain name transferred is as easy as getting one registered. It is easier than that.
Getting your domain name transferred to FariHost will help you manage your hosting and website-related services in one spot. Transferring might cost a dollar or two less than registering prices.
Extra Services offered by FariHost
The extra services besides hostings that FariHost offers include:
FariHost Pros & Cons
What could be considered the pros and cons of this platform? Let us find out in this FariHost review.
Pros
Affordable plans
Cheaper domain transfer charges
Multiple unlimited features
Cons
Only a single data center
Live Chat Support has huge delays in response
FAQs: FariHost Review
How Much Does Farihost Cost?
The cost depends on the plan you choose. If you choose the most basic plan, say Cheap Linux hosting, you will be charged about $0.29 a month. The charges for registering a domain name start at about $7 a month.
Is FariHost suitable for beginners?
As a beginner on FariHost, you get plenty of options to choose from. Also, you get the opportunity to choose a cheaper version of the same plan on this hosting platform so that you can start as a beginner with a small budget as well.
How many emails do you get with FarihHost?
Conclusion – FariHost Review
Let us discuss the things that could be considered beneficial and those that could give you a bellyache since we are now concluding this FariHost review. This hosting platform offers you plenty of services that have no limit on usage, so you save up a lot of money.
The plans are helpful for users of all levels and with big and small budgets. The availability of only a single data center could cause a delay on your websites, but CDN has covered this up, so this hosting provider can be summed up to be pretty good.