When you are looking for a hosting service provider with the needs of a server but do not have the budget or the expertise, you might want to hire something called Semi-Dedicated hosting. These provide you with the servers' facilities and stay easy to handle and budget-friendly for server facilities. But who offers those?
Vhosting is a hosting service provider that can offer you semi-dedicated hosting. This hosting service provider offers numerous other hosting services such as reseller hosting, WordPress hosting, low-cost hosting, etc.
And that is not all it has got. Let us learn more about it in this Vhosting review.
About Vhosting
Vhosting is a hosting service provider based in the European Union. This hosting platform has significant experience in hosting to offer its service to the world through its two data centres set in Europe. 
This hosting service provider offers numerous services such as semi-dedicated hosting, WordPress hosting, reseller hosting, low-cost hosting, Joomla hosting, domain name, cloud VPS, etc. 
Test and Analysis
Let us now test the services offered by Vhosting.
User Interface & Ease of Use
The user interface is where you get all your work done, which is why we had to review it. With Vhosting, you get a pretty simple user interface as it employs an easy-to-use control panel, cPanel, which minimizes the effort required to get your hosting done. 
Vhosting Customer Support
Now comes the customer support offered by Vhosting. Customer support is essential to save up the time you would waste resolving a query on the internet.
With Vhosting, you can contact the customer support team through live chat for presale support, and other options are available for technical support.
Security Analysis
So what does Vhosting offer when it comes to security? Vhosting provides SSL certificates, automatic backups, and more to keep your data safe at all levels.
So that your data is kept secure, and even if something happens, you still have a copy of your data to retrieve and work with.
Vhosting Data Center Location
The data centres of Vhosting are located in:

Core Features of Vhosting
Let us now discuss the core features of this platform in this Vhosting review.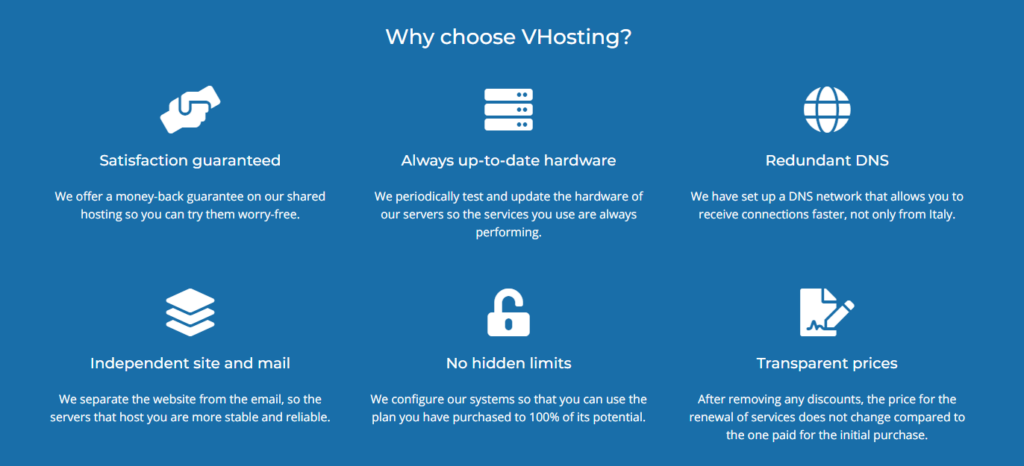 1 Free Migration
If you already have a website for your online business and want to shift it to a better hosting service provider such as Vhosting, you can stay assured that it will be done with minimal effort. This hosting platform offers one free migration per plan, with complete assistance. 
LiteSpeed Powered
There are plenty of things you could do to get the best speed for your website. Something that Vhosting does is that it offers LiteSpeed-powered plans, which help your website get blazing fast. 
Free SSL Certificates
To keep your website and its data safe while it contacts other websites and signals other browsers that your website is secure to make connections with, you need SSL certificates which are pretty pricey. But with Vhosting, you get it for free with your hosting plans. 
Types of Web Hosting Vhosting offers
Vhosting offers the following hosting services:
Vhosting Hosting Pros & Cons
Let us now consider the pros and cons of this platform in this Vhosting review.        
Pros
cPanel
Unlimited features such as databases, mailboxes, etc. 
Multiple data centres
LiteSpeed
Cons
Only WordPress website migration is free
Vhosting Domain
Let us now look at the domain-related services offered by Vhosting.
Register a New Domain
To reserve a name for your website and business, you must register it as a domain name. You must do it with a certified domain name registrar such as Vhosting.
Here you get affordable domain names with categories to choose from.
Transfer a Domain
You can also transfer your existing domain name to Vhosting with full security benefits.
Also, you get the added advantage of one year of free renewal on moving your domain to Vhosting.
FAQs – Vhosting Review
Which Type Of Hosting Solution is Offer By Vhosting?
Vhosting offers various hosting services such as low-cost hosting, WordPress hosting, Prestashop Hosting, Joomla Hosting, reseller hosting, semi-dedicated hosting, reseller hosting, etc.
How Many Data Center Locations Offer By Vhosting?
Vhosting has two data centres in Italy and Germany, which is an excellent advantage for those in Europe. 
Is Vhostinging a Reliable Hosting Provider?
What type of payment method is accepted by Vhosting?
Vhosting accepts payment options such as PayPal, Stripe, Visa, and Mastercard.
Conclusion – Vhosting Review
Let us now conclude this Vhosting review and look at the features that could affect your hosting experience with this hosting platform.
This hosting platform offers site migration primarily for WordPress websites which could affect users with other websites.
The plans might seem a little pricey, but the semi-dedicated plan is cost-effective with services such as servers. Also, here you get plenty of unlimited features and free features such as SSL certificates which is impressive.