Are you a small business owner looking for a hosting service provider that offers you reliability and expertise? Is your budget one of your concerns? You will not have to worry about all that with this hosting platform.
Sharpido is a hosting service provider which is hell-bent on offering you their best expertise on hosting. Here you get hosting plans such as shared hosting, reseller hosting, WordPress hosting, etc.
Let us know more about it in this Sharpido review.
Overview of Sharpido Hosting
Sharpido is based in India and has now grown to provide its services across the globe through its strong network of servers. This hosting platform is pretty confident about its benefits and provides a 10-day refund policy.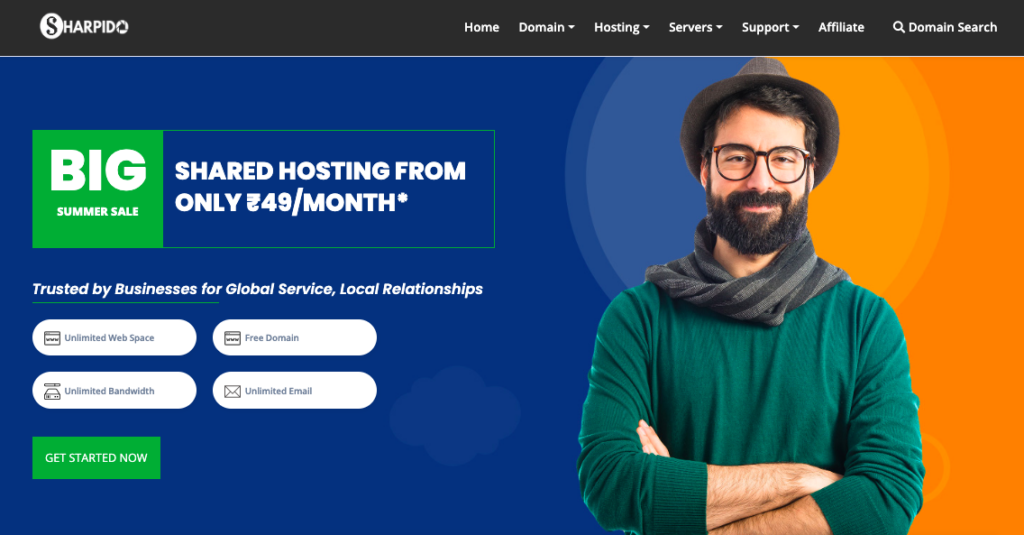 With Sharpido, you get access to numerous hosting plans such as shared hosting plans, reseller hosting plans, cloud hosting, and master resellers, and you also get free hosting if you are a student. 
Sharpido Data Center Location
The data centres are located in:
Customer Support Analysis
Quick and reliable customer support is one of the necessities when buying a hosting plan. With Sharpido, you get customer support through various channels such as live chat, support tickets, calls, and emails. However, you might not get a response to your query quickly as customer support is offered during working hours.
Sharpido Key Features
What are the critical features of Sharpido? Let us check it out in this Sharpido review.
Unlimited Bandwidth
No matter how small your hosting plan is, with Sharpido, you can use as big a bandwidth as you want. How? This hosting platform offers you limitless bandwidth, so you are not charged extra on crossing the limit.
Free SSL Certificates
SSL certificates are the best thing to include in your hosting plan if you want to ensure that your website is considered safe to make connections with browsers. Therefore Sharpido offers you free SSL certificates.
CDN
One of the reasons why a few websites always stay on top when you search for something is their speed. Speed is one factor in deciding your website's ranking on search engines. To help you climb up, Sharpido provides you with CDN, which will speed up your websites.
Types Of Hosting Plans Does Sharpido Offer
Sharpido offers the following hosting plans:
Sharpido Domain
Let us take a look at the domain-related services offered by Sharpido.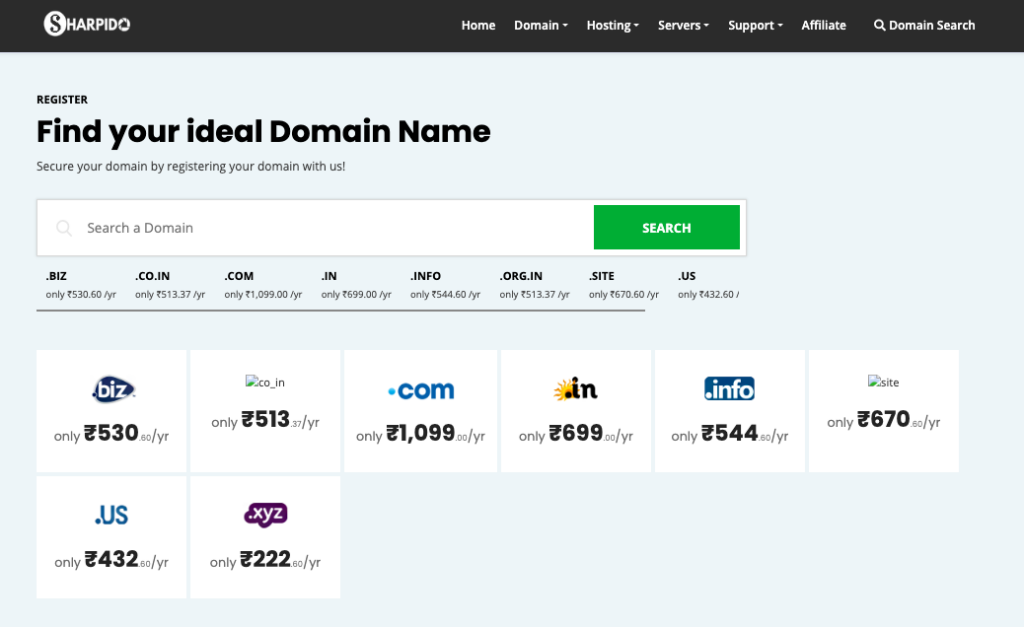 Register a New Domain
To secure a particular domain name for your website, you must first get a domain name registered with a trusted domain name registrar such as Sharpido. Here you get domain names at economical prices, and often one domain name is free with a hosting plan.
Transfer a Domain
Just like registering your domain name with Sharpido, you can also get it transferred at affordable prices. However, this hosting platform is unclear about how the moving process goes.
Sharpido Pros & Cons
Now comes the pros and cons of Sharpido.
Pros
Numerous unlimited services
Highly Affordable plans
Multiple ranges of services offered
Cons
No 24/7 customer support
No information about data centers. 
FAQs- Sharpido Review
Does Sharpido Offer a Reseller Server?
This hosting platform offers numerous hosting plans, and reseller hosting is one of those. The price of reseller hosting starts at about $4.35 a month.
Does Sharpido Offer Free Hosting?
No, Sharpido does not offer free hosting anymore. Although their website does mention Free Hosting services but displays a small fee for the same. The info is a bit misleading since the customer support says there are no such free services available anymore.
How much does Sharpido cost?
The cost of Sharpido might depend on what plan you buy. The prices start at $1.36 which comes under the Shared Hosting plan named Startup. It can go up to $27.12 for the Master Reseller Hosting plan. 
Where is Sharpido company located?
Conclusion – Sharpido Review
We must now end this Sharpido review by taking note of its services, which might affect your decision here to buy a plan from not. This hosting platform does not say much about its data centres and does not offer customer support 24/7, which could be frustrating sometimes. 
However, the plans offered by Sharpido are overall worth the money as this hosting platform provides many services such as bandwidth with no limit on them. Also, you get numerous security features such as backups which will help you in the long run.