If you are looking for a platform that mainly focuses on Cloud Technology, you have come to the right place to learn more about it. After searching all over the web for a reliable service provider, we came across Seeweb which offers Cloud Servers, Hosting, Virtual Private Cloud, and so much more.
The best feature of this platform is its scalability while creating a hosting plan. You can choose your preferred data center, Base configuration, disk space, and other aspects to make your own plan to host your website.
Let us know more about this platform in this Seeweb review.
Overview of Seeweb Hosting
Seeweb hosting is an Italy-based hosting service provider with a good hosting experience since 1998. With its expertise, this hosting platform has plenty of server locations and numerous data center locations.
On this hosting platform, the plans are primarily based on servers, and you get plenty of options. Such as this platform offers a cloud server, cloud server shared CPU, cloud hosting, and shared hosting.
Seeweb Data Center Location
The data centers of Seeweb are located in: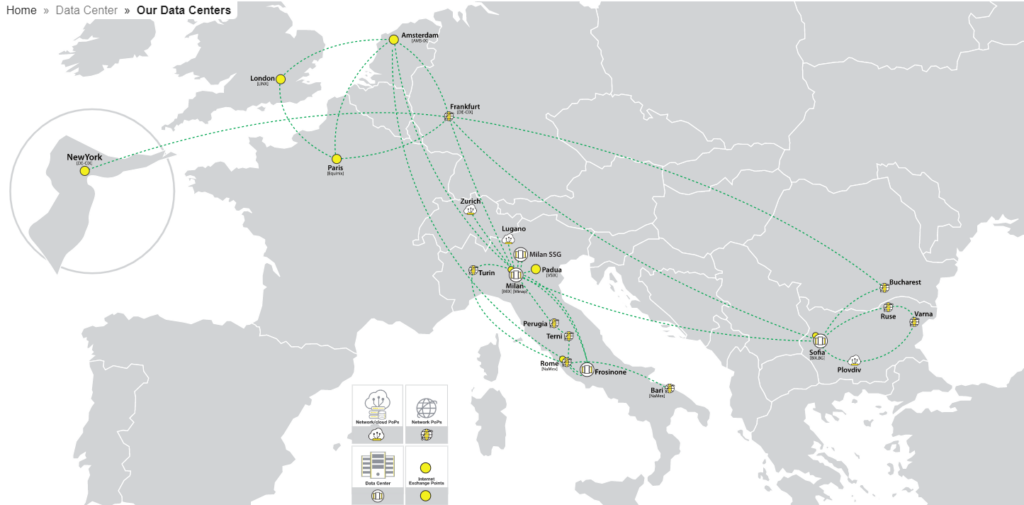 Security Analysis
The security system offered by a hosting service provider matters a lot as your business depends on it. Therefore Seeweb takes complete care of your data and offers you security features such as cloud backups, SSL certificates, Antispam, Antivirus, etc., to keep your data safe under all conditions. 
Customer Support Analysis
Customer support is another aspect of hosting that you must consider while buying one. With Seeweb, you can contact customer support through call, email, fax, and live chat. However, customer support might not always offer languages other than Italian.
Seeweb Key Features
Let us now list the key features of this platform in this Seeweb review.
Scalability
How would you like to waste that money if you do not want a feature in your hosting plan but still have to pay for it because you want the other features? You won't have to waste any money with Seeweb, which offers complete scalability while creating a hosting plan. 
No Overselling
You might wonder how Seeweb offers such an incredible speed. No doubt that numerous data centers are one of the reasons, but another is that this hosting platform never over-sells its resources. This means that the clouds are never crowded and offer the best speed to your websites.
Weekly Backups
We earlier discussed the efficiency of the security system offered by Seeweb. Let us add another factor to it. No matter how good the security system is, Seeweb still provides a weekly backup so that you are never at risk of losing your data.
Types Of Hosting Plans Does Seeweb Offer
Seeweb offers the following hosting plans:
Seeweb Pros & Cons
Let us now look at the pros and cons of this platform in this Seeweb review.
Pros
No over-selling of resources
99.9% uptime with a penalty
Statistics
Cons
Data centers focused in and around Italy
Do we recommend Seeweb for Cloud Server and VPS Server?
Yes, we recommend Seeweb for your website as this hosting platform offers you a good range of hosting plans and maintains an excellent speed as it never over-sells its resources. Also, here you get a guaranteed uptime with a penalty. So why not try it out.
FAQs- Seeweb Review
How much does Seeweb cost for Window Shared Hosting?
Shared hosting is one of the hosting plans offered by Seeweb. The cost depends on what resources you add to your shared hosting plan, as the hosting plans on this platform are scalable.
Does Seeweb Offer WordPress Hosting?
How Much Data Center Location does Seeweb offer?
Seeweb has numerous data centers. Four of its data centers are in Italy, and one is in Switzerland.
Conclusion
Now, as we conclude this Seeweb review, we must not forget the features offered and how good or bad they seemed to us. This hosting platform does not provide a trial period or a refund which is bothersome.
Also, a few necessities, such as SSL certificates, are not provided free of cost. However, the hosting plans are scalable, and you can choose what you want and what to pay for, saving up your money.