Today the cost of everything is high, and spending on a few platforms to watch your favorite movies is also something we would love to save on and therefore opt for platforms that stream movies for free. One such platform is Moviesjoy.
However, is Moviesjoy Safe and Legal? You must ask this question, and we are here to answer it so you can avoid getting into trouble. In this article, we will discuss if Moviesjoy is legal and what are the ways to use it legally and avoid risk. Further, we will discuss related topics. So let us get started.
Disclaimer: This article provides information but does not support illegal/piracy copying or sharing of piracy content. Also, at GoogieHost, we are not legal experts, so this is not official legal advice. Additionally, each country has its own copyright laws, which can change frequently, so please be cautious.
What is Moviesjoy?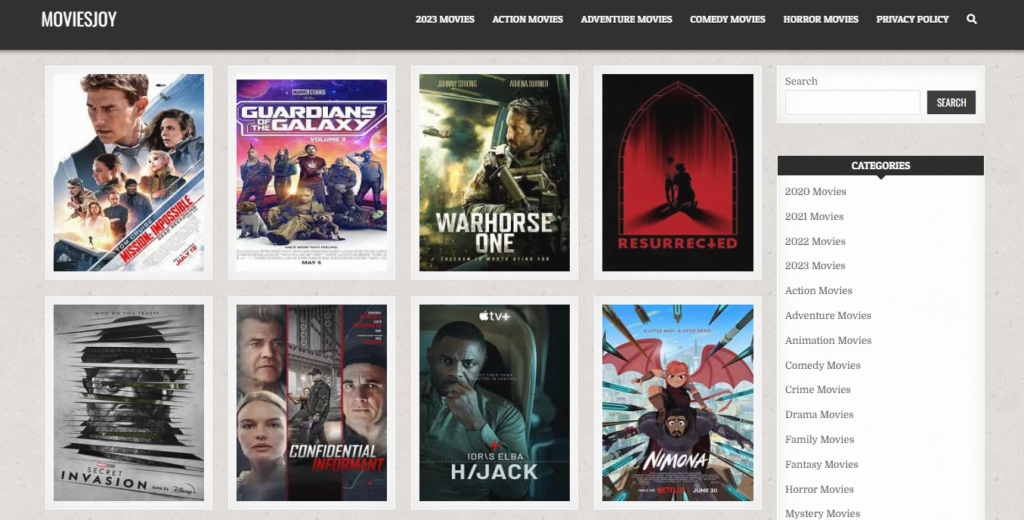 Moviesjoy is an online streaming platform that offers you many movies to watch for free. This platform is excellent for binge-watchers who want to avoid paying.
This platform has an attractive interface and suggests content you like through your previous choices. It is easy to use and great for entertainment.
Is MoviesJoy Legal?
Is Moviesjoy legal? Well, that has a complicated answer. Most platforms that offer pirated films are usually illegal, but Moviesjoy does not entirely come into that category as it does not host the content. Therefore, no laws are broken by Moviesjoy.
However, since this platform offers pirated content, copyright holders do not earn from it and, to a great extent, are losing money due to such sites. Therefore, they tend to make legal advances against platforms like Moviesjoy which could also affect your experience.
Is MoviesJoy Safe?
As mentioned earlier, Moviesjoy is a somewhat legal website, meaning it might only sometimes have a robust security system. Since you are watching movies through it, your computer could be affected by malware and viruses.
Also, since nobody regulates it, it is prone to various attacks and other issues. It also does not facilitate customer service; if you have any problem with your account, it can be extremely frustrating to get it corrected.
How legal is it to use MoviesJoy?
Moviesjoy is an excellent place to binge-watch movies for free and have a good time. There are plenty of films in its library Which will not make you bored.
However, this platform is unlicensed and needs the authority to stream many of its movies. Therefore, using this platform for watching movies could get you into legal trouble.
Nonetheless, there are always ways to watch movies on MoviesJoy safely without getting caught. We will discuss the safer options to watch MoviesJoy further in this article.
What are the Risks of Using MoviesJoy?
As we mentioned earlier, MoviesJoy is an unlicensed streaming platform with no external body regulating it and no customer support. This means any problem you face, you would have to deal with it yourself.
Regarding the risks of using MoviesJoy, you might notice malware or virus disturbances while using the platform, which might attack your device later. Therefore, watching just any movie, especially those with copyright issues or pirated films, can invite virus troubles into your computer.
Also, you must have noticed how many small companies try to copy a big company but provide a poorer quality. Due to its popularity, MoviesJoy also goes through such incidents where many mirror platforms are created and used for malicious activities.
How to Enjoy a Safe Streaming Experience with MoviesJoy?
There are many ways to stay safe while using platforms like MoviesJoy. This article will discuss the most trusted methods of enjoying a secure streaming experience with MoviesJoy.
Use VPN
A trustable VPN is one of the easiest ways to stay out of trouble online. A Virtual Private Network, or a VPN, will allow you to create a safe connection with another network on the internet.
If you are trying to think of the best VPNs in the market, stop there! We have that in-store too. We suggest you use NordVPN, ExpressVPN, and SurfShark VPNs, as these are some of the most trusted VPNs and provide the best security online.
VPN
NordVPN
You should choose NordVPN because of its speed, which will never keep you waiting while ensuring that you make the best connections online.
Also, it has a special protection layer for malware and viruses.
ExpressVPN
ExpressVPN is a pretty safe platform that will keep you at the fastest speed possible on the internet.
This provider is suitable for almost all streaming websites online, and you will never experience compatibility issues.
SurfShark
We suggest you use SurfShark as it comes with Blistering WireGuard speeds and quick customer support, ready to help you with whatever you need for your SurfShark VPN.
Use Remote Desktop
Using a remote desktop is another option to enjoy streaming on MoviesJoy safely. A few suggestions for this method are the RDPHostings and Kamatera.
1. RDPHostings: Free RDP Server Hosting for a Lifetime: We suggest you use RDPHostings for those who want free remote desktop services. Even though it is free, you get a free Remote Desktop Server, full Admin Access, and impeccable customer service.

2. Kamatera: Try 1 Month Free Trial: Kamatera Hosting is a popular platform for the security of your data. You can use RDP on Kamatera by installing Ubuntu as an OS and using it with the best security, speed, and uptime.

This platform offers RDP services at a decent price and has multiple plans available. The best part of this deal is the availability of a 30-day free trial.
Why is it Safe to Use MoviesJoy with a VPN?
VPN, as you know, already offers an extra layer of safety to your online connections and ensures that you are only connecting to safe platforms for your data and computer. Also, if the VPN detects any malware on a platform you are using, it will ensure that it does not affect your experience and device.
Can I Watch MoviesJoy with a Free VPN?
Yes, using a free option would be easy, but we would not recommend doing so. Things that come for free on the internet are often poorer in quality and do not come with as many features as the paid version would.
The free version of a VPN might have less tight security, and you could get caught using an unlicensed platform which could destroy your data and device.
Also, as many paid VPNs ensure that they will not store your data and neither sell it to any third party, free VPNs cannot be trusted with your data as they could be leaked to any third-party platforms.
Beware of the MoviesJoy Alternatives
You have already been familiarised with the concept of website mirroring above, where we told you about how many platforms try to copy the original MoviesJoy platform to get viewers and later scam them.
These platforms look a lot like MoviesJoy and might include a few alterations. The security level is the main difference between the real MoviesJoy platform and the alternatives. Though MoviesJoy is not as safe, other mirror platforms could be worse and destroy your data.
What are the Legal Alternatives to MoviesJoy?
There are plenty of legal alternatives to MoviesJoy that offer a variety of content. However, most of these platforms stream on a subscription basis.
| | |
| --- | --- |
| Netflix | We bet all of you know about Netflix and must have binge-watched it some or the other day. This platform offers its viewers a ton of movies and series for a small subscription price based on the number of screens being used. |
| Hulu | Hulu is another popular streaming platform with a library of some of the best movies and TV Shows. You can use Hulu by paying a monthly or yearly subscription to access their content library. |
| Disney+ | Disney+ offers movies and series produced by the Disney company, which includes plenty of animated films and more. This is highly suitable for kids and can be accessed by paying a monthly or yearly subscription. |
| PopcornFix | This next platform can be called the best alternative for MoviesJoy as PopcornFix is free, and you can watch as many movies as you want. You can download its application from the App Store. |
| Amazon Prime | One of the most affordable and with the most vast variety of movies can be found on Amazon Prime. This platform has a massive library of movies and series and offers content in multiple languages. |
Conclusion
So now you know the answer to your question; is MoviesJoy safe? This platform is unlicensed and therefore involves a lot of risk factors. However, these risks of malware and viruses can be dodged using a VPN.
We have also listed a few suggestions to avoid online troubles, such as a VPN or a remote desktop, each with examples. If you want to look for safer options, we have also provided a list of safe MoviesJoy alternatives in this article.