Hostinger Support: Bought hosting services but unaware about the support features offered by Hostinger?Clicked Hostinger for the first time and found No Chat Support? Even if that's true then how can new users, visiting hostinger, get their technical issues sorted? What support channels are available for them at stake?
All the above questions we will be resolving for you in this post further. For getting creamy details about Hostinger and the support services it offers, Let's read further 👍
About Hostinger
It is a web hosting service provider that offers a wide variety of hosting plans like (Shared Hosting– For small scale websites, Cloud Hosting- For large scale websites, VPS Hosting– For dedicated resources, MineCraft Hosting– For creating a game server, and a lot more).
With 9 Data centers all across the globe, Hostinger also offers a Free domain, Free Website migration for users looking forward to transfer the domain from old service provider to Hostinger, 24/7 customer care services making it the best platform for web hosting among the newbies.
With that been said, let's see what different support channels does Hostinger provide its customer with? So, keep reading 👍
What Support Channels Does Hostinger Offer?
The support channels offered by Hostinger are few but as the reviews of Hostinger claims, the few support channels hostinger offers are far more efficient and user friendly as compared to other Hosting platforms. The support channels offered by Hostinger are as follows:
Live Chat Option (Only Available for the existing Users)
The live chat feature offered by Hostinger is only available for the existing users who purchase hosting services from Hostinger. Moreover, the support service offered by hostinger via live chat to existing users is available 24/7.
Ticket Support option
The Ticket Support option is not provided by Hostinger to any of its users.
Email Support
The Email support offered by Hostinger is diverse and functional. To make it easy for our readers, we have listed all the Email addresses that users need to access at times of technical issues.
KnowledgeBase & Tutorials
The Tutorials, Blogs and Knowledgebase options provided by Hostinger are extremely helpful in providing assistance to the new users who visit Hostinger for the first time, having technical doubts.
How to Contact Hostinger Support?
To contact the support team of Hostinger, one needs to follow the guidelines provided as under:
Live Chat
The privilege to access the support team via Live Chat 24/7 is only available to the users who are potential customers of Hostinger and have bought hosting services from them. So, to contact the support team of Hostinger, the existing users need to follow the given guidelines: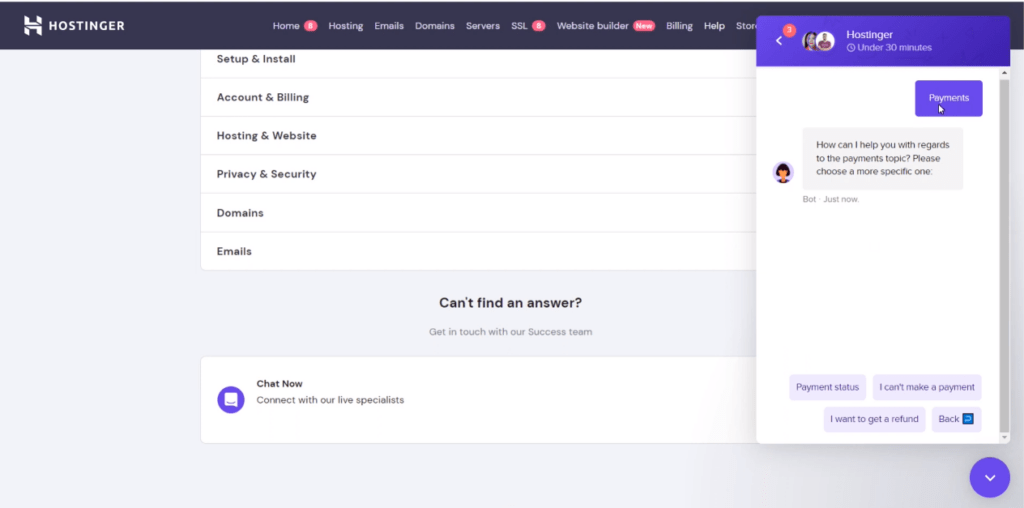 Since support is not available via ticket, users having technical doubts can get it cleared via the Live chat option itself.
Email Support
The support services offered by Email are efficient as it is another alternative to Ticket support. They can address their doubts in detail by attaching necessary screenshots to their email and other relevant information as well. The users can send their queries to the email addresses provided below, to get their tech related doubts addressed.
Tutorials and KnowledgeBase
As discussed earlier, Tutorials and Knowledgebase are the best guides available to the users who visit Hostinger for the first time and end up with minor doubts. The articles and blogs in the KnowledgeBase can be referred to for a quick redressal of the issue thereby giving a friendly assistance to the new users. To access the knowledgebase: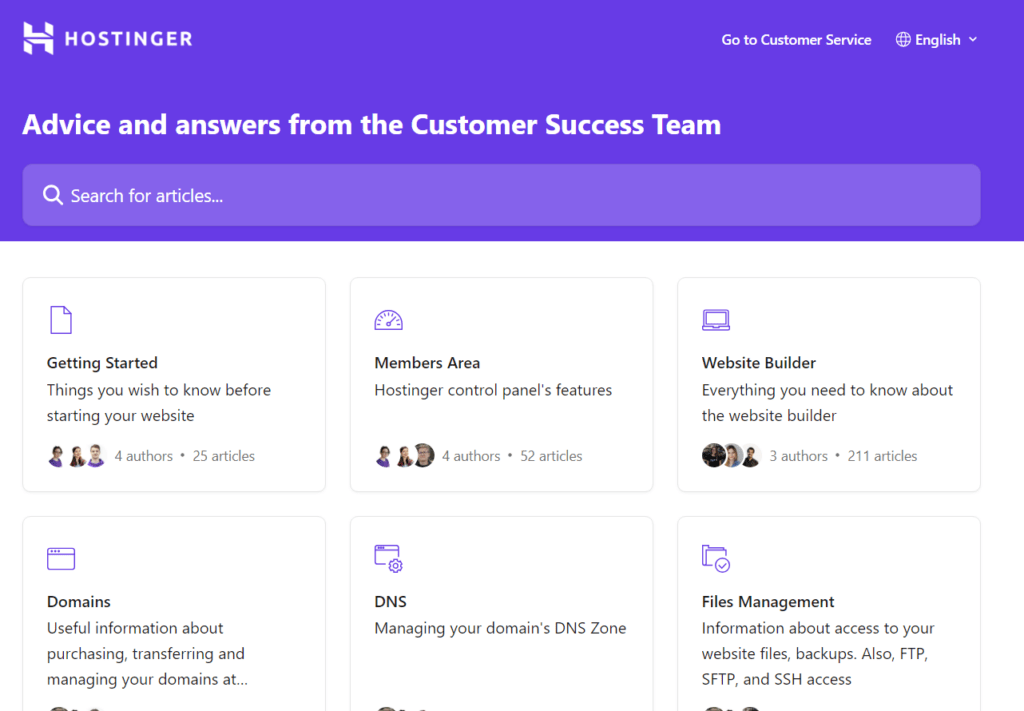 So we see how easily one can access the support channels of Hostinger by simply following the above procedures.
Other Hostinger Customer Feedback
Hostinger is a highly recommended web hosting company greatly known for its after sales services and the quality of hosting provided by them. Some customer feedback is given as under.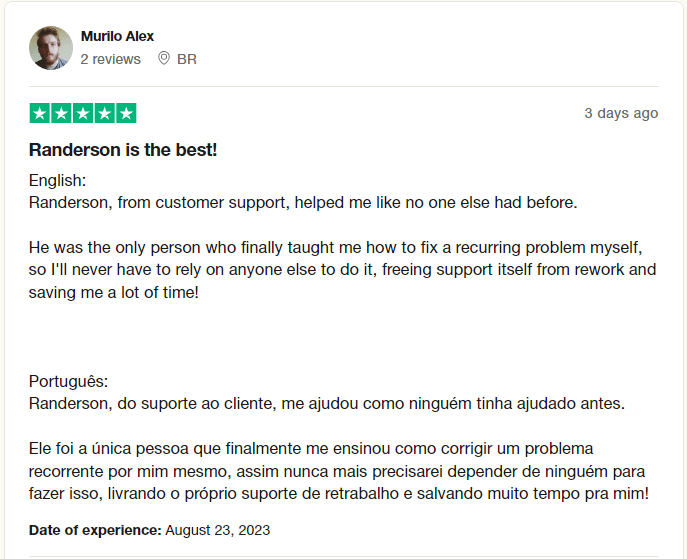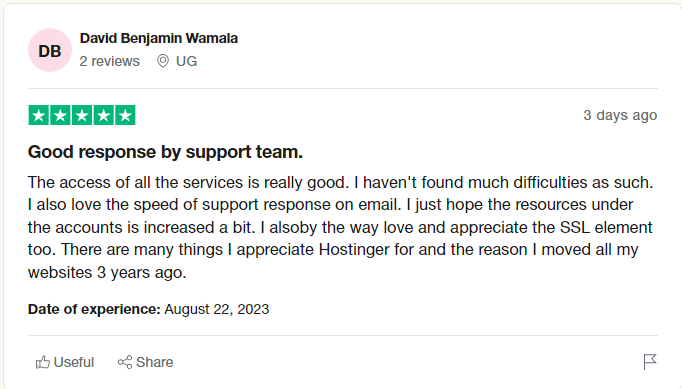 Our Experience with the Hostinger Support
In this Page, we have also been able to gather experience by contacting the support team of Hostinger, enabling you to understand how efficient these support channels are. To start off with, let's share the functionality of the support features offered by Hostinger:
Live chat
Email Support
Tutorials and Knowledgebase
Also Read: How to find Hostinger NameServers?
Conclusion
In this article we have systematically discussed all the support channels offered by Hostinger, the ways to access the support team and the experience that we have gathered by contacting the support team via various channels mentioned in this article.
We highly recommend your useful comments and we'll be extremely graceful to implement the suggestions .👍