Are you looking for a new hosting provider because you are done keeping up with the sloppy network your current hosting provides? Do not worry; in this article, we have a review of a hosting service provider that will never cause you any worry about speed and network.
HostDime is doubtlessly proud of its numerous data centre locations. Why shouldn't it be? These data centres help to provide perfect uptime and fast speed to your website. It is excellent for large-scale businesses and will provide everything your website needs.
Here's a thorough HostDime review that we constituted for your benefit.
About HostDime
About two decades old in the hosting industry, HostDime was founded in 2003 in the United States. For these two decades, it has efficiently invested its time and experience in building the best data centres set across the globe.

This hosting platform and other services are among the best hostings for big businesses. It has hosted millions of domains on its servers and offers plans such as cloud servers, managed VPS hosting, dedicated servers, colocation, etc.
So let us take a look at what it provides in detail.
HostDime Data Center Location
We have already mentioned that HostDime has many data centers, so stay ready for a long list of data center locations.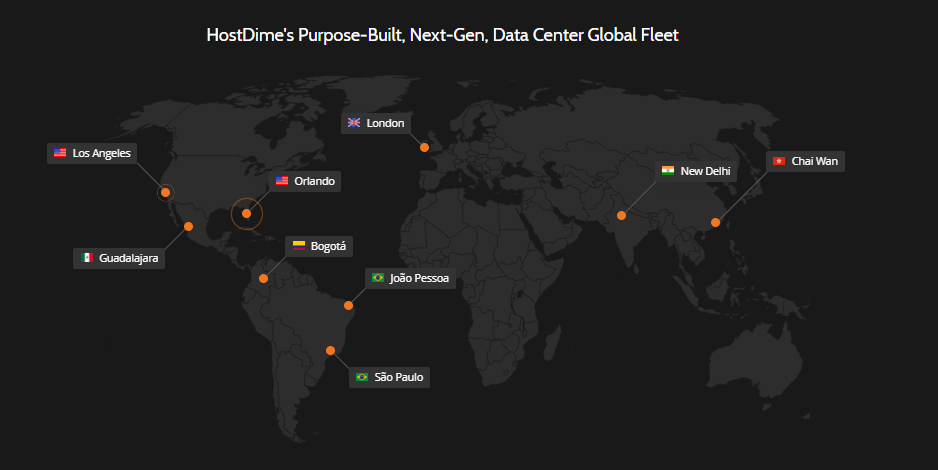 Key Features of HostDime
Let us take a look at the key features of this platform in this HostDime review.
DDoS Protection
HostDime is very proud of its data centres but has also got something else to be proud of its security system, which is unbeatable.
This platform's hosting plans offer you DDoS protection since it is well aware of DDoS attack dangers. It could stop you from accessing the content on your site for a short while, but you do not have to worry about that since this hosting platform already provides a shield against such cyber attacks.
State-of-Art SSD Storage
There are various types of storage systems that each provide different benefits. One such storage system is SSD storage with the power of speed.
This type of storage ensures there is no lag in offering information whenever your customers ask for it on your website because it works on flash memory, so HostDime took its step and offered SSD storage to you.
Flexible Plans
With this hosting platform, you do not have to rely on a standard plan built for all people on the planet.
With HostDime, you create your plan, including the features and capacities you want, and pay accordingly. Nothing extra.
100% Uptime
A large number of data centers help produce a fast speed for your website and ensure that your website stays up and running at all times.
We have tested HostDime numerous times, and every time, we got 100% uptime. So you can stay relaxed as your website will not miss any customers at any time of the day.
HostDime Hosting Plans
HostDime offers a variety of hostings. Also, it provides flexibility, so you get to build a plan resonating with your needs and pay accordingly. But let us discuss one of its hosting services for which it offers plans.
Types of Hosting HostDime Offers
The types of hosting that HostDime offers include:
Domain
HostDime has registered over 5 million domain names on its server and continues to do so. To register a domain name on this platform, you will have to start by looking for an available domain name, and you can get this done on HostDime.
This platform also offers domain resellers, so you have many options to choose from. The prices of domains start at $27.99 a year, so get your domain registered at HostDime.
Services offered by HostDime
The list of services offered by HostDime goes something like this:
What Makes HostDime Different from Other Hosting
In our opinion, HostDime is pretty different from other hostings because it has a set goal to provide hosting services to websites or businesses that have a large-scale audience.
Because you know that all postings cannot handle such a load and may soon start lagging. It offers you flexibility, scalability, and lots of other features.
Conclusion: HostDime Review
We started this HostDime review while struggling with sloppy uptime and speed. But now, since we know so much about HostDime, we know that this hosting platform, with its numerous data center locations across the globe, is reliable and will not let your website experience any downtime or delay.
It offers various services that are often unavailable at affordable prices and lots of features that could make your hosting experience more manageable. So make sure you give it a try.