People often say old is gold. Well, here we do have a hosting service provider that has been in the market for over two decades. GratisDNS has been serving customers and providing them with the best support they can ask for.
GratisDNS is a web hosting platform for your websites. Using the GratisDNS site you can buy, renew or even move your domain. There are options given for the control panel as well. DNS or web hotel setup at GratisDNS, you can choose to change A, AAAA, CNAME, NS, TXT, SRV, MX, PTR, RR, and also other domains as well.
However, these are only a few of the many features you will find on GratisDNS. So, to learn more about it, let's continue with this GratisDNS review and see what else it has in store.
GratisDNS About
Larsen Data has been the operator in control of GratisDNS since 2001. They also have other such services under them like MXhotel.dk , Netplads.dk , Digitalcertifikat.dk and BilligST.dk. However, starting in 2020, Larsen Data went on to become a part of the group ONE.com.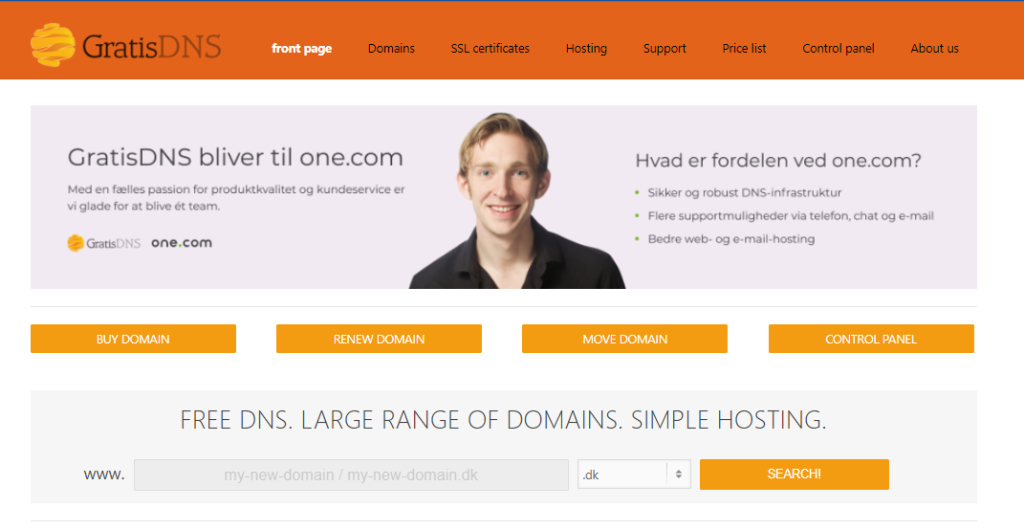 In March 2022, which means all free DNS servers migrated to one.com.
GratisDNS Data Center Location:
GratisDNS Data Center located in
Key Features of GratisDNS:
Some of the best features of Gratis DNS are that they provide all-inclusive emails and website software.
Types of GratisDNS Hosting Plans offer:
You can choose to get the:
What Makes GratisDNS Different from Other Hosting:
Gratis DNS makes sure that you get the ease of access when using their web hosting. Most of their packages are unique and also user-friendly with a control panel attached which makes it easy to quickly access all the services you might need and also to operate your access to the DNS settings as well including a file manager and also mail management.
Since you need not have any technical skills to use the web statistics tools, you can use the online File manager to do the job which works perfectly. Also if you have technical skills, you can also choose to access their SSH and advanced tools as well.
Conclusion – GratisDNS Review
After going through all the elements and features, we can conclude with the fact that GratisDNS is user-friendly. The price range is pretty nominal as well that allowing anyone to grab the web hosting service or even buy domains from the most secure site.
You will find all the basic aspects while selecting a hosting package such as a free SSL certificate, Unlimited space, volume, etc. But this hosting service does lack some advanced features such as CDN, and a lot more. But as a beginner, you can choose to go with this and make your website stand out.