Nowadays free VPS server Linux is a dream, and the global free web hosting companies are working on it. Millions of new customers do not have a single idea on free VPS 2022 and its importance.
The premium web hosting companies are selling VPS services at a crazy monthly fee.
Budget tight customers cannot afford the premium free VPS trial as well, and the new users have to input credit card details as well.
So, how to get free VPS hosting no credit card required in 2022?
What is VPS Hosting?
Internet is a large space, where people are seeking a one-stop place for answers. There is no harm in getting into the basics as there are millennial among us that required guidance.
VPS stands for Virtual Private Server, and it is a different technology combined with web hosting services.
Virtual Private Server is a technology that enables to create multiple operating systems and accounts in one CPU + Server.
Let us assume that you have configured one CPU + Server OS installed in it, and then the administrator can assign three or four customers to use its resources.
VPS is a powerful service, but the resources shared by multiple people such as CPU + RAM + Storage and GPU memory.
Resources consumption & creating a balance is the essential responsibility of a web hosting company.
In case, the hosting management decides to overcapacity the server, then Lags, Server response time, and Crashes are common.
Only reputed companies do not oversell free VPS hosting forever.
How does VPS work?
VPS (Virtual Private Server) is a combination of CPU + Server OS and virtual environment program installed in it.
The hosting company configures the server and creates multiple environments within it, and they start assigning the accounts to the customers.
Every server has a physical limit, such as five accounts per CPU. I have mentioned a term of overselling, which can result in bad performance and bad response time.
However, reputed companies keep a tab on it by letting a professional handle the servers.
Running multiple servers within servers puts a stress on the CPU, and customers should customize the package according to the needs.
VPN creates an illusion by running multiple Independent Server OS within one CPU.
New customers have an option to customize the package like selecting Processors, RAM, Storage, Bandwidth, and more.
Make sure to choose the 100% free VPS for one month package properly to avoid mismanagement.
Differences between Shared Hosting and VPS hosting?
The battle between the two most loved packages from the industry doesn't seem to end. No one can doubt Shared Hosting value in the web market because it is an affordable package for everyone.
Budget tight customers can afford Shared Hosting by spending a few bucks on it.
VPS is a controlled package designed for the customers, while Shared Hosting isn't designed for one customer.
Virtual Private Server accounts allow new customers to select Processors, RAM, Bandwidth, and more.
Customers have full control over selecting the power required to run a website smoothly.
However, Shared Hosting shares the same CPU resources with other accounts/customers.
I hope that readers are aware of sharing one server with others in Shared Hosting packages.
Users get administrator privileges in VPS because the virtual server pretends to be running on an independent server.
Ironically, VPS cost slightly higher than Shared packages, which is why millions of people select low-cost services.
The power, performance, efficiency, and stability offered by VPS hosting packages don't come near to Shared Hosting.
Is VPS hosting faster than shared?
Technology-wise, VPS us stronger powerful compared to Shared Hosting. But, the customers must purchase or try free VPS hosting no credit card required from reputed management.
Small fries in the business are already overselling VPS accounts. Never subscribe to overselling VPS Accounts Company because the performance doesn't get near as Shared Hosting as well.
Bottom Line: VPS hosting has performance, flexibility, and freedom, and Shared Hosting is a basic package.
Why choose VPS hosting?
Virtual Private Server is not meant for average customers such as One-page sites, small seven pages business sites, and three or four pages of blogs.
However, it is an excellent tool for ranking a website because search engine loves 0.1 MS responsive servers.
I have listed a few features & benefits of VPS hosting. Make sure to go through them once to understand & compare them to your requirements.
How to win FREE VPS every month?
Free VPS hosting no credit card required and there are no hidden gems behind. No one has to pay a single penny on it, and it doesn't have limitations like Storage, Bandwidth, and others.
YouStable is running monthly giveaways to increase customer base and recognition within the industry. Fully-Functional VPS accounts are giving away every month.
YouStable VPS Hosting:
If you don't have enough dollars to buy premium VPS then we have great news for you.
We are running monthly giveaways to offer Free VPS Hosting to our winner, participating in this giveaway is damn easy you need to follow below instructions…
Step 1. Go our premium hosting partner website YouStable and create an account. (no need to purchase any services)
https://www.youstable.com/manage/clientarea.php (Create New if you didn't host any website yet)
Step2. Go to your dashboard and activate your affiliate link, you will get $5 instant as bonus credit on your account.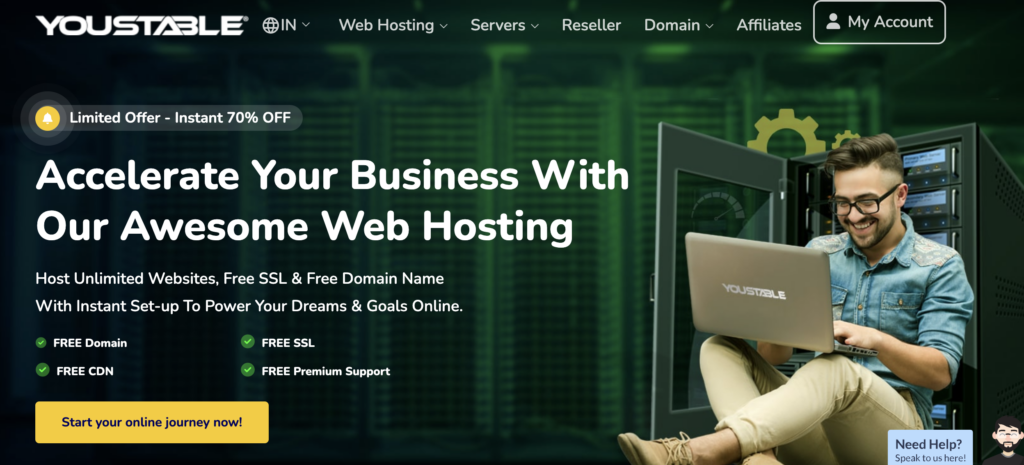 Now have done almost!! but wait, below are the most important steps which are mandatory.
Step3. Join our Facebook group for latest web hosting updates, offers and coupons.
step4. Do mention Youstable on social media like facebook, twitter, Instagram, Quora etc. and send that link to us at [email protected]
Step5. Complete all the steps and share the giveaway on your Facebook or twitter profile Now you are done we will get back to you if you won the contest via e-mail or Facebook profile.
Bottom Line
Free VPS server Linux is not a limitation for the customers because Linux is a powerful operating system with better security options.
Windows have loopholes & millions of online threats that can affect it.
Meanwhile, Linux OS suffers from fewer threats only and administrators can prevent easily.
Privacy Invaders do not touch Linux OS because it isn't easy to spread the threats within the environment.