Dewlance is a well-known web hosting service provider that is well known for its 100% satisfaction policy. It is an ideal web hosting service provider with all the basic facilities available.
Considering this we decided to test and analyse the platform for all its features, security, and support and based on our analysis is this detailed Dewlance review for you to read and decide if this is the hosting solution suited to your business needs or not.
About Dewlance
Dewlance was founded by Chandra Prakash. The ultimate goal of Dewlance is to develop trust between its customers without affecting the quality of services it provides to the users. It has an excellent data centre infrastructure to provide its customers with the best network services without disruption.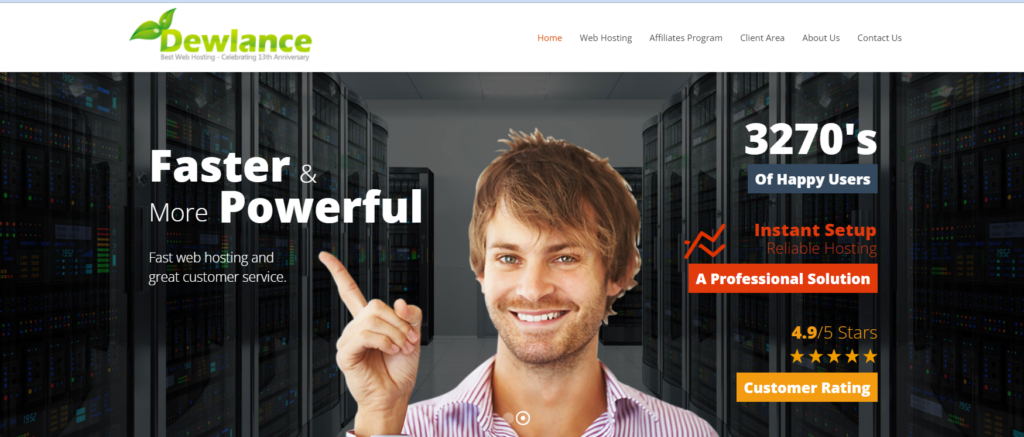 With the mission of offering cost-effective web hosting solutions without sacrificing quality, Dewlance was founded in 2009.
They have a number of data centres spread out over the globe, ensuring that no matter where users are, their websites will load quickly. Their corporate headquarters are in Delhi, India.
The domain name facility Dewlance provides is fascinating and comprises all popular domains that a customer mainly wishes to buy.
Test and Analysis
The key parameters on which a web hosting service provider's efficiency is checked are discussed below concerning Dewlance.
User Interface & Ease of Use
You will receive free configuration on Dewlance's server, step-by-step instructions through their support team, and free migrating if you already have a webpage and are hosting it through a different company. When you're finished, you can look at all of Dewlance's features. 
Dewlance uses a cPanel type interface to present information to its users. The whole system is well organised on the website, and that too in a user-friendly manner.
Dewlance Customer Support
Dewlance has a 24*7 dedicated workforce to listen to all the queries of its customers. It has all the contact details mentioned on its website for the user to connect to the company easily.
Security Analysis
The company is also very vigilant in case its users' data security. A firewall and a two-layer verification will maintain the system to enable the user to access a secure and insecurity-free environment.
Data Center
The company has various data centres in the USA. It has a data centre in Chicago, Florida, and Las Vegas. It has a server facility in Nevada too. The Canadian hosting service of Dewlance is located in Montreal. A very good network server is located in Maidenhead, United Kingdom.
Key features of Dewlance
Some special attributes make Dewlance a special web hosting service provider. This section gives you a list of such attributes-
The hosting service provider has very low package prices to enable the user to enjoy all services on the same platform. It has made hosting as well as domain naming a very cheap business.
Customer care services are always enabled and are backed by an active workforce. The whole service system is as per the user's convenience. The live chat option that Dewlance provides is very much beneficial for the user.
Types of web hosting that Dewlance offers
Below are the web hosting services that Dewlance offers
Dewlance Pros & Cons
This section deals with the pros and cons that Dewlance has. It discusses the various minus and points that Dewlance possesses-
Pros
It has a very dedicated team to look after the functionality.
It has a live chat option to enable a 24*7 connection between the user and the company workers.
Cons
The support ticket responses are quite slow.
FAQs – Dewlance Review
What payment methods are accepted?
The payment methods that Dewlance offers are discussed below-
PayPal
PayUmoney
Perfect Money
Bitcoin
What Plan I should choose if I were a beginner?
You may use the Basic Plan that Dewlance offers at a minimal rate.
How many data centre locations are provided by this company?
Dewlance has various data centres across the USA. It has a server station in Chicago, Florida, Maidenhead, and other parts of the United States.
Conclusion – Dewlance Review
The entire working atmosphere that Dewlance provides is very useful for a user who wishes to enjoy the web hosting services. It has all the basic facilities to provide that a user wants in a web hosting platform.
Thus, every web hosting user should utilise this web hosting service provider and make their web hosting practice an exciting experience. Considering Dewlance as your provider does come with a considerable number of benefits.