Kylos is a Polish web hosting company offering a wide range of shared, VPS, cloud, reseller, and dedicated server hosting solutions. But is this hosting service really good?
We wanted to find that out.
So, we used the hosting for several months and then compiled this Kylos review on the basis of its features, functionalities, security, ease of use, and more. Have a read of this review to know if this is the hosting platform suited to your needs or not.
About Kylos
Kylos was founded in 2003 by engineering and computer science students, and it offers a range of web hosting and dedicated server hosting solutions.
They launched their data centre in 2008 located in Łódź, Poland, catering primarily to the Polish market.
Test & Analysis
Refer to the following points for the test and analysis of the services provided by Kylos.
User Interface & Ease of Use
Kylos has an easy-to-use and intuitive interface that allows you to control all parameters of the servers thereby making the platform extremely convenient for the users and bringing significant ease to their operations.
Kylos Customer Support
Kylos offers 24/7 customer support, and you can reach the support team via telephone, a ticketing system, and live chat from their website.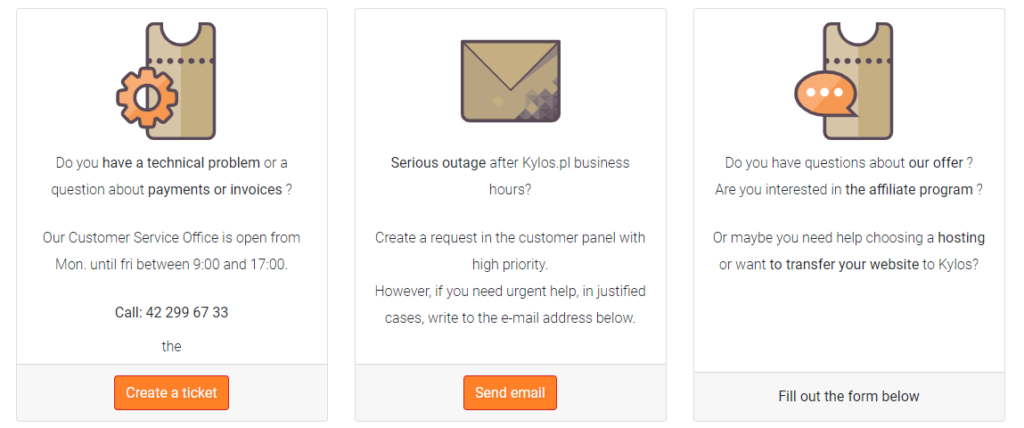 The support team has extensive knowledge of all things related to hosting and provides helpful articles, although most of them are in Polish. However, you do have the option to translate them into English.
Security Analysis
Kylos offers various SSL certificates like DV SSL certificates which are a cheap and fast way to get SSL security on your website. This SSL certificate does not require additional verification at the organizational or company level.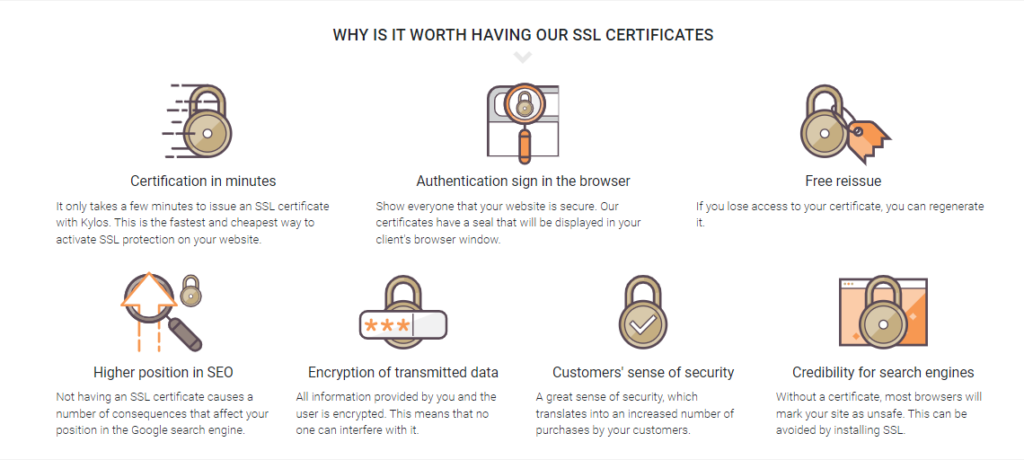 Then there's the Wildcard SSL certificate which allows you to secure an unlimited number of subdomains with one. Other plans include Organization validation and extended validation SSL certificates.
Key Features Offered by Kylos
Here are some of the key features offered by Kylos:
Kylos offers several plans for web hosting, ensuring maximum security for your service by using HTTP/2 protocol, SSL certificates, DNS Anycast, and SSH access to protect your data. Kylos also protects private information by providing a GDPR agreement free of charge.
Kylos offers server administration that allows, as part of ITG outsourcing, to entrust experts with tasks related to the operation and management of your company's servers. They take care of servers and design a new infrastructure so that you can be sure that your applications work quickly and without any problems.
Kylos offers dedicated servers for professionals with a unique range of specialist assistance with individual configuration adjustments as per your needs. They also give full support if you want to transfer your services to them from any other hosting company and configure your servers using the latest and proven solutions.
Kylos offers VPS with KVM virtualization to ensure high performance and isolation of individual servers. NVMe SSD disks with RAID 10 for redundant backups in the event of a failure. The DirectAdmin panel provides an intuitive interface for individuals to configure the environments to harmonize with each solution perfectly.
Types of Web Hosting Offered By Kylos
Kylos offers the following types of web hosting services:
Kylos Domain
Kylos offers domain registering services, checking its availability, and transferring domains from the current service provider without additional fees.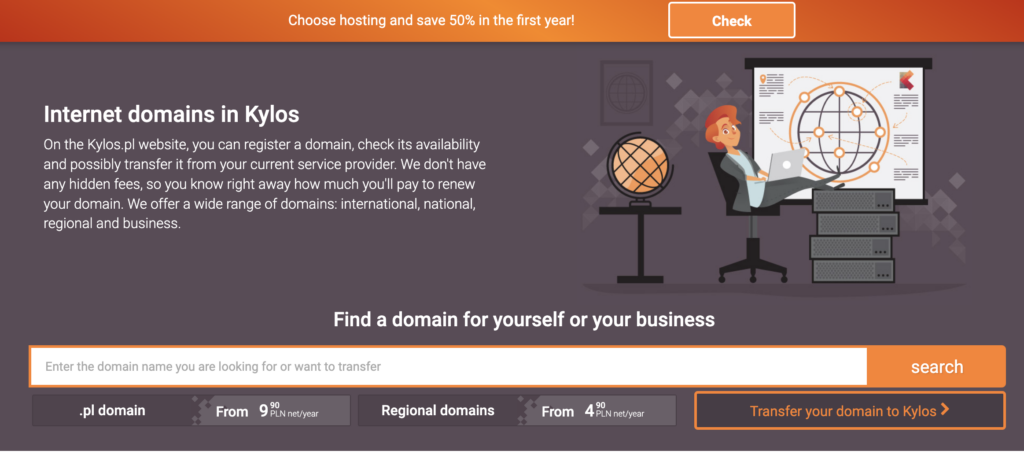 Kylos Pros & Cons
While testing out the services provided by Kylo, we found some pros and cons.
Pros
Affordable prices
Excellent server speeds
14-day trial period for any shared hosting plan
Free website migration services
Cons
No uptime SLA
No free domains are provided. 
FAQs – Kylos Review
How much does Kylos cost?
Kylos offers plans starting from $15.75 and going all the way up to $31.93.
Is there a Money Back Guarantee?
There is no money-back guarantee.
Where are Kylos Servers located?
Kylos servers are located in Poland.
Which payment method do Kylos accept?
Kylos accepts payments from debit/credit cards and EFT.
Conclusion – Kylos Review
Even as a small web host in Poland, Kylos performs well and has affordable choices for individuals and businesses. However, they may not be suitable for people who don't understand Polish.
So, the platform has its own pros and cons, but it is well suited for the Polish audience and anyone who understands Polish can give it a try.
We hope this review was helpful and that you will find it easier to form your opinion about this hosting.