Today everyone is looking for a sharp, high-end website that offers unbeatable performance and vital website speed. The web performance depends entirely on the type of hosting and server storage technology.
This is why storage spaces keep developing as per the latest demands and technology. Above all, one such emerging solution is NVMe storage, which has become a common discussion these days. Knowingly it boosts your site with high-end performance and top-notch speed than before.
Well, there are numerous NVMe solutions-providing companies in the market. However, finding quality with a budget can be a bit time-consuming for you. But we have got you covered with a solution that fulfils your website demands and easily fits into your budget.
Alphabethosting is an NVMe-driven solution agency specialising in offering various NVMe services on one platform. But can it help you boost your site effectively? Well, let's find out with this Alphabethosting review.
About Aphabethosting
Alphabethosting is an elite web hosting agency that offers high-speed, scalable, and reliable solutions at its place. The company aims to provide the leading hosting experience services to all individuals or small businesses.
So far, the company has helped an estimated 40k+ customers in around 200+ countries. Alphabethosting commenced its journey in 2015, offering developer-friendly hosting solutions worldwide.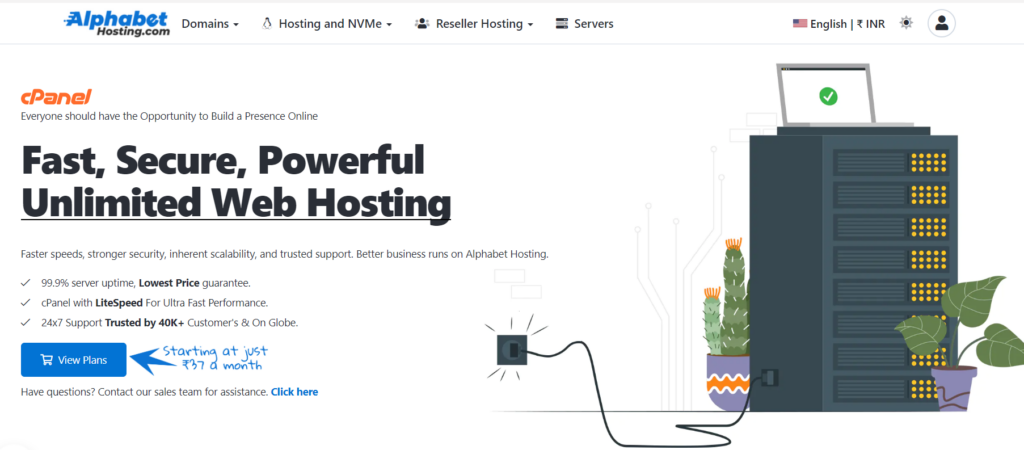 The company offers various solutions, including web hosting, NVMe hosting, reseller hosting, and cloud hosting, ensuring your website stays up!
Key Features of Alphabethosting
Alphabethosting is not only popular for its services but also for its redefined premium features. So, let's look at some of the top-notch features offered by the company.
Get End to End Security with AlphabetHosting
To ensure that your website is safe, it is important to have advanced and updated security to protect against malicious viruses or bots. With Alphabethosting, you get up to 1 GBPS Speed with a firewall for each IPv4. Moreover, besides servers, you also get SSL certificates, DDoS protection, and a Site lock to protect your website.
24×7 Chat Support
When it comes to priority, Alphabethosting keeps its customers at the top. The company offers a 24/7 online chat presence to help you quickly solve your queries.
High tech Servers to host your Site Speedily
Alphabethosting hosts your websites with their Turbo Servers connected with a 1 GBPS Network.
Advanced Control Panel
They use the latest version of the cPanel that triggers effortless hosting of your site.
Data Migration
The data migration is seamless and effortless on Alphabethosting. So, even if you have your hosting on another platform and seek to migrate it to Alphabethosting, you can do it quickly without worrying about data loss.
Best Alphabethosting Hosting Plans
Talking about the hosting plans, Alphabethosting plans start with a reasonable cost. They offer highly scalable plans that are compounded with the best quality tools and premium features to enhance the quality of your website.
So, let's look over the prices and plans the company offers.
Why Choose Alphabethosting Hosting Plans?
As discussed, Alphabethosting offers a series of unique hosting solutions that meet today's world's problems and offer a next-gen solution to their clients.
They specialise in all hosting solutions, including cloud web hosting, shared hosting, and reseller hosting. Recently, the company launched one brand new hosting solution: NVMe hosting.
In a nutshell, hosting with Alphabethosting agency keeps you informed of your workflows in a managed way. Moreover, with Alphabethosting, you can easily become an affiliate and earn revenue.
Given all these phenomenal features and benefits, there is hardly any reason not to choose Alphabethosting.
Conclusion – AlphabetHosting Review
So, this was all about Aphabethosting and some of its top-notch characteristics. If you are a newbie in the market or want to revamp your website, then having a hosting solution on your checklist is a must today. Just like SEO, web hosting has also become a fundamental essence of forming a flawless website.
With Alphabethosting, you can ensure you most efficiently put this essence into your website. The hosting is secure, reliable, and affordable. Most of all, it has advanced, cutting-edge technologies to ensure fast and smooth website performance.
With that, it will be an excellent hosting for your website. So, what are you waiting for? Start your hosting with Alphabethosting as soon as possible!