Can you decide which hosting provider is the best for your business?
Are you stuck between all the options?
Well, here's a way out. In this article, we have brought a Webcare360 review for you. One of the top-notch web hosting provider solution companies in today's world.
Are you searching for a good web hosting provider solution that matches your business requirements? Then we have a piece of advice for you.
Choosing the wrong website hosting planning may slow down your website performance and uptime. Therefore, you should be particular about it from the beginning.
Talking about, Webcare360 is one of the largest web hosting provider solution companies. Let's know everything about Webcare360.
About Webcare360
Starting in November 2009, WebCare360 is a privacy-driven hosting company registered in an offshore zone of St. Kitts & Nevis.
The vision was to accomplish and bridge the gap between the growing demand for private, secure offshore web hosting.
Webcare360 offers complete 360-degree privacy and protection norms to its clients. Furthermore, the company has developed high-demand services at one station to provide complete end-to-end service protection to the clients.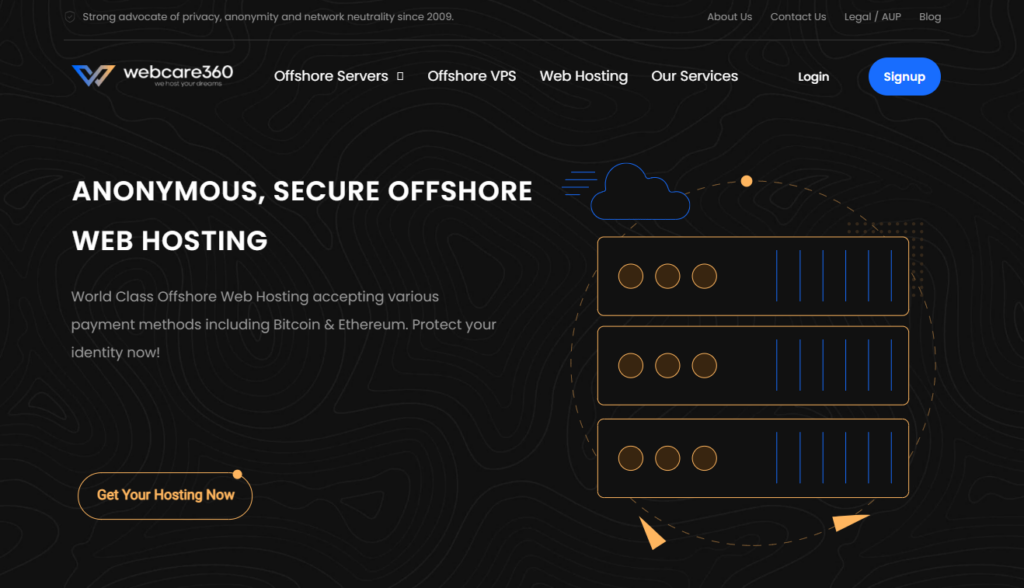 It provides Shared, Re-seller & Offshore Private Servers (VPS), dedicated server hosting solutions, and several more under a flexible budget.
Moreover, the company has designed its solutions by keeping the customer's expectations in mind.
They also provide free domain registration and website designing solutions.
Additionally, it has its services at different prices.
They have covered all budgets that are from beginners to professionals. Talking about their methodologies, they have some in-house methodologies designed keeping in mind the latest tools and constant changes happening worldwide.
Therefore, you can work according to the trend and parallel the latest technology.
Test and Analysis for Webcare360
To know whether their approach is valid or not, let's explore some of their tools and methodologies in this Webcare360 hosting review.
Webcare360 Review User Interface
Webcare360 hosting services offer an excellent user interface with high-speed performance and website servers. Moreover, the company provides a 99.99% uptime guarantee on every plan.
Hence you don't have to worry about uptime value.
At Webcare360, you will be assisted by highly expert technicians who understand your business requirements.
Moreover, talking about the user interface, the speed, and uptime offered by Webcare360 are unbeatable. Therefore yes, we can say that they provide an advanced user interface.
Security And Tools Analysis
Webcare360 understands the value of your data.
At WebCare360, they take security as a priority. They do not share, rent or sell your personal information or data to any third party and put all stops to keep your data safe and anonymous.
Therefore, it provides anti-DDOS protection servers that help your data stay protected in safe hands.
Customer Support
Webcare360 provides a 24/7/365 backup of technicians and engineers to solve your queries with fruitful solutions. Moreover, they have also given a separate space for their clients.
Webcare360 Review Data Centers Location
WebCare360 has multiple data centers with high-tech networks, each delivering top-notch performance with up to 99.99% uptime.
WebCare360 owns servers in Ukraine, Sweden, Russia, Netherlands, Poland & Bulgaria. However, for more Data Center locations, you can check out ScalaHosting, Kamatera, HostArmada, and CloudWays.
Webcare360 Refund Policy
Talking about the refund policy, Webcare360 has several points to keep in mind if you are seeking a refund policy. Following are some of these:
Key Features of Webcare360
Following are some of the key features of Webcare360. Let's check them and know if they are beneficial for your business or not. 
cPanel control panel
A high-tech cPanel looks after hosting accounts. At Webcare360, individuals use CodeGuard backup manager as cPanel for protecting their data and information.
Privacy assurance and DMCA-ignored hosting
Privacy is one of the top-notch preferences of the company.
Hence they prefer high privacy and anonymity of the customers and their data.
CloudLinux OS
Webcare360 uses CloudLinux OS in its systems.
IPv4 addresses
As discussed, security is never compromised here. Therefore, to maintain the safety of your data, the team uses IPv4 addresses.
Softaculous one-click installer
There's no need to wait. As of now, you can install tools with just one click.
99.99% uptime guarantee
Well, this uptime is unbeatable. Therefore, you can feel free about the uptime of your website.
Webcare360 Pros & Cons
A discussion between the pros and cons of Hostens can help you understand more about their services. Therefore, let's check out the difference.
Cons
Reasons to Choose Webcare360?
There are several reasons to choose Webcare360 as your web hosting partner. Which, some of them are listed below:
Anonymous Hosting Procedure
WebCare360 allows you to host your website with complete privacy and anonymity. They offer the best offshore web hosting solutions across the globe, which triggers good web hosting by staying anonymous.
Freedom of Speech
By staying private, you get the freedom of speech to convey your thoughts freely to the public. 
Moreover, with WebCare360, you can securely maintain your data and information with private web hosting ideas.
Reliability
The uptime and stability of the company are unmatchable. They always keep an eye on their client's websites to serve the best outcomes without any hassle.
Webcare360 is 24 hours a day, 365 days a year, active to guard your website and host procedures appropriately, avoiding any hassle.
Offshore Locations
Ukraine, Sweden, Poland, Russia, Netherlands & Bulgaria are some of the offshore serves data centers of the company. They do not accept DMCA.
Types of Web Hosting and Services offered by Webcare360
There are different types of services in Webcare360 reviews. Which, some of them are listed below: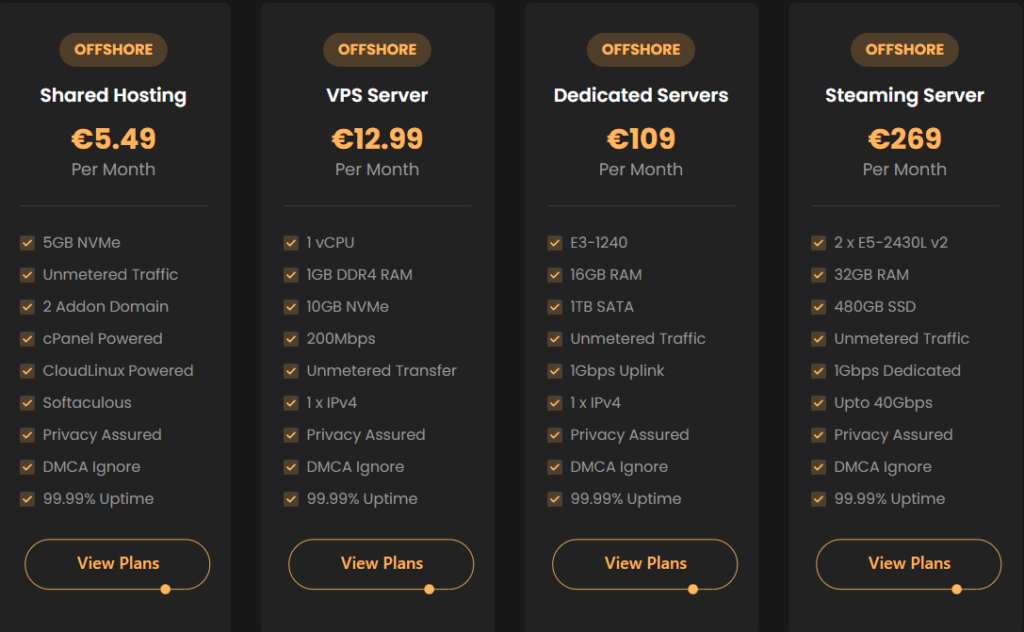 Shared Hosting
WebCare360 provides high-performance offshore hosting solutions to promote freedom of speech & content by ensuring the privacy of its clients.
VPS Hosting
Here they offer DMCA IGNORE VPS servers that cost less, work faster, and are up to date.
Dedi Servers
Enjoy the privacy and anonymity of your website with WebCare360 providing quality offshore dedicated servers.
Anti DDoS
WebCare360 provides DDoS protection to your business, protecting your website from attacks and malware.
Do we Recommend Webcare360 Web Hosting?
Webcare360 web hosting is one of the biggest hosting provider solution companies offering end-to-end protection and privacy to your website.
Since 2009, the company has served its clients across the world. Moreover, the company is well recognized for its customer service support and excellent professional backup team to help clients put their all stops.
So, yes, we highly recommend Webcare360 web hosting solutions to be chosen as your business hosting provider.
 FAQs – Webcare360 Review
What is Webcare360?
Webcare360 is a web hosting providing solution company that helps individuals build top-notch websites with high-order performance.
Are Webcare360 paid plans expensive?
Webcare360 offers many affordable hosting plans and is quality-oriented. However, you must choose plans as per your requirements.
If you want better hosting on your website with very high performance, you can choose an expensive plan.
Which control panel does Webcare360 Offer?
Hosting accounts are managed via the popular cPanel control panel, and your web data is protected (at extra cost) by the CodeGuard backup manager.
Is Webcare360 the best Offshore Hosting provider?
Yes, we can say that Webcare360 is the best Offshore Hosting provider company as they provide good scalability, high performance, security, and full root access with the servers.
Is there any Coupon code for Webcare360 Offshore hosting?
No, there is no coupon code available on Offshore hosting.
However, Webcare360 keeps running several offers and discounts seasonally, which can help you buy services at the most affordable rates.
Conclusion – Webcare360 Review
Webcare360 web hosting is one of the oldest and most experienced hosting solution providers that offer fast and privacy plans at affordable rates.
If you are a beginner or a start-up, you can work at a low cost. However, if you wish to build your website significantly, you need to spend some money to get better results. Therefore, Hostens provides you with everything you want at one station.
Furthermore, this Webcare360 review guide explored everything we must know about Webcare360 before experimenting with their services.
Hence, we hope you have now chosen your web hosting solution partner. So, get started now!