Web hosting is a much-needed service in today's competitive business environment where every company is eyeing a web presence. However, which hosting you should choose is a big question.
Well, we keep coming across hosting and love suggesting good options. This time, we came across Web24 which is an Australia-based hosting company. Know all about this hosting company and its features as we explore it in this Web24 Review.
About Web24
Web24 is a web hosting company based in Australia, a part of Hostopia Australia Web Pty. Ltd., its parent company. They have years of combined experience in web hosting and other solutions. The company is headquartered in Australia with two data centres, one in Sydney and the other in Melbourne.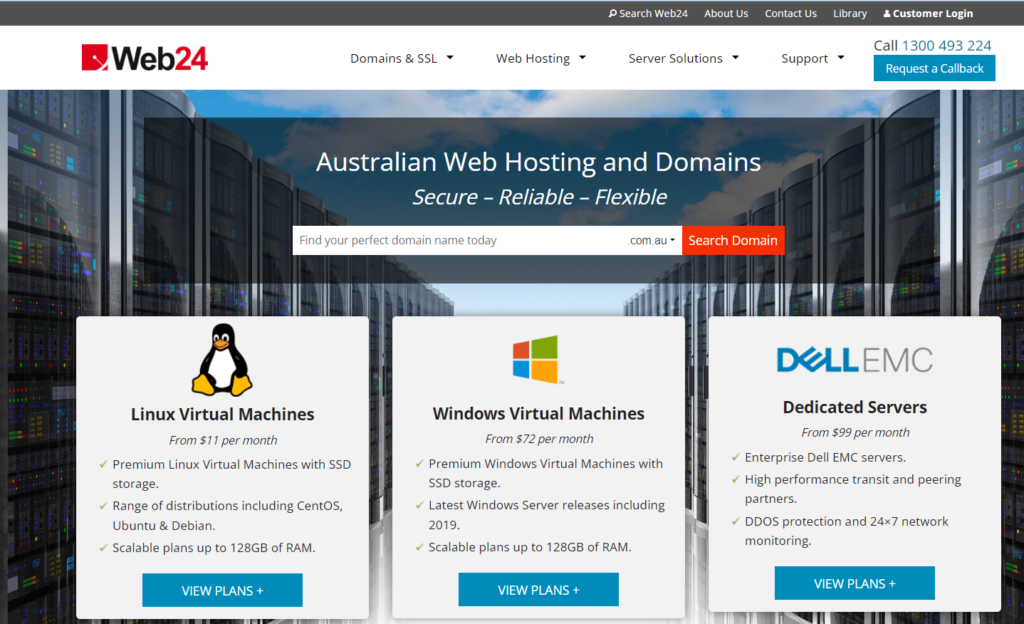 It offers various services like Linux and Windows virtual machines, dedicated servers, server management, web hosting, domain name registration, and SSL certificates. All of their services are highly scalable and configurable to individual requirements.
Test & Analysis
Reviewing a hosting company requires deep analysis. We tested Web24 on multiple parameters and hereinbelow are the results of our tests and analysis.
User Interface & Ease of Use
Web24 has an easy-to-use and intuitive control panel that is robust and feature-rich. It comes with WordPress management tools, email administration, self-service backup and restore, free SSL certificates with easy installation, multi-PHP selector, and DNS management, all using the control panel. All these features provide the users with significant ease of use and they are easily able to grasp and understand the user interface.
Web24 Customer Support
Web24 provides 24/7 support, you can reach the support staff through
The response times are very quick, and the staff is very knowledgeable. In our experience, we haven't noticed any major issues related to customer support.
Security Analysis
Web24 offers free DDoS protection included in all of their plans. They also use ModSecurity, a firewall module designed for use with Apache web servers. ModSecurity is deployed in all their Linux hosting solutions to ensure the most secure hosting environment. This prevents potential attacks, viruses, and network breaches.
Key Features of Web24
Here are some of the main features provided by Web24.
Web24 Pros & Cons
While testing out the services provided by Web24, these are the pros and cons we found.
Pros
Excellent dedicated server infrastructure
Configurable plans and solutions
Handy WordPress tools 
Wide variety of cloud hosting plans
Cons
Not the most affordable option
Australian data centres only
FAQs – Web24 Review
Does Web24 Provide Cloud VPS Backup Service?
How long does Web24 take to activate a VPS Account? 
After payment is completed, your server should be online within a couple of hours, if not instantly.
How many Data Center Locations does Web24 provide?
Web24 has two data centres located in Sydney and Melbourne.
How to upgrade my VPS account at any time?
You can upgrade your VPS account at any time by moving to a higher plan and paying the price for it.
How many types of Web Hosting Offered by Web24?
Conclusion – Web24 Review
Web24 is definitely a good web hosting company for you if you're in Australia. It offers many web hosting solutions like VPS, dedicated and cloud servers with highly customizable and configurable plans. Their hosting solutions are designed for scalability and customization for medium to large enterprises.
So, concluding this Web24 review, we can say that it is a good option to explore and you won't be putting your money in the wrong place.