Web hosting and servers are a need for every business looking to go online in today's tech world. However, where would you find web hosting companies that meet your end-to-end business needs and requirements?
Well, for a fact, there are many options to choose from. But, of course, you need the best, and you can determine that only after a detailed analysis of the different options before you. Well, we're here to help you with all such analysis alongside the detailed reviews of hosting companies.
On that note, today, we have come up with yet another review of a company that's popular for its gaming servers and is even great with other hosting solutions. We're talking about VoltHosting Review. Let's get started with this VoltHosting Review.
About VoltHosting
Founded quite recently in the year 2018, VoltHosting is a relatively new company in the hosting business. It is a UK-based company with multiple data centres all over the country engaged in delivering high-quality gaming servers and other web hosting services to clients and customers in the UK and other countries.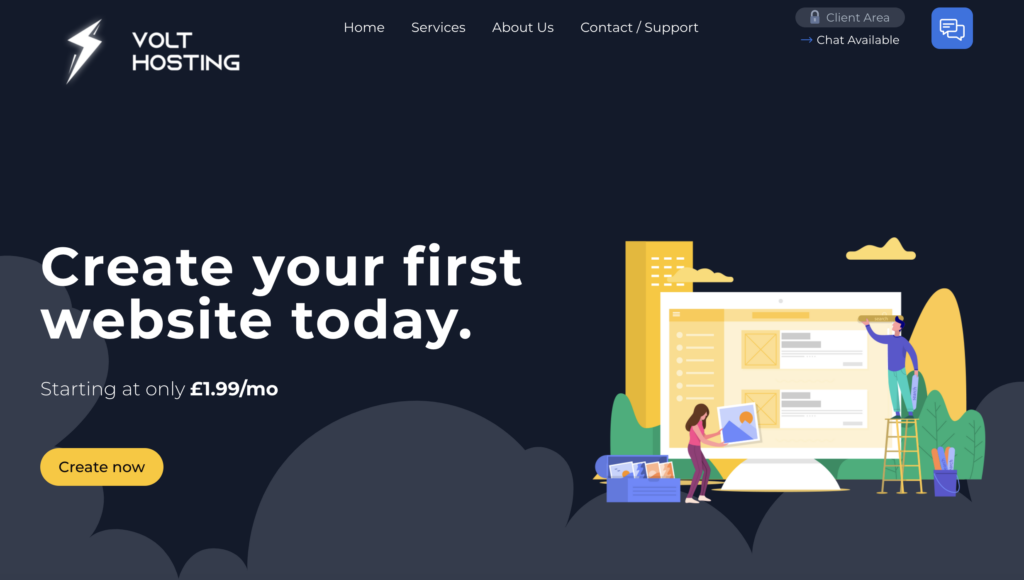 With a great support team, the company is excellent at meeting end-to-end client needs and requirements and offers high-speed servers and hosting with advanced features and functionalities that come from their collaboration with Cloudflare and Google.
Test and Analysis
Let us now test the services offered by this platform in this Volthosting Review.
User Interface & Ease of Use
The ease of use with VoltHosting is pretty amazing, with highly controllable control panel support with all their hosting services. 
The company offers Plesk Web Hosting, which provides the most flexible control panel for managing website operations without any hassles. Additionally, the interface comes with user-friendly and advanced website building tools that make the entire website creation and development task a breeze.
VoltHosting Customer Support
VoltHosting has a dedicated customer support with its excellent team of experts always ready and happy to assist you with any queries or questions.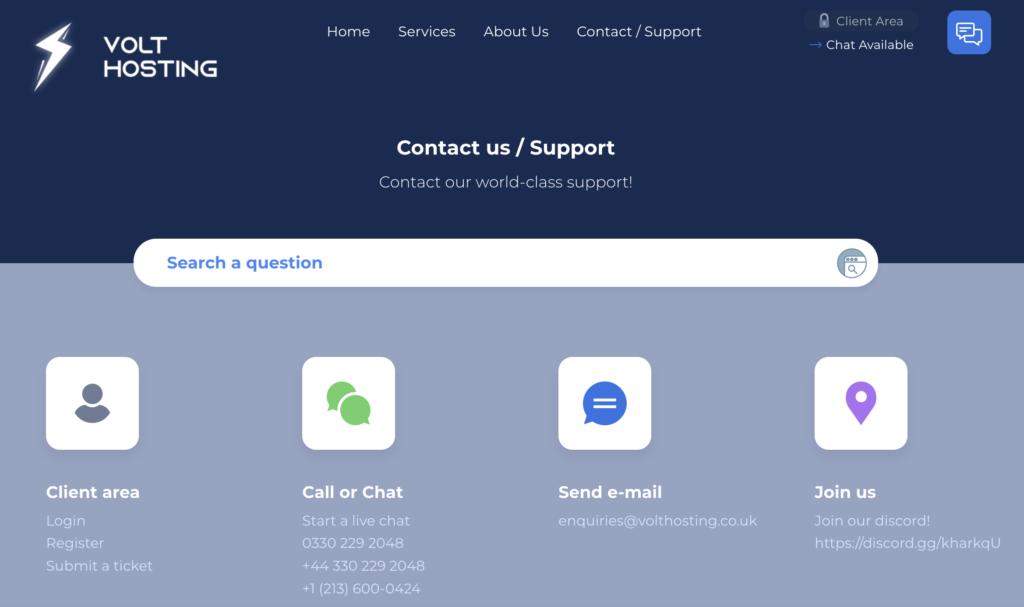 You can reach out to customer support via live chat, where you get an almost instantaneous response to your questions. Alternatively, you can raise a support ticket for more complex issues or even connect with their team over a call if your issue is urgent.
Security Analysis
The security features of VoltHosting are pretty notable. The hosting services and plans come with free SSL certificates that protect your website and give the users confidence that they're operating on a safe network. 
Additionally, some hosting plans and domains come with WHOIS protection, adding an extra security layer.
What Types of Web Hosting are Offered by VoltHosting?
VoltHosting takes a multitude of web hosting services into its purview, which includes-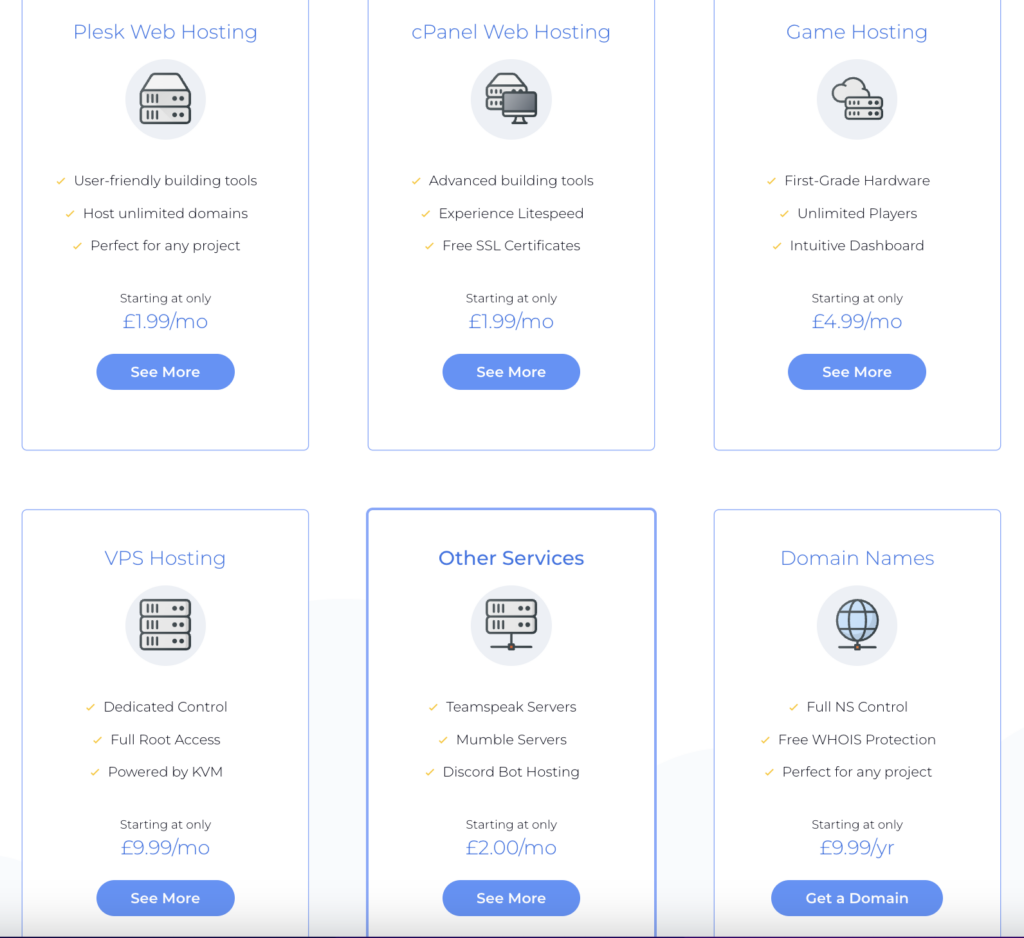 All the hosting services and servers are available at very budget-friendly and affordable prices, with the best features and functionalities you can ask for in a hosting service plan.
VoltHosting Data Centre
VoltHosting is a UK-based company and has all its data centres within the country. The three data centre locations are-
Key Features Of VoltHosting
The hosting service features are the most important element in checking the efficiency of the plans and servers you're paying for. Here are a few features that make VoltHosting worth a try.
User-Friendly Control Panels
VoltHosting has different plans for different control panels, such as Plesk and cPanel control panels. Even for servers and VPS, the hosting offers highly controllable control panels that offer significant ease of use and keep it convenient for you to manage your website operations.
Free 1-Click Software Installation
You can easily extend the features and functionalities on your website by downloading multiple applications and CMS like WordPress, Joomla, Drupal, and more over the hosting using the quick, easy, and free one-click installation feature.
99.9% Uptime
Uptime is an essential element of a website, and a good uptime guarantee is always a bonus.
With VoltHosting, you get a 99.9% uptime guarantee, which means that you'll always have uninterrupted service for your websites and servers.
Free Migrations
Suppose you have your hosting over another server and wish to move it to VoltHosting. In that case, it's easy and affordable as VoltHosting offers you the features to migrate your hosting without any hassles or make any additional payments.
Website Builder
The hosting plans come with user-friendly and advanced website builder tools that make it easier for you to manage and customize your website and deliver a better user experience to the visitors, thereby scaling the traffic and conversions.
VoltHosting Refund Policy
VoltHosting lacks a refund policy, and you cannot get a refund with the company, not if you check out on their official website.
However, while exploring, if you get in touch with the support, there's a possibility that the company might offer you a 48hour refund period for their packages. This refund excludes licenses and dedicated servers.
VoltHosting Pros & Cons
Pros
Free app installations
Advanced website builder tools
Good security features
Instantaneous customer support
Excellent uptime guarantee
User-friendly interface
Affordable pricing
Cons
The hosting company doesn't have a refund policy or money-back guarantee.
FAQ – Volthosting Review
Can I Trust VoltHosting?
Yes, you can absolutely trust VoltHosting. It's a popular company with good hosting services, and the features are pretty amazing. Of course, there are no freebies, but the customer support is excellent, and they ensure they provide their users with great services.
Does VoltHosting offer game server hosting?
Yes, VoltHosting is popular for its game server hosting, and you can get amazing server builder tools and other advanced features to have a great game server that you can enjoy with your friends.
Can I get a free domain for VoltHosting?
Unfortunately, VoltHosting doesn't offer a free domain for any of its plans, and you'll have to pay for the domain registration or transfer services.
Why Choose VolHosting plans?
VoltHosting plans are good with all the features a user looks for in a hosting service. The plans are also affordable. There are no freebies, except for the SSL certificates, and you will have to pay for things like domain registration, etc., but the company has promising services, making it a must-try option.
Conclusion – Volthosting Review
That was all discussed. After the VoltHosting Review, we can conclude that it's a decent company with favorable plans. The lack of a refund policy and freebies make it skeptical.
Nonetheless, you can have a refund policy in your plan if you connect with the company before purchasing hosting. 
Moreover, the support is great, and you get all the help you need to host your website well without interruptions.
Overall, it's a good hosting company with many positives, and you can surely give it a try by keeping the negatives aside.
We hope this article was helpful and will put you in a better position to decide on the perfect hosting solution for your business.