Web hosting has become a crucial need for every business in today's time. However, with so many web hosting companies and newer ones opening up every now and then it becomes really difficult for you to find the perfect hosting solution for your business. Well, that's where we get you covered.
In today's review article, we have come up with a detailed M3Server Review to let you know about this fantastic company that offers dedicated servers for your business. Additionally, it offers other web hosting solutions too.
So, let's jump to the review and see if this is the hosting platform that you have been looking for or not.
Overview of M3Server
Established in 1996, M3Server started off as a web hosting company providing shared hosting and dialled-up services.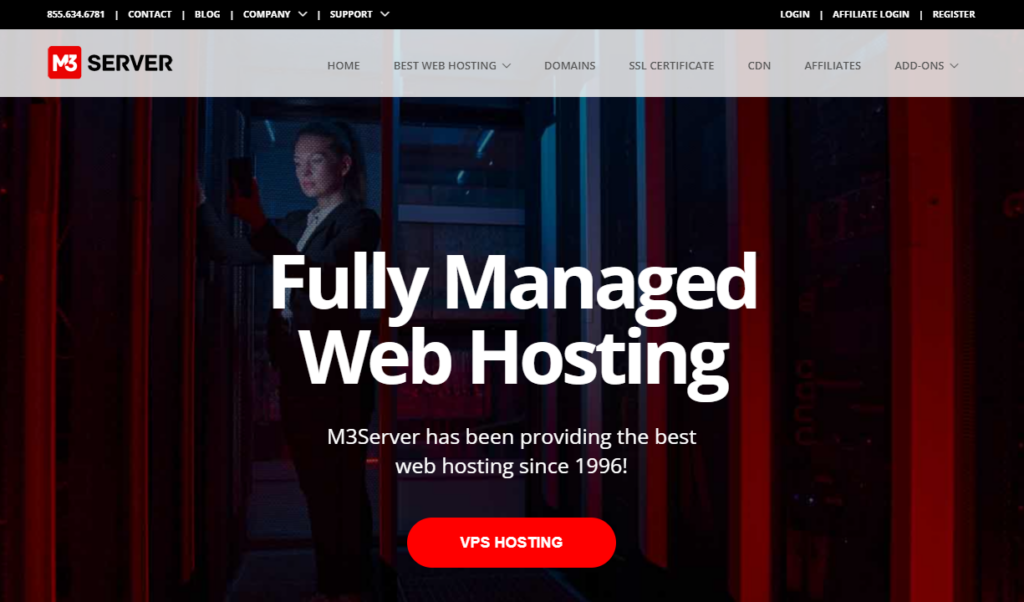 With the goal to be excellent in web hosting company kept growing with the dedicated efforts of a brilliant team and over the years, has emerged as a strong web hosting company with data centres and offices in multiple locations around the world.
The company, which started with two simple services, now offers a multitude of services covering all types of web hosting, including dedicated servers, VPS Hosting, WordPress hosting, and more. 
With an efficient team that remains available 24/7 and a loyal customer base, the company is constantly on its mission to become excellent in the web hosting industry.
Test and Analysis
For every hosting, you need to test it on all parameters that you can. For M3Server, we tested its ease of use, support, and security, and herein below are the detailed results of all our tests and analysis.
User Interface & Ease of Use
M3Server offers built-in control panel support that provides customers with the basic controls of their servers and hosting. It's easy to use and understand. 
Moreover, the servers are fully managed, so you can reach out to support if you encounter any issues. So, there is significant ease of use in operating M3Server hosting.
M3Server Customer Support
The customer support on M3Server is quite decent, however, it's tricky to reach them. You need to fill out a support ticket for your query. Moreover, you will have to create a client account on M3Server to submit a support ticket. 
So, in case you have a pre-sales query reaching support gets hectic. However, the support responses are timely. You may have to wait quite a bit, but they answer as soon as possible.
Security Analysis
The security of the servers on M3Server is top-notch. All their servers come with SSL certificates to assure that you're operating in a safe environment. 
Moreover, your data is also protected from disasters such as accidental data deletion or corruption with the automatic daily backup feature available with all plans.
M3Server Data Center Location
M3Server has data centres all around the world in multiple countries and locations. Some of the data centre locations are-
Key Features of M3Server
When looking at a hosting solution, it's important to look at all its features. Here is an overview of the most important features of M3Server hosting.
Fully Managed Servers
With a built-in control panel, M3Server offers fully managed servers with multiple server features for email servers and web servers to offer simple and easy manageability of your website. With fully managed servers, you can ensure that your website operations run smoothly.
Global CDN
The hosting solution comes with a global content delivery network that uses lower bandwidth and offers high speed and performance. So, your content will be visible across servers with high speed and you can always expect a phenomenal website performance.
Ad Server Solutions
You can advertise and market your products and services in a better way with M3 Server as it offers ad server solutions like crawlers, lightboxes, wallpaper ads, etc. to help with website ads and promotions.
99.9% Uptime Guarantee
With M3Server you can be assured that your website will never go downtime as it provides up to 99.9% uptime guarantee for all its servers and hosting plans.
Types of Hosting Plans That M3Server Offers
M3Server has all types of servers and hosting. Some of the most popular server and hosting plans that M3Server offers are-
M3Server Domain
In addition to providing exemplary hosting services, M3Server is also great with its domain services. With excellent features, you get the following domain services on M3Server.
Register a New Domain
You can easily register a new domain with features like WHOIS Protection, nameserver management, and automatic renewal for your domain at affordable costs.
Moreover, you can also get a free domain for the first year with some of the plans of M3Server.
Transfer a Domain
Be it a single domain transfer or a bulk domain transfer, M3Server supports the same. So, if you have your website on any other hosting or server and you want it transferred to M3Server, you can do that easily and at a very low cost by contacting the M3Server team.
M3Server Pros & Cons
Every hosting solution comes with its own set of pros and cons. Let's have a look at some of the benefits and disadvantages of using M3Server.       
Pros
Dedicated servers at affordable costs.
99.9% uptime guarantee for the servers.
Good features and functionalities for advertising the servers.
Excellent security with SSL certificates and firewall.
Data protection with automatic backups.
Managed solution for ease of use.
Cons
It's tricky to reach out to the support.
FAQs – M3Server Review
How much does M3Server cost?
Different hosting plans come at different costs on M3Server. The lowest pricing for the servers starts at $15/month. You can check other plans on their website.
What kind of Plans does M3Server offer?
M3Server offers different plans for different kinds of hosting including VPS hosting plans, WordPress hosting plans, Social Network Hosting plans, Dedicated server plans, Joomla hosting plans, and more.
What is Social Network Hosting Which is Offer By M3Server?
There are multiple social networks for which M3Server provides hosting. You can choose from social networks like-
BuddyPress
ONEsite
HumHub
Oxwall
SocialEngine
OpenSourceSocialNetwork
Elgg
Insoshi
Xoops
AstroSPACES
Which Type Of Control Panel M3Server offers?
M3Server has built-in M3 Control Panel support for all its servers which is easy to understand and use.
Conclusion – M3Server Review
Here we are, at the end of this M3Server review. From the entire review, we can conclude that M3Server is a great hosting solution that can meet most of your hosting needs and requirements. The support gets a little tricky, but once you have a client id, it's all easy and convenient.
Overall, it's a good platform to try, especially for dedicated servers and VPS. So, if you are looking for a hosting solution, we would say go for M3Server and see for yourself how it works out for your needs and requirements.