Are you looking for a hosting service provider with various hosting plans equipped with features to build and grow your website? We could wish you luck finding one. But we are here with a suggestion.
LWS is a hosting platform where you can find solutions ranging from hosting a business website on the internet to hosting a gaming server such as Minecraft. This hosting platform includes numerous beneficial features with its plans.
Let us know more about it in this LWS review.
About LWS
Founded in 1999, which gives LWS over two decades of experience, this hosting platform has used its time and expertise to build its services worldwide. This hosting platform is based in France and has servers in its home country.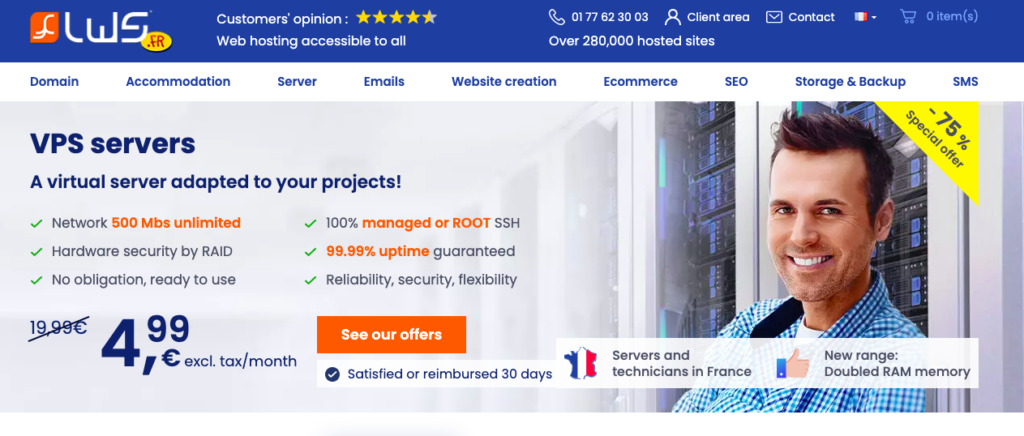 This hosting platform offers a variety of hosting plans to its customers. However, LWS specializes in hosting services such as shared hosting, cloud hosting, VPS hosting, WordPress hosting, dedicated servers, and domain registration.
Furthermore, they have over two decades of experience serving thousands of customers in this industry. It hosts over 280,000 websites, over 500,000 open domains, and 3500+ managed servers.
LWS Data Center Location
The data center of LWS is located in
Customer Support
Customer support is one of the features to consider while buying a hosting plan, as you will need it sometimes. With LWS, you reach out to the customer support team through live chat, support tickets, and calling.
However, the live chat support is relatively not very easy to access.
Core Features of LWS
Let us now list out the core features of LWS.
Website Builder
As we mentioned earlier, we are here to show you how LWS could help you build your online business website and help it run. With LWS, you get the facility to develop your website by yourself with over 300 templates available.
SEO Tools
A good SEO on your website could always stay on top to help you grow your audience and customers. Therefore, with LWS, you can purchase SEO tools to ensure that your website is always on top.
SSD Storage
One of the things that constitute the factors that lead to your website being favored is speed. You could increase the speed of your website through many things, such as SSD storage. SSD storage is high-speed at fetching information which makes your website faster.
Types of Web Hosting LWS offers
LWS offers the following hosting plans:
LWS Domain
Let us now take a look at the domain-related services that LWS offers.
Register a New Domain
With LWS, you could also get your domain name registered as LWS is an ICANN-certified domain name registrar. Also, you get the benefit of a free domain name with the hosting plans of this hosting platform.
Transfer a Domain
Along with registering a domain name, you could also transfer your existing domain name with LWS. This hosting platform helps you through the moving process and offers its services at affordable prices.
LWS Hosting Pros & Cons
Let us now list out the pros and cons of this platform in this LWS review.
Pros
Website Builder
Free domain name
Provides DDoS protection
Highly affordable plans
Cons
It does not offer 24 x 7 customer support
FAQs- LWS Review
How much does an LWS Hosting cost?
The cost of LWS would depend on the plan and tools you purchase. However, the pricing starts at about $1.57 a month, VAT excluded.
Why Choose LWS Hosting?
You could choose LWS as your hosting service provider as it offers numerous hosting plans at one stop along with various tools such as a website builder included in its plans.
Does LWS Host offer Free SSL?
LWS does not mention a free SSL certificate included with its plans. However, this hosting platform takes numerous steps to keep your data safe.
Conclusion – LWS Review
As we are concluding this LWS review, we must take an overview of it to list the things that could bother you. This hosting platform has servers primarily focused on France, which could affect the speed in other locations.
LWS offers customer support globally, but making the live chat support more reachable would help. However, this hosting plan has various hosting plans and does not stick to just one, which gives you the benefit of complete expertise.