Taking your business online, starting your blog, or being a freelance writer is excellent. But you face several problems and confusion when it's about going on the internet.
When you plan to put up a website on the internet for your customers or readers, you require two main things: one, a hosting service provider, and two, a domain name. But how and where do we get those?
LeapWebHosting provides both of them and is an excellent solution to meet your requirements.
Don't believe us? Well, things will be more precise with this LeapWebHosting review.
About LeapWebHosting
Creating your domain name and checking if it's available can be tricky for many new people in the internet world. Hosting can be even more confusing. But with a bit of help, you can find your way and take your business online easily.

LeapWebHosting is a one-of-a-kind hosting provider that primarily does web hosting and domain name registration. Its headquarters are located in Europe, and it has an excellent grip on its quality of service throughout the globe.
With LeapWebHosting, you'll find the most amazing features for hosting your website at affordable prices.
Let's dive into an overview of those features in the next section.
Key Features of LeapWebHosting
Well, you know what LeapWebHosting mainly focuses on by now. So let us now understand the other features it focuses on: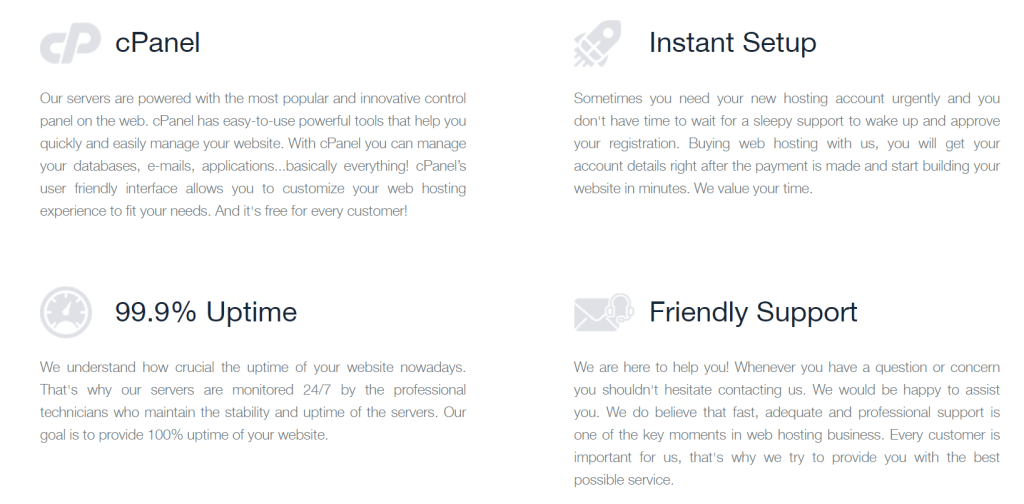 99.99% or More Uptime
The availability of your website on the internet every minute is crucial. To avoid customers leaving the website and facing any loss of customers, you need great uptime for the website.
Since LeapWebHosting cares for you and your business, it provides a 99.99% or higher uptime guarantee.
Quick Setup After Purchase
Every minute could be highly precious while running a business. Therefore, LeapWebHosting does not waste any time and sets up your server within 5 minutes of purchase.
24/7 Network and service monitoring
LeapWebHosting ensures that they provide you with the perfect as well as fast network and service every second, so they monitor both the networks and services 24/7 to ensure your best experience.
24/7 Customer Support
Its concern for the best experience for its customers is shown in its dedication to its customer support system. LeapWebHosting provides you 24 hours of customer support, 7 days a week.
WHM/cPanel
All plans of LeapWebHosting include WHM/cPanel, which has easy-to-use and powerful tools.
LeapWebHosting Data Centres Location
It is crucial to have data centres where most customers reside to give them quicker service. LeapWebHosting has its headquarters in Europe, and its data centres are located in the USA. Due to this, they are pretty fast at your service.
Types of LeapWebHosting Provides
LeapWebHosting provides three types of hosting to its customers. These include Web hosting, Premium hosting, and Reseller hosting. All three have several plans; let us briefly look at them.
LeapWebHosting Refund Policy
LeapWebHosting cares for people's choices and requirements. It gives its customers to try their web hosting plans for 30 days.
If they are not satisfied, they can always ask for a refund. The refund request is processed without putting the customers through any additional questions.
LeapWebHosting Pros & Cons
Let us list all the pros and cons of LeapWebHosting to help you see both sides of the coin.
Pros
Cheap plans.
Great customer support.
24/7 monitoring 
99.99% or more uptime.
Cons
Limited options of hosting plans.
Why Should You Choose LeapWebHosting?
You always require a domain name and hosting service provider when you start working with websites. Both are provided here on LeapWebHosting to make your search and process more accessible.
Moreover, they ensure providing all their services at affordable prices with the best features and significant ease of use while ensuring that your website performs consistently with speed.
These are reasons enough for you to choose LeapWebHosting for your website.
Conclusion – LeapWebHosting Review
So, that's all about the LeapWebHosting Review. It's an excellent platform that ensures significant and fast website performance with every feature and functionality that you need in an excellent hosting solution.
Moreover, besides hosting, it also allows you to register your domain and get started with your website. The best part is that you get everything at affordable prices.
Given these perks, you have every reason to give them a try. We hope this review was helpful, and you're all set to explore LeapWebHosting for your website.