When looking for hostings for your website, you might want to consider its speed, features it provides, security, uptime, etc. Each of these aspects is important to take your site online and give you the desired results. Hence, we are here to talk about Hostnamaste, one of the best web hosting and VPS server providers.
Hostnamaste offers about seven servers around the globe with multiple other services such as fast SSD, OpenVZ VPS, Windows VPS, and so much more. To make it easier for you to learn more about this web hosting service provider, we reviewed and tested every aspect so that you do not need to before hosting your website on it.
Here is a detailed Hostnamaste Review curated for you.
About Hostnamaste
In 2016, Hostnamaste made a small start and began providing its hosting services and then spread across India. It has hosted over 100,000 websites and deployed over 15000 servers. With steady growth, they have now reached the level where they provide their hosting services worldwide.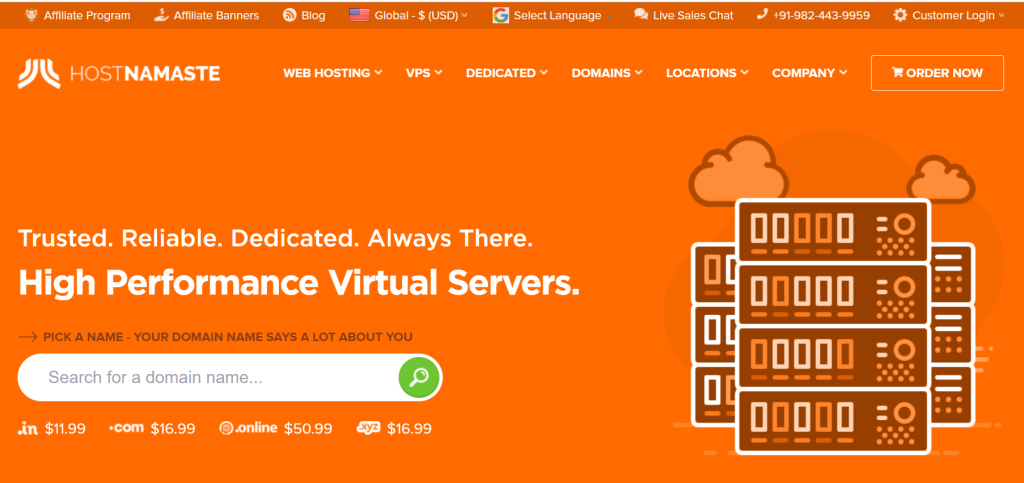 This article will look through the services this hosting provides, including reseller hosting, web hosting, virtual servers, dedicated servers, domains, etc. We will discuss the quality of its services and how you can work with them.
Test and Analysis for Hostnamaste
So let us start by looking at the quality of services that Hostnamaste provides. We will begin with the interface, security, and customer support.
Hostnamaste user Interface
Talking of the first look at this platform's official website, it is pretty simple and provides you with most of the information you need to know before you log in or buy a plan from it. So what happens after you log in to your Hostnamaste account?
Now that you have logged in to your account, you get to see a dashboard that informs you about your current plans and any other plans that could be of your use. You get access to all the sections of your hosting, such as your account, purchases, domains, etc.
Also, you have access to Plesk as a control panel, so everything you need is pretty simple and easy to manage.
Security Analysis
Talking about the security aspect of Hostnamaste, they have done a pretty good job. They have offered you features that will protect your data at all stages, before or after an attack.
Whether your website makes safe connections on the internet with free SSL certificates or your data gets attacked, you are out of danger since you can always recover your data from the backup. Apart from these, you all get ImunifyAV with Hostnamaste plans.
Customer Support
Besides security and interface, Hostnamaste also stands firm ground for customer support. It has an expert team to help you with your queries working as customer support.

You can seek their help whenever you want because they are online 24/7/365. You can contact them by raising tickets & or phone calls, and they will respond within 15-30 minutes. This might be a little changing to wait for such a long time.
Hostnamaste Data Centers Location
Hostnamaste openly shows off its data centres that help it provide quality service to its customers.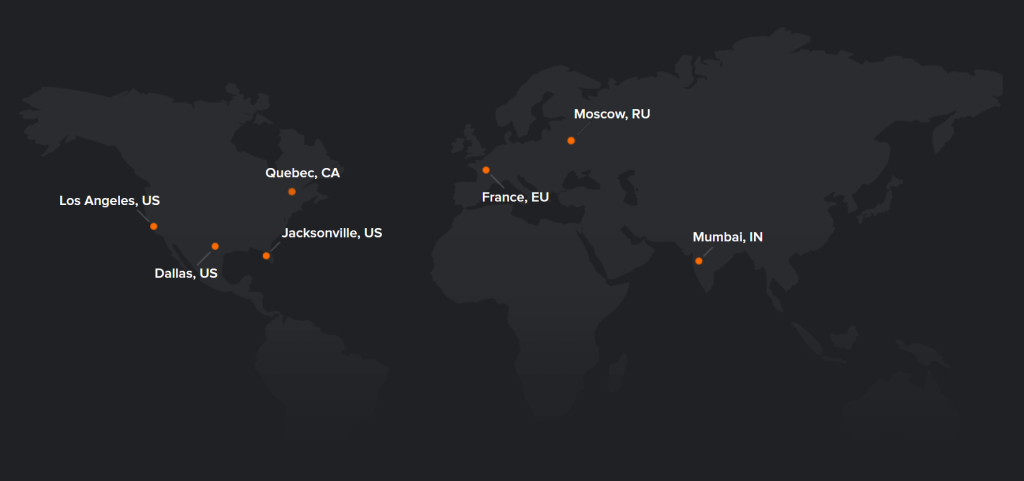 Key Features of Hostnamaste
Let us now look at the key features of this hosting that make it what it is. We will be learning about its control panel, migration, hardware, and more.
Easy Plesk Control Panel
You must know that a user-friendly interface is like a blessing when you are new to the hosting game.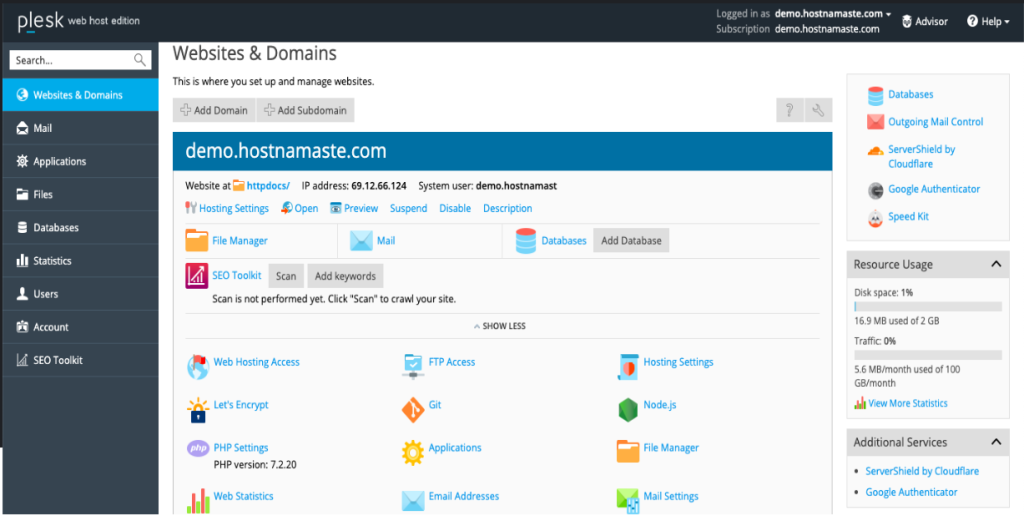 So Hostnamaste offers you a hand by providing one of the most used control panels, Plesk, which will make your website handling even more straightforward.
Free Migration
Whenever you feel like your current hosting provider does not suit your needs anymore, you always have the freedom to let it go and move on to some other, better hosting.
So Hostnamaste makes the task of migrating your website even more manageable. It offers you the facility to migrate your website free of cost.
Powerful Hardware
Hostnamaste makes sure that it only uses premium quality hardware on its servers. It utilizes the latest Intel Xeon processors with RAID configurations.
These are responsible for your website's high speed, security, and uptime and keep them running 24/7.
Instant Setup
With Hostnamaste, you do not have to worry about losing a minute of your time. We say this because this platform helps you set up your account instantly.
It gets immediate access to your hosting when you complete the payment. So they do not waste any time and get working on it.
Type of Hosting Hostnamaste Offers
Hostnamaste offers four types of hostings: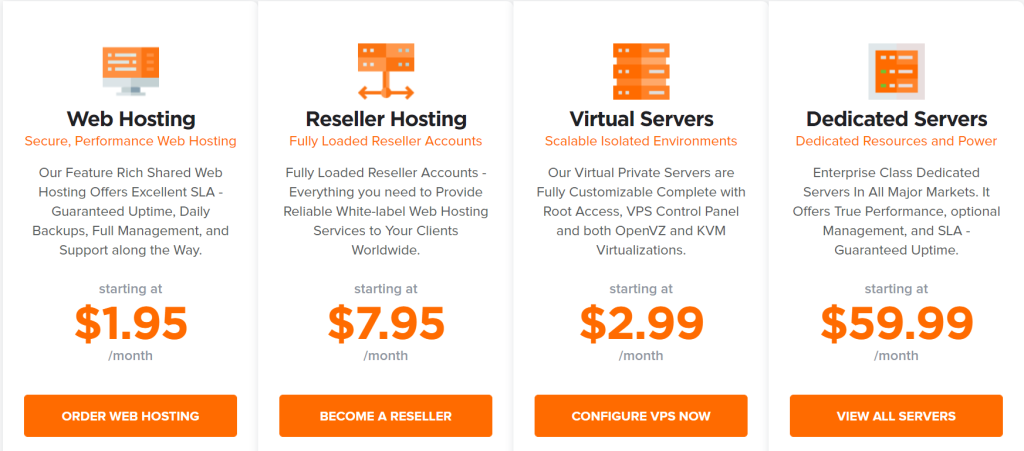 Domain: Hostnamaste Reviews
As soon as you visit Hostnamaste's website, you will be presented with the domain registration service. You can easily buy a domain name for your website with this platform. The prices start at about $16.99/yr, and the charges are applied per year.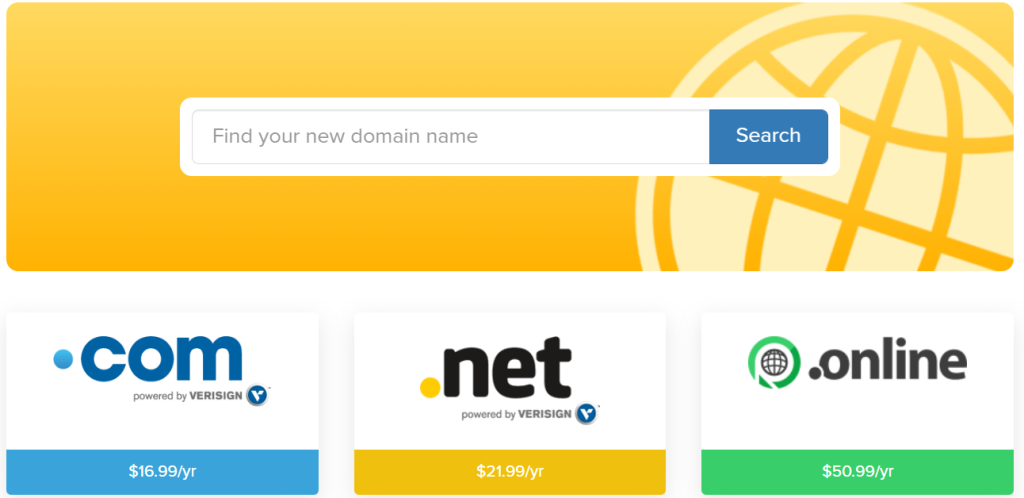 Apart from registration, it also allows you to transfer your domain to another by transferring your domain on this platform.
Hostnamaste Refund Policy
Try to buy a product that offers a refund policy because you may never know, and it might not suit your needs after you buy it, and you might waste your money.
However, with Hostnamaste, you do not have to worry about losing your money since it offers a 7-day money-back guarantee with all of your hosting plan purchases. So test it for a week, and if you do not find it aligns with your requirements, get a refund.
Hostnamaste Pros & Cons
Now let us look at the pros and cons of buying a Hostnamaste plan.
Pros
7 data centres
Affordable plans
Domain registration and transfer
Attracts SEO tool kit
Powerful Hardware
Cons
Only a 7-day refund policy
FAQs- Hostnamaste Review
How much does Hostnamaste cost?
Hostnamaste offers many plans, and the plans differ in price. But the rating starts from $1.95 a month to around $7.95/month, depending on your plan.
Is Hostnamaste the Best Choice?
Yes, it is the best choice if you are looking for a hosting service provider that works from multiple data centres and offers you the best uptime and speed.
Which HostNamaste plan should I get?
If you are just starting off with hosting websites and have a small audience, you might start with the basic shared hosting plan. It has all the features to help you get started and bring your website online.
The basic web hosting plan only costs around $1.95/month, which is highly affordable. You can host unlimited domains and subdomains, get 2GB SSD storage with 500 GB Bandwidth, and so much more.
How good is HostNamaste's customer support?
The customer support is pretty good and stands by what it claims to offer support within 15-30 minutes. They assist such as raising tickets and telephonic support 24 x 7. Furthermore, you can expect zero downtime on your website with continuous server monitoring.
Does Hostnamaste offer any coupon code for an extra discount?
You might have to look for coupon codes online. There are plenty of websites that offer discount codes.
Does Hostnamaste Offer Any Free Trial? 
It does not offer a free trial, but you get a 7-day money-back guarantee. So, you can test out all the features in a given week, and if it does not suffice your website's needs, you can also claim your money back.
Does Hostnamaste Offer Free Domain Name with Hosting?
No, Hostnamaste does not offer a free domain, but it does provide you with the service to host unlimited domains on some of its plans.
Conclusion: Hostnamaste Review
We have looked at the key features, quality of service, and basic information of the web hosting provider in this Hostnamaste review. Let us sum up by looking at what we did and did not like about this hosting.
The plans are pretty economical and come with many features that could be of great help, such as a free SEO tool kit. But we must say, it could have offered a more extended refund period. But overall, the products are pretty suitable for running a successful website.