Do you require lots and lots of features to run a website of your online business, but do you have a tiny budget? Don't your needs fit into your budget? Well, they will with this hosting platform by your side.
HostingGround is a hosting platform that helps you host websites through its hosting plans equipped with multiple features that are hard to fit into your small budget but are included to help you out.
Let us get into this HostingGround review to know more about it.
About HostingGround
HostingGround is one of the leading providers of hosting plans for small businesses across the globe. This hosting platform is based in Nepal in South Asia and has data centers in the United States.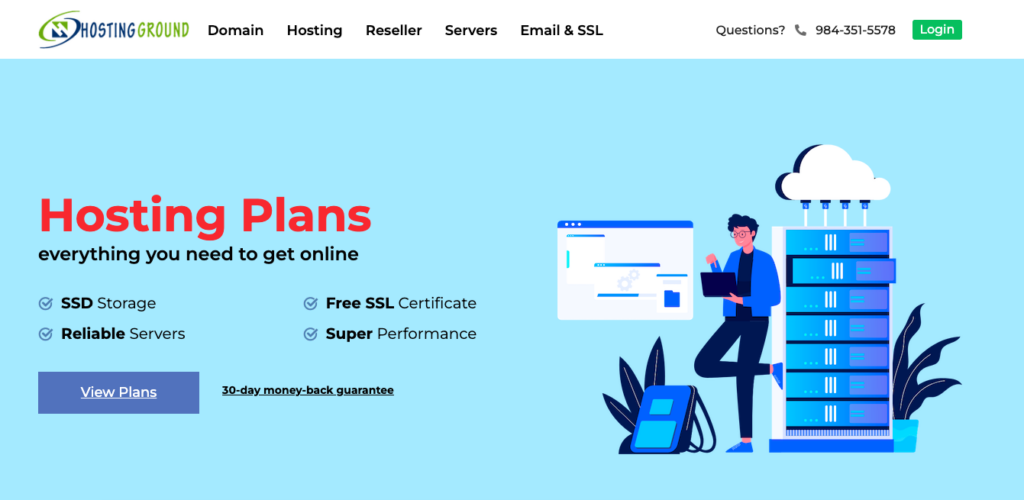 You get numerous hosting plans on this hosting platform, including shared hosting, reseller hosting, cloud hosting, etc. Also, you get domain-related services such as domain name registration and transfer.
HostingGround Data Center Location
The data centers of HostingGround are located in the
Customer Support
A customer support system is essential while working with a hosting platform. HostingGround gives you access to 24/7 customer support through live chat, calls, and tickets.
However, you might not get instant replies, but as this hosting platform asks for your email id, they will reply to you anyhow.
Core Features of HostingGround
Let us now list out the core features of this platform in this HostingGround review.
Instant Setup
As you have worked day and night to work on your online business, wasting a minute could be frustrating for you. Therefore HostingGrounds understands and keeps the value of your time by setting up your account as soon as you complete the payment process.
Cloudflare Security
Security and speed are essential features you must look for while buying a hosting plan. To ensure the best security of your data, HostingGround offers you Cloudflare security.
Ultra-Fast Websites
As we mentioned earlier, speed and security are some of the most important aspects of hosting. Therefore you must always stay on the list with your high-speed website, which HostingGround offers through its software.
Free Migration
If you feel your current hosting platform does not give you what you need and want to move to HostingGround, you can just do it as this hosting platform does not charge anything to migrate your websites.
Boost Website Speed
By now, you may already know how important speed is for your website. A faster rate helps your website stay on top of the search engine ranking. Therefore HostingGround includes features such as SSD to help you speed up your websites.
Free DirectAdmin
With DirectAdmin, you get lots of benefits, such as managing your plan becoming more manageable, and the downtime is almost zero as it handles them by itself. Therefore to give you the best experience, HostingGround offers you DirectAdmin.
Types of Web Hosting HostingGround offers
This hosting platform offers the following hosting plans:
HostingGround Domain
Let us now take a look at the domain-related services that HostingGround offers.
Register a New Domain
With HostingGround, you can register your domain name with just a few easy steps. The team of HostingGround will help you throughout the process and also offer tips on how to properly do it.
Transfer a Domain
Just like registering a new domain name, HostingGround also walks hand in hand while you transfer your domain name to them. Also, by transferring your domain name to them, you renew your domain name for another year.
HostingGround Hosting Pros & Cons
Let us now list the pros and cons of buying a HostingGround plan.
Pros
Cloudflare security
Free SSL Certificate
Weekly backups
FAQs – HostingGround Review
Why is HostingGround's hosting package so affordable?
This hosting platform is based in Nepal and aims to offer affordable hosting plans. Therefore this hosting platform provides its services at low prices.
Are HostingGround's hosting plans suitable for someone with no technical knowledge?
Conclusion – HostingGround Review
Now we may look back at this HostingGround review and list the features that impressed us and those that did not. The hosting plans that HostingGround offers are affordable yet filled with helpful features.
The features that help speed up your websites and keep them safe are some of the features included with this hosting platform. However, the slow customer support does bother us. The responses are reliable, but the speed is a little slow.