Virtual Machines have become a good replacement for hardware as they help companies get the infrastructure as a service and save huge costs on provisioning their infrastructure for resource management.
However, finding the right company to host these virtual machines is quite challenging. Here we are, to make things easier for you with a detailed review of yet another hosting company.
Today, we have come up with a detailed HostHatch review to help you analyze and understand whether this company meets your requirements for virtual machines and cloud infrastructure or not.
About HostHatch
HostHatch was founded in 2011 and since then has expanded all around the globe providing infrastructure as a service (IaaS) to customers from over a hundred different countries from 14 different locations.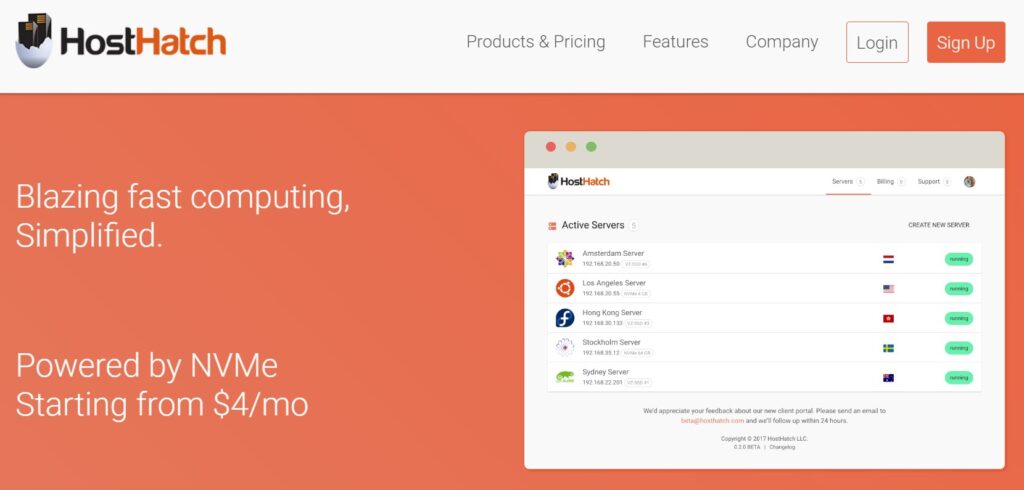 With the aim to offer the most competitive virtual machines at cutting-edge prices, HostHatch has an amazing team of professionals who work round the clock for the customers.
With their amazing team, they have come up with proprietary control panels and monitoring tools that help them deliver amazing services available 24/7 with a constant uptime guarantee.
Test & Analysis – HostHatch Review
We have tested HostHatch on multiple parameters to efficiently understand its efficacy and usage. Below are the results of all the tests and analysis we performed for HostHatch.
User Interface & Ease of Use
HostHatch has developed a proprietary control panel in-house known as Falcon. Falcon is the command center for all your servers and allows you extensive control over all their functions. 
You can create new servers and perform administrative tasks like updating servers, viewing server details, reinstallations, and much more. You can upload your ISO from the control panel on any KVM-powered server.
HostHatch Customer Support
HostHatch offers 24/7/365 customer support from the technical department, and the billing & sales departments are available from 9 AM-5 PM EST.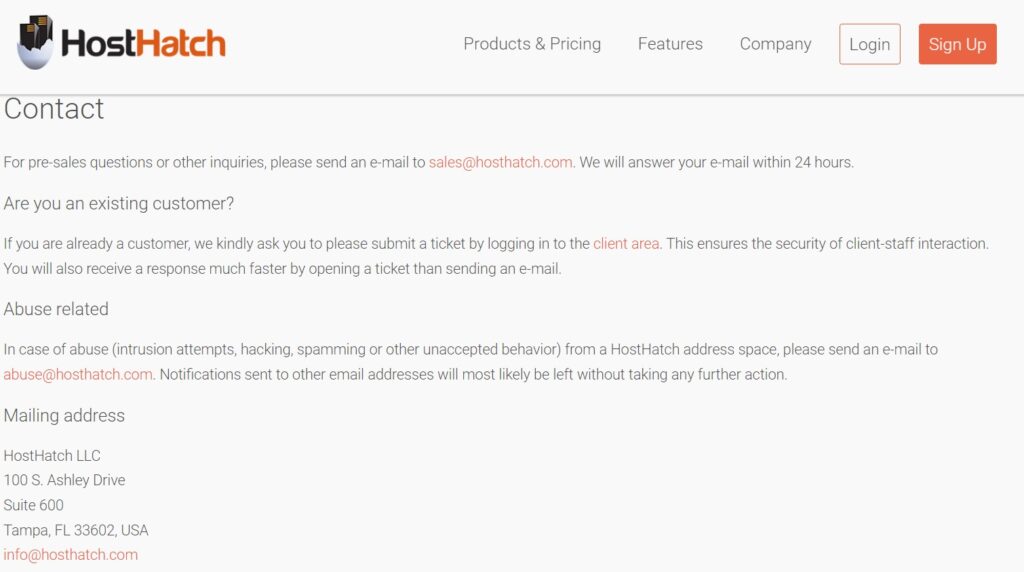 You can reach the support team via email and submit a ticket by logging in to the client area. However, you will have to wait quite a bit for a response as their responses are not very quick.
Security Analysis
Security of a virtual machine and cloud server is of utmost importance as all your organizational data is hosted on such machines. HostHatch is great with the security of the infrastructure that it provides. 
It provides DDoS protection from Layer 4 and 7 attacks on all of their KVM-powered servers on a 10GbE private network. Besides this, you can expect other security features, such as a firewall, etc., for virtual machines.
HostHatch Data Center Location
HostHatch is headquartered in the USA and has data centers in the following locations:
Core Features of HostHatch
Here are some of the main features offered by HostHatch:
HostHatch provides top-notch performance with local storage based on super-fast NVMe SSDs in RAID10, which offers excellent performance and reliability. Each virtual machine has dedicated resources, so the performance is always ready and available whenever you need it. 
The in-house developed control panel, nicknamed Falcon, allows you to perform all administrative tasks on the server and grants you extensive control over all of its parameters. You can create new servers, upgrade them, reinstall or mount a new OS, and much more.
You can upload your ISO using the control panel on any server. This especially comes in handy when you need custom partitioning within an OS or an operating system that HostHatch doesn't include in their pre-made templates.
You can announce your own IP space, which will then be routed to all of your servers, and this is available for all of their services. You need to provide a valid LoA (Letter of authorization) from the owner of the IP space. 
HostHatch operates from fourteen locations worldwide, each of which has been selected after thorough research. The data centers are well-reputed and house many premium networks and global internet exchanges. 
All the servers provided by HostHatch are powered by KVM and come with a private network that can be used to communicate privately with other servers in the same location.
Pros & Cons – HostHatch Review
While HostHatch is a great platform, it has some disadvantages too. So, as we tested out the platform, herein below are the pros and cons we noticed.
Pros
Robust storage and bandwidth
Ability to upload and install your ISO
Layer 4 and 7 DDoS protection 
10GbE private network
Cons
Not beginner-friendly 
No live chat support
FAQ – HostHatch Review
Does HostHatch Offer Free Domains?
What's HostHatch Refund Policy?
HostHatch VPS carries a seven-day money-back guarantee with a valid reason.
HostHatch creates a custom plan?
No, HostHatch does not offer custom plans.
How many types of web hosting HostHatch offers?
Conclusion – HostHatch Review
So, this was a detailed HostHatch review. To summarize, HostHatch offers premium virtual private servers with advanced DDoS protection.
They provide scalable solutions along with robust and fast storage, excellent bandwidth, and KVM-powered servers on a 10GbE private network at affordable rates.
Considering all these features and advantages, we can conclude that HostHatch is a good platform, and you can definitely consider it for your VPS cloud servers needs.