If you are someone who has high expectations from your hosting service provider, it must have been pretty hard for you and your pockets to get all your expectations satisfied. But, it does not always have to be like that.
A few hosting service providers like eFlame Hosting provide excellent service at a pretty affordable price. Let us get into this eFlame Hosting review to know all about it.
About eFlame Hosting
eFlame Hosting is an easy-to-use cPanel hosting service provider. They have multiple features and benefits included in their plans which we will discuss in this eFlame Hosting Review.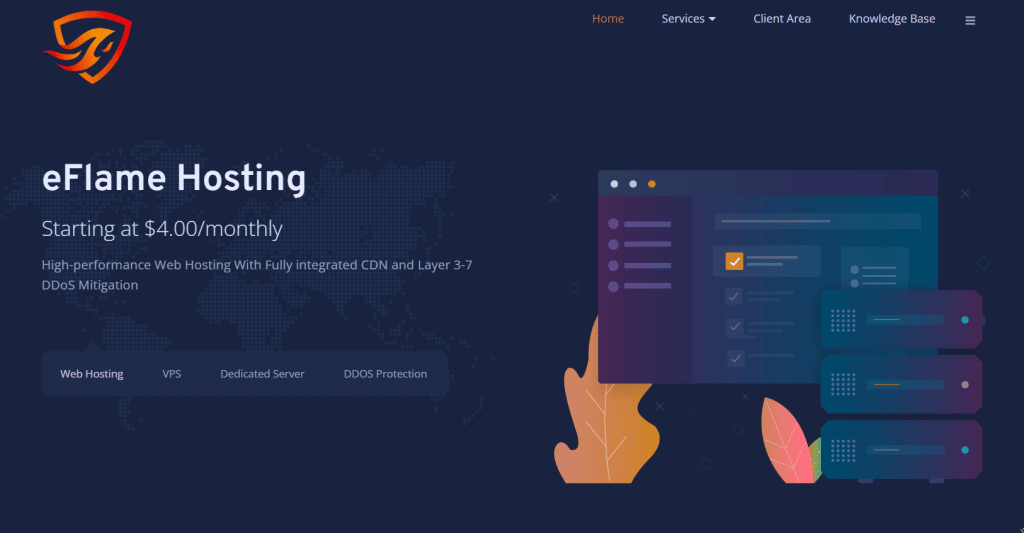 It provides a variety of hosting plans at an affordable cost and has servers across the globe. They tackle plenty of steps to make your experience with them more accessible and fruitful. So let us go ahead and learn more about it.
Key Features of eFlame Hosting
So we will now go through the key features of eFlame Hosting, which make it what it is today:
Full Root Access
When you work on eFlame Hosting within the legal limits and terms of service, eFlame is happy to provide you with full Root Access.
Flexible Services
eFlame Hosting's main objective is to meet your requirements. For that, they are ready to make adjustments just for you. They are here to provide you with anything from web hosting packages to Dedicated Servers, VPS, or Custom solutions.
Premium Hardware
To give you the best quality service, all of the hardware of eFlame Hosting servers are built into premium quality without any compromises.
24/7/365 Customer Support
If you need help with any of your hosting queries, you will be served with that at any hour of the day and on any day of the year, be it a festival day.
eFlame Hosting Data Centres Location
So you have read how good eFlame Hosting's service is across the globe. But how is it that great? Any guesses?
Well, we will tell you, they have plenty of servers worldwide.
These locations include the USA, Romania, France, Germany, Lithuania, and Singapore. If you need it in another location, they are ready to provide one!
Types of Hosting eFlame Hosting Provides
So now we will list out the types of hosting eFlame Hosting provides. So the list goes something like this.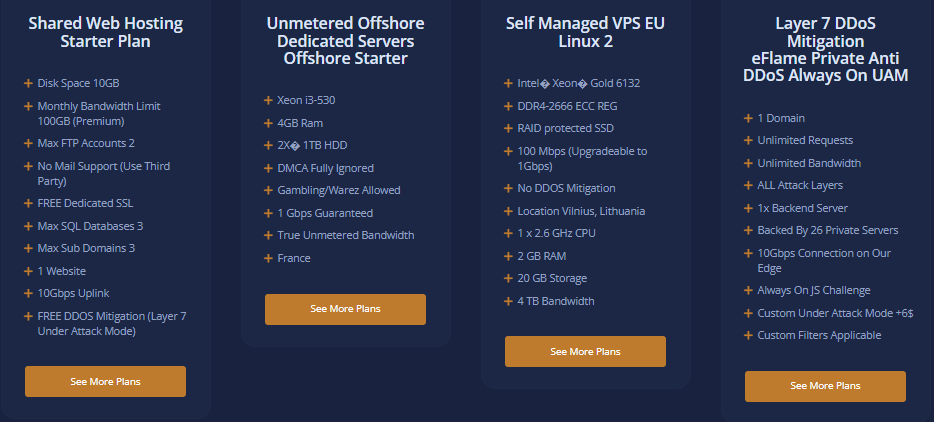 eFlame Hosting Refund Policy
A refund policy is always a plus point whenever we buy a product. eFlame Hosting provides a 3-day refund policy if you are not 100% satisfied, applicable on all shared hosting plans. However, it doesn't apply to VPS or dedicated servers for obvious reasons.
So you can use their service for a week, analyze it, and ask for a refund if you do not like it. As simple as that!
Why Should You Choose eFlame Hosting?
The quality of their services does answer that question boldly. To test eFlame Hosting, we did many checks.
Who isn't wise enough to choose eFlame Hosting with such features: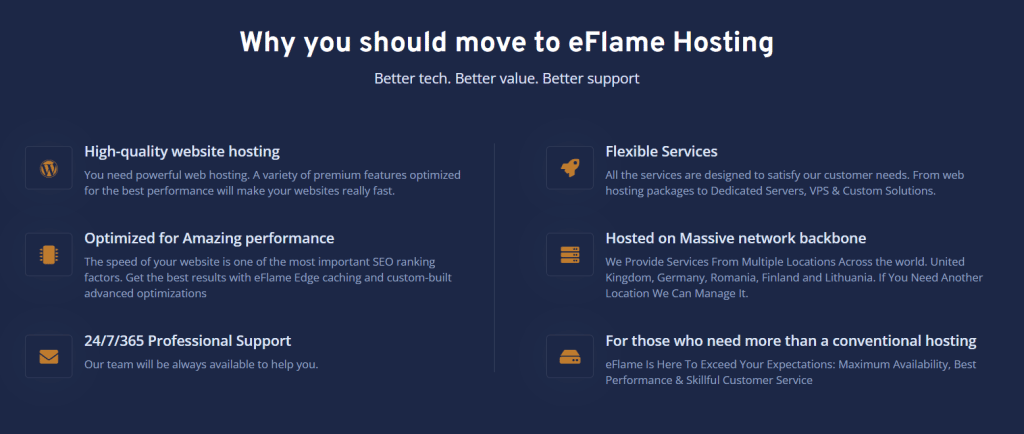 Conclusion: eFlame Hosting Review
Since you have been through the eFlame Hosting Review, let us summarise. eFlame is a hosting service provider that provides various hosting services, including cPanel Hosting with Free SSL Softaculous & Site Pad 100% Uptime With CDN and DDoS Protection.
They offer all these services at a reasonable price and are ready to provide you with the services and any of the various servers if you ask for them. So we think giving it a try would be no harm.