Finding a service that has a good User Experience and security features? We might have a solution for you.
Dotzo is a service that provides you with various features like DDoS Protection, SolusVM as a management system, and much more.
This hosting service also uses Cloudflare CDN and has multiple other services to offer, keeping all your data secure. So, without ado, let's start our Dotzo Review.
So that you can see for yourselves if this is for you.
About Dotzo
Dotzo has been serving its customers since 2008. They are a part of APEIRON GLOBAL PVT. LTD. Dotzo claims they have Top-Class industry experts. They have customers from almost 85 different countries.
Dotzo is also proud of its Highly Secured and Private Web Hosting Services, along with which you get other services like managed web hosting, Linux, and Windows VPS servers.
Test and Analysis
User Interface & Ease of Use
Dotzo uses SolusVM, which manages VPS Systems with a Graphical User Interface(GUI).
This is quite intuitive and relatively easy to use. Although you might not use it daily, it is good to have a Good Experience, and SolusVM provides it.
Along with that, they also have cPanel with some of the other mentioned services, which is widely used and intuitive for newcomers.
So, you should be able to count on them for their Interface.
Dotzo Customer Support
Customer service is almost non-negotiable when it comes to service support. Good customer support helps you, and they do it fast and efficiently. This way, you don't have to tolerate much downtime.
Dotzo claims to provide 24/7 customer service with live chat, ticket-based queries, and emails. Along with that, Dotzo has a phone number that you can call.
Security Analysis
Security is a big deal as you are entrusting your data with someone else, and the uptime of your Servers depends on it as someone with ill intentions can take them down if it is not fortified with good Security features.
Dotzo claims to provide you with DDoS protection to keep your services running even if someone is trying to take them down.
You also get Root Access to your server, depending on your plan. They also claim to provide Cloudflare CDN with some of their plans.
Core Features of Dotzo

Types of Hosting Dotzo offers
Dotzo provides multiple services: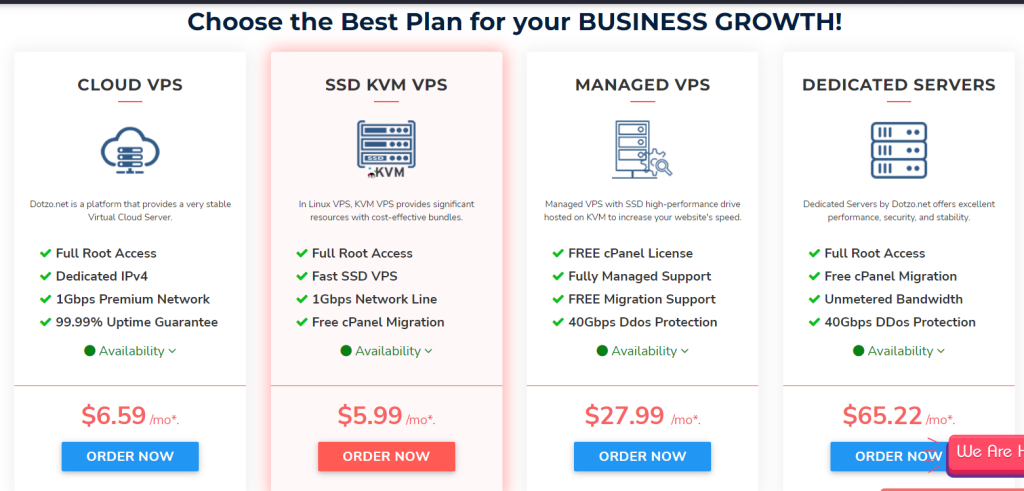 Dotzo Hosting Pros & Cons
Pros
30-day money-back guarantee.
Dotzo has a good User Interface
Cons
Customer Service is not immediate
Frequently Asked Questions – Dotzo Review
Does Dotzo provide Windows Cloud VPS?
How much time does it take to activate the service?
We have contacted Dotzo on this, but they did not provide an answer. But services like this typically take less than a day to activate. Sometimes they activate instantly
What control panel does Dotzo provide with Cloud hosting?
Dotzo claims they provide SolusVM and cPanel as their VPS Control Panel, which is quite intuitive to use.
Does Dotzo offer free backup?
No, Dotzo does not mention any free backup for their plans. But you can ask them if they will make an exception. If you need, you can also use third-party alternatives.
Conclusion – Dotzo Review
Was there anything you did not get the answer to in our Dotzo Review? Dotzo provides you with a 30-day money-back guarantee. Their UI is also quite good. Along with that, Dotzo has quite good security features as well.
So, you can try this out for yourself and find out if this hosting is for you or not. But make sure to see their conditions on the money-back guarantee.
So, you know what their policies are and what can revoke your Moneyback.