With these large numbers of Hosting services, it is pretty hard to keep track and choose the right one for yourself. But we are here to talk about a service named Clook that provides Web, Cloud, and Dedicated Hosting to its users.
We will go through their features and provide you with this service's good and bad.
Then it's up to you if this service is worth your time. So, let's get started with our Clook Review.
About Clook
Clook operates from the UK. They have almost 100% up-time on a month-to-month basis. Clook takes pride in being transparent about its services.
They control every aspect of their servers. Clook is also quite proud of its technical team and claims to provide 24/7/365 support.
Test and Analysis
Clook hosting has some great features for you to enjoy but its important to evaluate its key components and judge their efficiency in real life.
User Interface & Ease of Use
A good user interface is of value to everyone. Be it an experienced person or a person just starting with it. A good interface never disappoints, making your work faster and less involved.
With Clook, you get cPanel which makes your experience easy-going. Their Web hosting and Reseller hosting plans are equipped with this cPanel. cPanel is very popular as a Control Panel, and it helps you manage your webspace easily.
Clook Customer Support
Customer Support is another big part of the web Hosting service. Good support is there with you when you need support. They should also be capable of solving the problem you are having.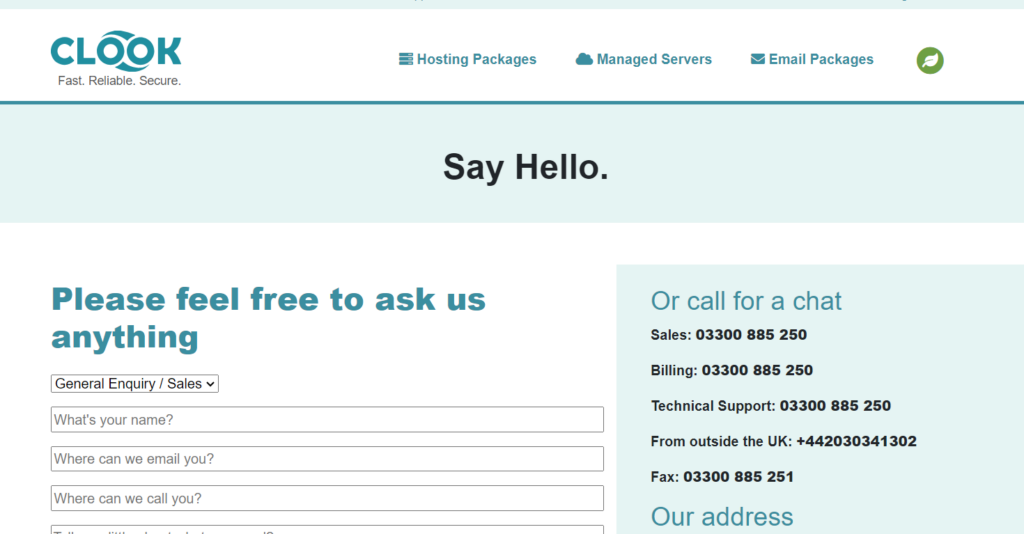 With Clook, you get Live Chat and also call support. According to Clook, their representatives are friendly and experienced in their jobs. So, if their claims are to be believed, you are in for great customer service.
Security Analysis
Security is another aspect of your service that is pretty important. Especially if you deal with sensitive customer data, it becomes more critical as sensitive data is at stake.
The Web Hosting plans of Clook are equipped with Backups; you get Daily, Monthly, and Weekly Backups with Clook that ensures your data is protected even if something happens to your Website. Along with that, you also get free SSL service included.
Key Features of Clook
Since its establishment, Clook has been one of the most trusted brands in the hosting industry all because of its reliable features.
These features are included in all their plans to provide you with best-in-class services, so just sit and relax. Going with Clook will not make you regret it.
Types of Web Hosting Clook offers
There are various types of Hosting Services that you can get from Clook. These include the following-
Clook Domain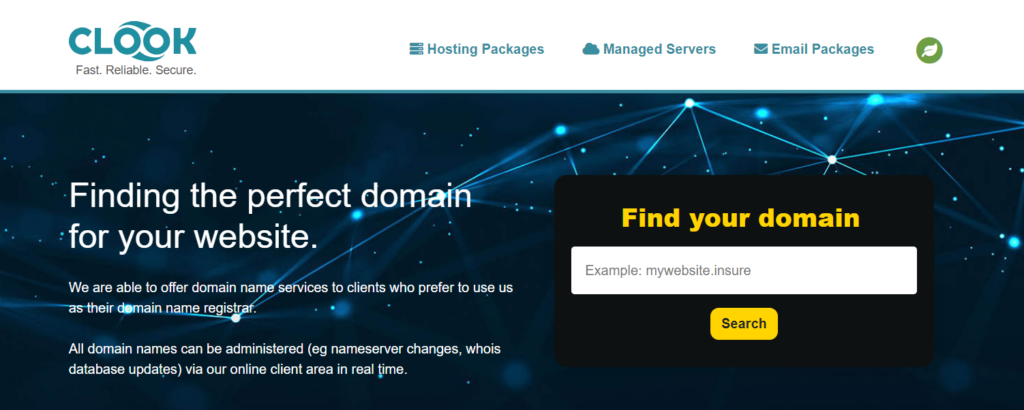 Unfortunately, with Clook, you don't get any Domain services. So, you have to buy your domains from elsewhere to host them.
Clook Pros & Cons
Clook has some interesting features which will attract any potential website developer and we have listed its pros and cons so you can make a better decision.
Pros
Good Backup service
Free SSL certificate
24/7 call and ticket support
Cons
No free domain or option to buy domains from them.
FAQs – Clook Review
Does Clook offer free website migrations?
Yes, if you opt for their Web Hosting plans, you get free website migrations.
How much does it cost to host a website with Clook?
There are various plans you can choose from. Their intro web hosting plans are priced at $1.22 and go all the way. You get custom quotes in their Dedicated Servers.
Do I need to pay extra for backups with Clook?
You get free backups in their Web Hosting plans, which are Daily, Weekly, and Monthly Backups.
Why choose Clook Hosting plans?
Clook has great Web Hosting plans with various options for you. Not only that, but you also get free Backup and SSL if you choose their Web Hosting plans.
Conclusion – Clook Review
We learned about various aspects of Clook, such as their customer support and security aspect. We also answered a few questions regarding Clook.
So, now do you think Clook is a good service? If not, which service do you intend to choose?
With the free SSL and backup, you can choose Clook to get all of the features at once, or you can also find another service. Whatever you end up doing, make an informed decision. This way, there is no regret in teh end.