Hosting a website and taking it towards success can be difficult for those who are not mainly interested in hosting a website but running a delightful online business. Managed hosting is something that could be advantageous for such people. But where can I find that?
Catalyst2 is a hosting service provider built for users who have dreams of running a business online but do not have enough expertise to run a website. Therefore, it offers managed hosting services suitable for platforms such as WordPress and WooCommerce!
Let us know more about its services in this Catalyst2 Review.
About Catalyst2
Founded in 2000, Catalyst2 has been in the hosting industry for two decades and has been thriving since. This hosting platform originates from Europe, specifically the UK, so that you can stay about the legalities.
This hosting service provider primarily focuses on managed hosting services, which will help you work on your business rather than breaking your head at something you might not be an expert in; hosting.
Test and Analysis
Let us now look at the quality of services this platform offers in this Catalyst2 Review. 
User Interface & Ease of Use
Catalyst2 does maintain a simple and informative dashboard for its users to comprehend with maximum ease. Also, the control panel with its hosting plans makes your work even easier as a beginner who is cPanel, one of the best control panels.
Catalyst2 Customer Support
Now let us talk about the customer support offered by Catalyst2. We must say that this hosting platform has made an excellent effort to provide quick customer support.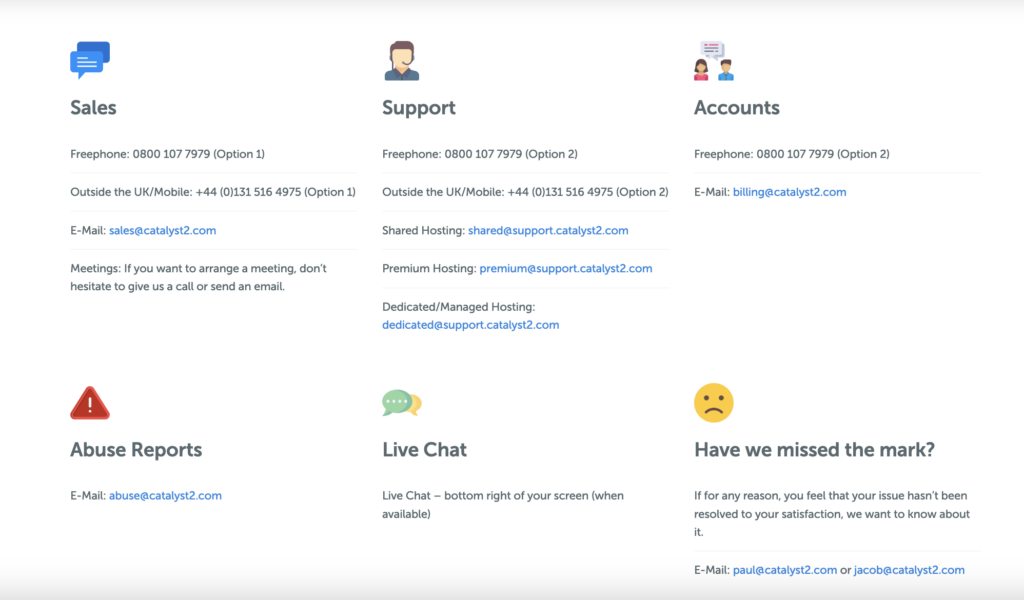 Your requests will be answered in minutes, if not in seconds. You can contact them through email, live chats, and calls.
Security Analysis
Security, as you may know, should be your topmost concern while buying a hosting plan, and Catalyst2 understands this as they want to keep your data safe. This hosting platform offers security features such as dedicated and shared SSL, weekly backups, password-protected files, etc.
Key Features of Catalyst2
Now it's time to list out the key features of this platform in this Catalyst Review.
On this platform, you get something new. You get a set of dedicated and shared SSL certificates. The Dedicated SSL will be all yours, and the shared SSL will help you encrypt data between you and the server.
To keep your data private and safe on your phone, you put a password; with Catalyst2, you can do the same for your precious data on your website. This ensures that no one else can access your data without the password.
This hosting service provider also offers CronJobs with your hosting plan. The availability of these on your hosting plan helps you save time and energy from draining on repetitive tasks such as backups and emailing.
Types of Web Hosting Catalyst2 offers
Catalyst2 offers the following hosting plans :
Catalyst2 Domain
Catalyst2, apart from offering numerous hosting plans, also focuses on providing you with the facility to register and transfer your existing domain name.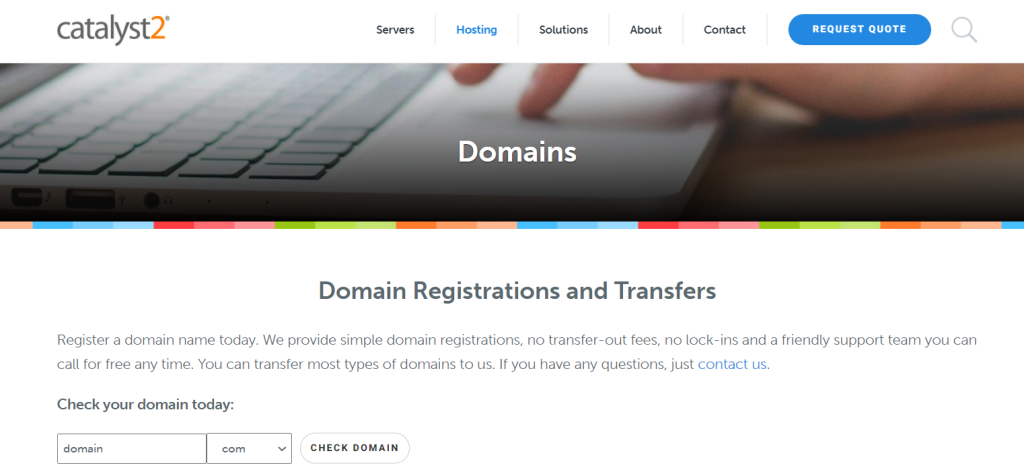 The process has been made easy through the customer service team's support.
Catalyst2 Hosting Pros & Cons
We may now consider the pros and cons of this platform in this Catalyst2 Review.
Pros
Dedicated and shared SSL
24/7 monitoring
Managed hosting plans
Free website migration
Quick customer support
Cons
It does not own its data centers
Cheaper options available 
FAQs: Catalyst2 Review
Is Catalyst2 a good web host?
Yes, this hosting platform has been around for about two decades and has built a good reputation across the globe. Also, the legalities are strictly followed due to European law.
What control panel does Catalyst2 use?
Catalyst2 offers one of the best and most preferred control panels by users across the globe; cPanel.
How much does Catalyst2 cost?
The cost of Catalyst2 will depend on the hosting plan that you buy. The price range starts from about $3.56 a month.
Does Catalyst2 offer a Free Domain and SSL?
Yes, Catalyst2 offers a free SSL certificate. But it does not mention a free domain name and says it is a 'Extra' on your hosting plan.
How many data center locations does Catalyst2 provide?
Catalyst2 has two data centers within the United Kingdom. Both of them are owned by well-known data center providers.
Conclusion – Catalyst2 Review
Now that we have gone through the details of this hosting platform through this Catalyst2 Review. It's time that we look into the important factors to know before making a decision. 
This hosting platform does not own its data centers and uses data centers from data center providers only in the UK, which might be bothersome. Also, this platform does not offer many free services. However, the customer support and security features are pretty palpable.